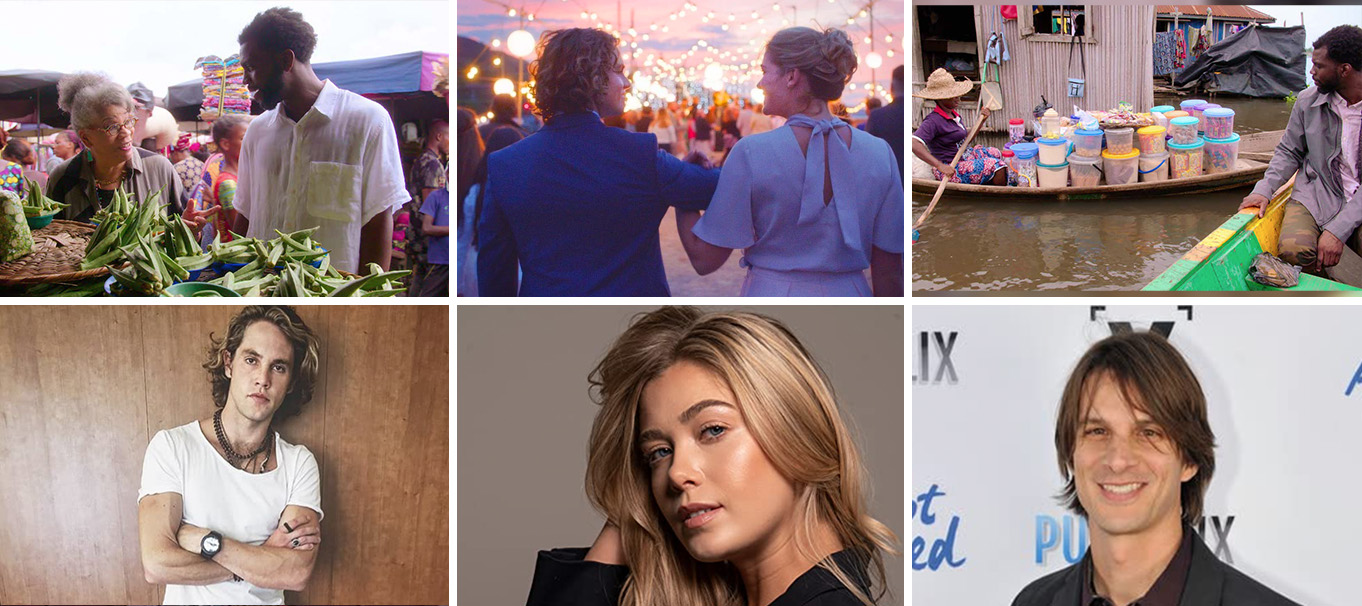 Top row: Stills from High on the Hog: How African American Cuisine Transformed America (photo courtesy of 
Netflix © 2021) // Still from Finding You (photo courtesy of Roadside Attractions) // 

Bottom row L–R: 
Jedidiah Goodacre (photo via

 

IMDb

) // Rose Reid (photo by Chelsea Reynolds) // Brian Baugh 

(photo via

 

IMDb

)
Geek Girl Riot celebrates Netflix's new series High on the Hog before throwing it back to some classic trainwrecks. Then we revisit some interviews with the cast & crew of Finding You.
High on the Hog with Heather Turner
High on the Hog: How African American Cuisine Transformed America is out now and it's about to speak to your soul. The documentary takes you on a journey through food to show you the rich history and influences of Black culture on cuisine. Lakefront Film Fest director and film & food connoisseur Heather Turner joins the show to chat with Sherin about the incredible new series, which you can watch now on Netflix.
"Food writer and sommelier, Stephen Satterfield takes us on an epic journey from Benin to the Carolina coast and beyond by sharing the dishes that have always nourished us. Through those dishes, Stephen and chefs, historians, activists, cowboys, and descendants inspire our laughter, our tears, and our pride. What a joy to be High on the Hog."
–Sherin Nicole
Trainwrecks
We continue our journey through the year's most epic trainwrecks with a throwback segment. Sherin, Alex, and Monique kick off with Gorilla Glue Girl who has us stuck to her story. Then they get into Lil Uzi Vert who's trying to morph into a Crystal Gem x Vision. Yup, there's a whole lotta nonsense to get through…until there's only one question left to ask: Why is everybody so mad at Phoebe Bridgers for smashing her guitar? 
Finding You with Rose Reid, Jedidiah Goodacre, and Brian Baugh
Finding You is the new romantic feel good film out in theaters—and we're here to get you ready to go! Sherin and Alex revisit some conversations from the Finding You press day with the stars Rose Reid and Jedidiah Goodacre, along with writer/director Brian Baugh. They tell stories from filming in Ireland and the hijinks they got up to on set, before sharing what they hope you'll take away from Finding You.

Finding You (photos courtesy of Roadside Attractions) - keep scrolling to find out more!
Finding You is the new romantic feel good film in theaters now! The movie follows an American violinist who travels to Ireland to study abroad, to find herself and her sound. There she meets a famous heartthrob actor and sparks fly. Ooh, make plans now to bring a friend, a family member, or your SO to see Finding You only in theaters. For more information or to find a theater near you, visit findingyouTHEmovie.com
Tune in to Geek Girl Riot on idobi Radio every Tuesday at 11pm ET / 8pm PT for your dose of late-night geekery from our team of Rioters. 'Til next time, see a list of everything our Rioters talked about below:
LINKS:
 – High on the Hog: How African American Cuisine Transformed America
 – Finding You
 – Descendents
 – Shadowhunters
 – Derry Girls
 – Yayoi Kusama
Podcast: Play in new window | Download