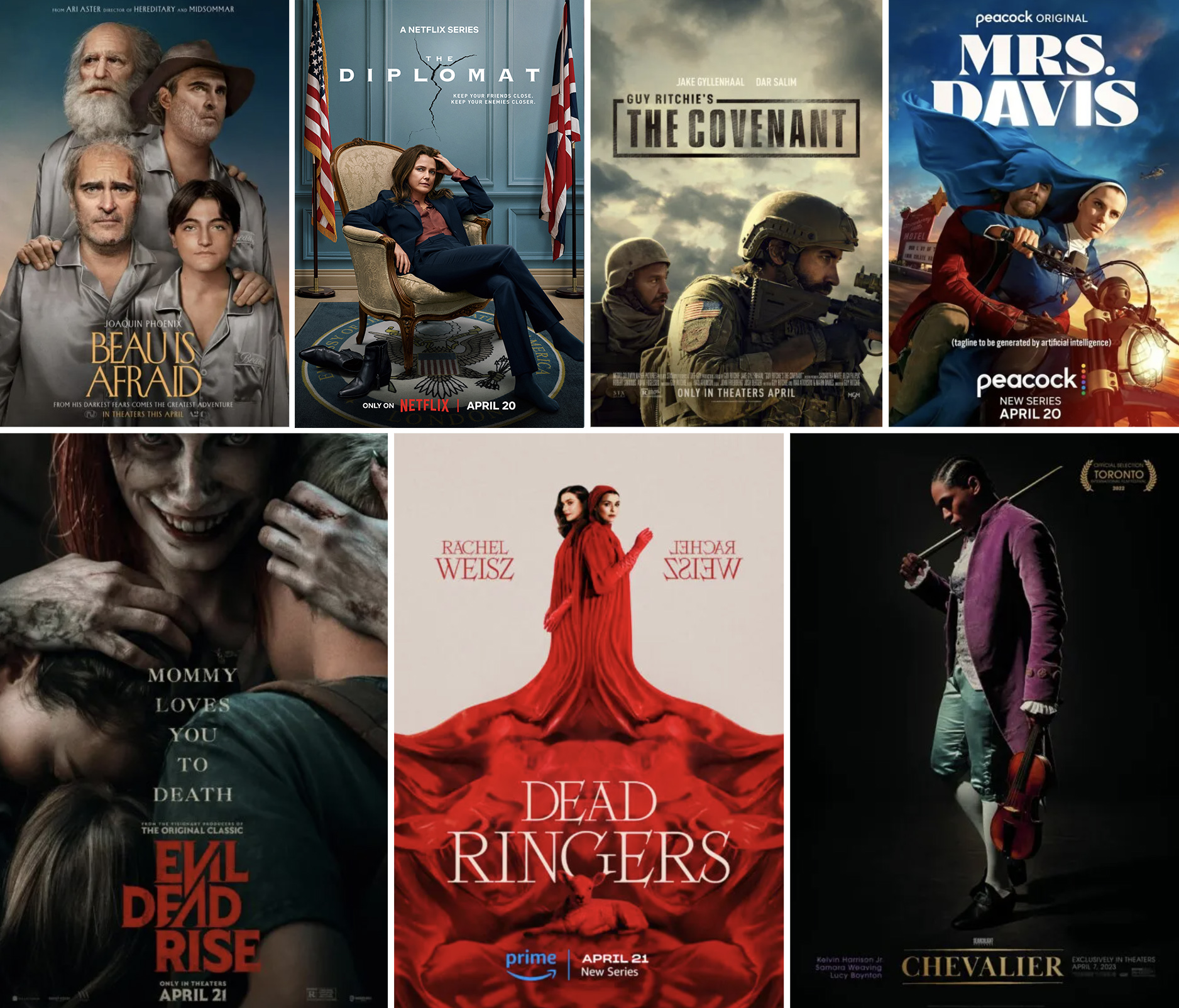 Geek Girl Riot is revisiting the Sandman universe and one of our Rioters' (many) conversations about femme empowerment. While you relive the episode's magic, keep scrolling to read the latest reviews, featuring: Dead Ringers, Mrs. Davis, The Covenant, Beau Is Afraid, Evil Dead Rise, and The Diplomat.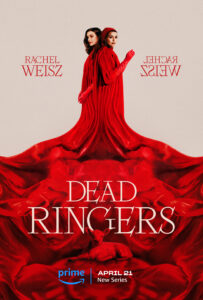 DEAD RINGERS
Streaming on Prime Video Friday, April 21
reviewed by Sherin Nicole
We find such fascination in the examination of madness. In 1988, David Cronenberg made a film called Dead Ringers. It was based on a novel called Twins by Bari Wood & Jack Geasland, which was based on a series of articles about a set of OB/GYN twins who died because of their codependency. In the new Prime Video series, Alice Birch (creator, writer, and executive producer) re-explores this fascination. Rachel Weisz, starring as twins Elliot and Beverly Mantle, is our guide through a 6-episode descent into a story so frenzied you don't know whether to weep, group text your friends, or toss your obviously possessed TV out the window. 
Dead Ringers follows Weisz as a pair of brilliant gynecologists who seek to innovate the way women give birth and how we age. But they'll need a lot of money before they can open the birthing center and research lab they are dreaming of. The Twins pitch their concept to a headass billionaire (Jennifer Ehle), who legitimately makes you want to slap box her into oblivion. I'm not kidding, there is a series of dinner parties during which the wealthy folks are so smug and condescendingly destructive that I considered roasting them with Old Bay and "eating the rich." 
That's the thing about Dead Ringers, the symbolism (motherhood and leeches), the blood (torrents of it), the love (both familial and erotic), the sound effects (relentless), and the writing (barb-wired and complex) all conspire to make you believe you're losing it alongside one or both twins. Which one? IDK. But the madness is not yours or mine, it is this series. It is replete with reproductive science, gallows humor, and sibling obsession. Pardon me while I scream at Britne Oldford's relatively sane character, Genevieve, to "GET OUT." The scripts are crisp—mirroring characters who are free of self awareness—and the series is inarguably a study of madness; high on debauchery and untreated pathologies. By the end, you'll need fresh tissue, to apologize to your friends, or to buy a new TV. Enjoy.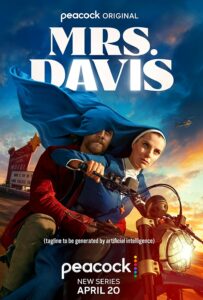 Mrs. Davis
4-episode premiere exclusively on Peacock Thursday April 20
reviewed by Sherin Nicole
Have you ever been in a comic book store or at a comic convention? You're talking with friends when the conversation turns to "what ifs" and you wonder what would happen if Damon Lindelof and Tara Hernandez got together to create their own version of Preacher (Vertigo Comics). This time, rather than a priest, there would be a vengeful nun in the lead. Have you ever wondered? Well, wonder no more. It is written. It is made. It is enacted by Betty Gilpin as Sister Simone, Jake McDorman as Wiley, and Andy McQueen as Jay. Which brings me to another question: What in the everlasting hellmouth on earth was going on in that writers room? I'm not bothered by it, but I do want in on that high. Set in an alternate universe, where the Knights Templar were women, and an AI has reshaped the world into a weird but fluffy place, Mrs. Davis was made to define madcap. I want you to think back to Christopher Walken's cameo in Pulp Fiction. Got it? Crank that up for EIGHT HOURS full of quests, explosions, and perhaps The Holy Grail. Maybe. Mrs. Davis defies genre as much as easy comprehension, like Monty Python got drunk on Bong Joon-ho and snorted Garth Ennis (Preacher, The Boys). I can't say much else because I refuse to spoil it and, honestly, I'm not sure what is going on. I cannot tell whether the events of this series are real or some kind of head trip for Simone the Nun, but the insanity train of it all is working for me.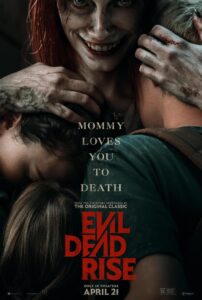 Evil Dead Rise
Theatrical Release April 21, 2023
reviewed by Philip Jean-Pierre
Welcome to the Necroverse! My name for the EDCU (Evil Dead Cinematic Universe)! Revolving around the Necronomicon Ex-Mortis, an ancient Sumerian text, and humans making poor life choices, the Evil Dead franchise has wreaked havoc for now 4 movies, giving birth to an unsung hero in the form of the protagonist, Ashley Joanna "Ash" Williams (Bruce Campbell). Now in the fifth movie in the franchise, we have 'Evil Dead Rise'. If you are here for praise for the nostalgia of the Evil Dead franchise and the Necroverse–I'm really hoping that sticks—that was it. Stop reading now. Let's begin. Continuing the saga of humans making terrible life choices around ancient, cursed tomes, we meet Beth (Lily Sullivan) and her children facing typical family struggles: an absent father, estranged siblings, and potential eviction with a dusting of confusion and bewildered children trying to live their best life…awkwardly. When we begin the story, the family is in this state of transition when the "cool but reckless" aunt Ellie (Alyssa Southerland) visits because, once again, she has "screwed up." This is the backdrop when one of the children finds a cursed book and recordings (voiced by Bruce Campbell) of a black ceremony that unleashes pure evil and chaos on everyone living on the apartment floor. In what could best be described as folly, Lee Cronin the director who is also the writer, makes narrative choices at the movie's beginning that add a disconnected scene that feels as indulgent as a selfie in a strip club. While the film is shot beautifully despite the gratuitous abuse of the tracking shots, the story is disjointed and loosely structured around the director's desire to hurry to the gore, violence, and tension. Sadly those tense moments feel forced and disingenuous. Stemming from a lack of established depth of the characters. Unlike the other franchises, I was not invested in the story's characters living or dying. Despite several jump-scare moments and again gore, the movie was sometimes dull, with cliches and rather uncreative displays of the aforementioned "gore." Sadly, in the sandbox they chose to tell this story in, SAW set a standard for what constitutes gore, and they came up short. As a monster movie, it's good fun and a legitimate salute to the Evil Dead Franchise. However, as a "horror" movie, it left me bored and checking my watch for when it would be over with no clear idea why I was rooting for these humans to live.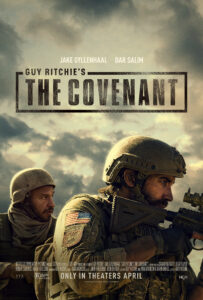 The Covenant
in theaters Friday, April 21
Reviewed by Renee Brown
10/10
Basically, an interpreter for the U.S. Military drags his wounded Sargent across the Afghan desert, while being chased by The Taliban.  When Sargent John Kinley (Jake Gyllenhaal) gets shipped back home, Ahmed (Dar Salim),  the interpreter, goes into hiding to save his family's life.  But with a much-promised visa to America not forthcoming John decides to go fetch Ahmad himself.
I don't give 10's easily. 
This is a 10.  That's saying something since the military/war genre isn't one I care for. Yet, this movie blew away with its perfection.  Guy Ritchie's direction genius is on full display — everything from the score (or lack thereof), to the casting, to the stunning wide shots, to the intense close-ups was a study in perfection.  He deserves an Oscar for this.
 Hyperbole, perhaps, but too often we see military movies full of men doing amazing things, in the face of danger, with their swagger on full display.  There is no tension, the danger is false and we know it. We know that it is going to be a study in triumph. With The Covenant, I was never sure what was going to happen, although I knew the story.  I was so tense that I actually exclaimed, in a theater full (with not a seat left empty) of people and I did not care. 
Jake Gyllenhaal is made for this kind of movie, he can be the bad-ass in one minute and tender in the next.  His face is just hard enough to be believable in this role and his acting was on point.  If anyone but Dar Selim had been across from him, this movie might have been nearly laughable.  Yet, Selim delivers and does it over and over, until we stop seeing him and only see Ahmed.  Everything he does is sublime, I cannot rave enough about this actor. It only makes it all the better that the chemistry between Gyllenhaal and Selim is so intense that they can actually exchange a look and convey a wealth of meaning.
Best of all, Ritchie got out of the way and let them connect.  He encouraged silences and moments where emotion takes the stage — leaving everything around these two amazing actors to contribute to a feeling of vastness and insurmountable hardship.  Then he drives the danger home with intense and very personal killings that are more disturbing than anything I've seen in the theater in a long time.
Someone said, this is more than a movie.  This is a parable for the nation. And they are right.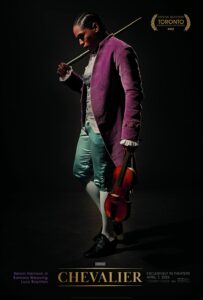 Chevalier
Reviewed by Julian Lytle
Grade: B
So the story of Joseph Bologne, Chevalier de Saint-Georges, is one that I feel a lot of Black people in the United States have no clue about. It's one I didn't know about until my late twenties about a man who was a musical prodigy and top-tier fencer in Paris. So here we have this pretty standard historical biopic that is handled in such a way that feels works for introducing this figure to modern audiences and making it relevant to their lives and the current times. Bologne was taken from his slave mother by his white father to France and then dropped off at a prestigious school to train his talents. His work in this society as an outsider through pure excellence garnered him status, prestige, and part of Marie Antionette's court. The conflict comes to a head once his mother is freed and sent to live with him after his father's death, and he must confront his origins along with the changing state of France as it gets closer to the French Revolution. I feel this conflict will resonate as a young Black person who's worked hard to get to where they are at the cost of hiding or denying their culture and heritage to fit into the greater society. Now, Kelvin Harrison Jr., I feel, does well as Joseph, portraying that change and dealing with how mercurial his status as a Black man in Paris at those times. Samara Weaving and Ronke Adekoluejo really stood out in this film for me.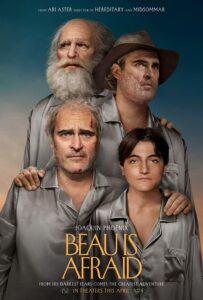 Beau is Afraid
Reviewed by Julian Lytle
Grade: C
Man, sometimes you see a film, and it just screams – A. R. T. and that is what we have here with Ari Aster's new film Beau is Afraid. A film about an anxiety-ridden man who has a complicated relationship with his mother is a film that will challenge and frustrate many. With its three-hour runtime and nightmare-like structure, Beau is Afraid is not for the faint of heart. It's not a horror per se, but it does have moments of extreme tension with little moments of sprinkled in humor. Joaquin Phoenix does very well as Beau in showing just how fearful and confused this man is inside his world, at all times. Actors Nathan Lane, Amy Ryan, and Stephen McKinley Henderson do some very good work here as different characters that Beau has to interact with and vary from surreal characters to very authentic feeling people. Patti LuPone and Parker Posey play the two major supporting characters as the two significant women in Beau's adult life. While we don't see them until the last third of the film, they are very impactful when they enter the story with very interesting performances. Now honestly, this is a film I didn't connect with in terms of story at all. Still, there is a strong handle of craft going on here with its filmmaking, and I can see it tackling its themes in interesting ways that I don't think everyone (as seen from some public early Twitter reactions) and myself rock with. While it is Art, I don't know if it's Art that everyone needs to take time to go see.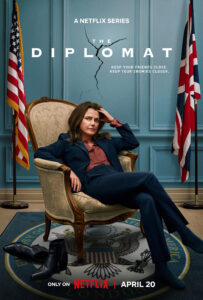 The Diplomat
Now streaming on Netflix
reviewed by Sherin Nicole
 Ambassador Kate Wyler (Keri Russell) wanted a meaningful job in Kabul. She got the big splashy one in London. And the fog hit the fan. Created by Debora Cahn (The West Wing, Homeland), The Diplomat is a feast for your political intrigue cravings (especially if you like a little scandal on the side). Alongside her executive producing partners, Janice Williams and Russell, Cahn has crafted a cross-pollination of Aaron Sorkin and Shonda Rhimes but made it distinctively hers. Going forward this brand of heated exchanges, long walks down the halls of power, women running the show, acerbic witticism, and spicy machinations could be called the Kahn-style. And that's what makes The Diplomat so satisfying. That and the cast. Russell is world-weary, utterly effective, and hilariously unvarnished. Which makes her pairing with her work-husband, Rufus Sewell so juicy. Sewell plays a well-meaning egomaniac, which sets off plot bombs from the start. While Ato Essandoh is impeccable, incredulous, and endearing in the classic role of Alfred to Russell's Batman. Other standouts include David Gyasi as a romance hero-in-waiting, Ali Ahn as the intelligence agent who is us—only tougher, Michael McKean as the grumpy old president who's so much more, Rory Kinnear as a prickly Prime Minister, and Nana Mensah as a "queenmaker." There is more to say but we'll talk about that on next week's show. Until then, you can get into The Diplomat right now on Netflix. Just try not to inhale it too fast—it's a bit of a headrush.