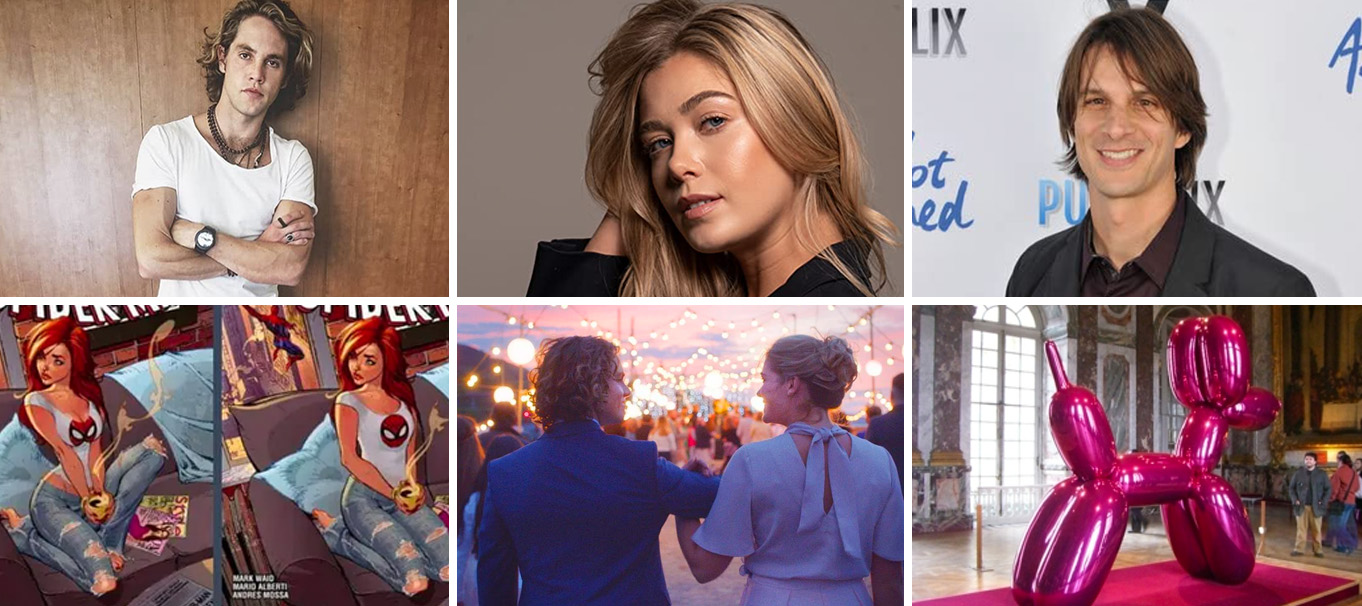 Top row L–R: Jedidiah Goodacre (photo via 

IMDb

) // Rose Reid (photo by Chelsea Reynolds) // Brian Baugh 
(photo via 

IMDb

) // 

Bottom row L–R: J Scott Cambell's Mary Jane vs. the "fixed" version (photo via 


Instagram

) // Finding You (photo courtesy of Roadside Attractions) // Jeff Koons' "Balloon Dog" (photo via 


WikiMedia Commons

)
This week on Geek Girl Riot we get into The Art Episode—talking all things creativity with Fantastic Forum. Then Finding You stars Rose Reid and Jedidiah Goodacre drop in along with writer/director Brian Baugh to get you ready to see the new film.
The Art Episode
We've teamed up with our pals at Fantastic Forum to bring you The Art Episode. FF host Ulysses Campbell, Sherin, Julian, and Roberto Ortiz chat about ART. The discussion begins with the mental health concerns of creative people and how artists see the world. Those topics feed into how comic book art often objectifies women and sets unrealistic expectations for every gender. Which leads into the internet firestorm over an artist's redrawing of a J. Scott Campbell's cover—and the difference between critiquing, remixing, and "fixing" someone else's work.
Our hosts then discuss Koons, Warhol, Lichtenstein, the way Yayoi Kusama got pickpocketed by male artists, and inspiration vs. stealing. Followed by: When art is released into the world, is it still owned by the artist or does it become the property of the masses? (spoiler: It still belongs to the artist but it's complicated.) They also talk about how art is (or isn't) valued by the public and how NFTs and digital art are transforming the way we consume art.
Finding You with Rose Reid, Jedidiah Goodacre, and Brian Baugh
Finding You is the romantic feel good film coming to theaters on May 14th—and we've got a teaser for you! We have conversations from the press day with the film's stars Rose Reid and Jedidiah Goodacre, along with writer/director Brian Baugh. They share what it was like filming in Ireland, how much fun they had together on set, and what they hope you'll take away from Finding You.
Finding You:

Photos 

courtesy of Roadside Attractions
Finding You is the new romantic drama coming your way real soon, about an American violinist who travels to Ireland to study abroad. There she embarks on a journey to find herself and her sound—and she meets a famous heartthrob actor along the way. Make plans now to bring a friend, a family member, or your SO to see Finding You only in theaters May 14th. For more information or to find a theater near you, visit findingyouTHEmovie.com
—
PrettyLitter:
We know you're all about making sure the feline friends in your life are happy and healthy. That's why we're teaming up with PrettyLitter to bring you a new kind of kitty litter. Their super light crystals trap odor and release moisture, which means dry, low maintenance litter that doesn't smell. It's also a pet health indicator so it can keep your kitty smelling good and feeling good! AND PrettyLitter gets delivered right to your door too with free shipping. Get the world's smartest litter without leaving home by visiting prettylitter.com and use promo code ggriot for 20% off your first order! 
—
Tune in to Geek Girl Riot on idobi Radio every Tuesday at 11pm ET / 8pm PT for your dose of late-night geekery from our team of rioters. 'Til next time, see a list of everything our Rioters talked about below:
LINKS:
 – Finding You
 – J. Scott Campbell redrawing
 – Jeff Koons' balloon dog
 – Space Jam 2
 – Invincible
 – Descendents
 – Shadowhunters
 – Derry Girls
– Yayoi Kusama
Podcast: Play in new window | Download