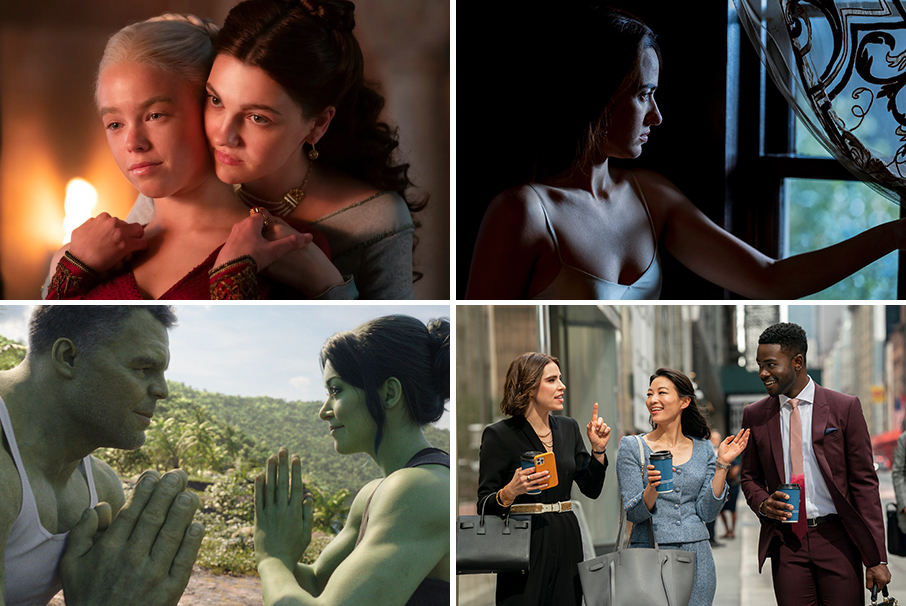 A lot of new TV has got us talking this week on Geek Girl Riot. Our Rioters have an important conversation about the varying degrees of femme empowerment (or lack of) in House of the Dragon, The Sandman, She-Hulk, and Partner Track.
House of the Dragon
The new Game of Thrones spin-off House of the Dragon hit HBO over the weekend and it left our Rioters with a bad taste in their mouths. Philip and Alex tell Sherin about the already-infamous childbirth scene, the opening episode's general mistreatment of women, and what that means for the series going forward. They compare the setup to their anticipation for another epic fantasy, The Rings of Power, and how the two worlds differ.
The Sandman + She-Hulk vs. Ally McBeal
The Sandman is definitely a series many others (including House of the Dragon) can take note of, particularly in its treatment of women. Sherin and Alex tease the series' bonus episode about Calliope, the great muse who has her agency stolen—and reclaimed. They talk about how it covers some very difficult topics with delicate finesse and doesn't shy away from going deep. 
This leads our Rioters into a conversation about She-Hulk and Ally McBeal, which are—despite what Jessica Gao claims—comparable series about strong lawyers who break the fourth wall and go through tremendous changes. However, there are some striking differences in execution, which Sherin, Alex, and Philip break down. They also share the scenes from the She-Hulk pilot that made 'em go a lil green with rage.
Partner Track
Sherin takes over the mic for a solo chat all about Partner Track, Netflix's upcoming series about Ingrid Yun, a Korean American lawyer who's working hard to get to the top—and maybe finds love on her way there. Sherin says, "In this 'Suits and the City' styled, messy melodrama, being on the Partner Track is how you find out who you really are, and if you have patience this one is going somewhere." Watch Partner Track on Netflix on Friday!

​​
Level up your gaming experience with Backbone—their new PlayStation Edition of their beloved Backbone One is an epic collab that means you can play hundreds of PlayStation games on the go! The Backbone One transforms your phone into a console with cool colors, buttons, and feel to make fiddly phone gaming a thing of the past. Play console games via Remote Play or Cloud Streaming Services, and App Store games, all in one! Get FREE access to over 350 console games AND $10 of Diablo® Immortal™️ in-game perks at playbackbone.com/ggriot
—
Tune in to Geek Girl Riot on idobi Radio every Tuesday at 11pm ET / 8pm PT for your dose of late-night geekery. 'Til next time, see a list of everything our Rioters talked about below:
LINKS:
 – House of the Dragon
 – Game of Thrones
 – Rings of Power
 – Lord of the Rings
 – The Sandman
 – 'The Sandman Changed Calliope's Story, And It's A Big Deal' – Amelia Emberwing, IGN
 – Ally McBeal
 – She-Hulk: Attorney at Law
 – 'Whose Shulkie is This? Thoughts on She-Hulk: Attorney at Law' – Sherin Nicole
 – Jessica Gao Interview: She-Hulk – Screen Rant
 – Partner Track
 – Teen Wolf
 – The Expanse
 – Trinkets
 – Suits
 – Sex and the City
Podcast: Play in new window | Download