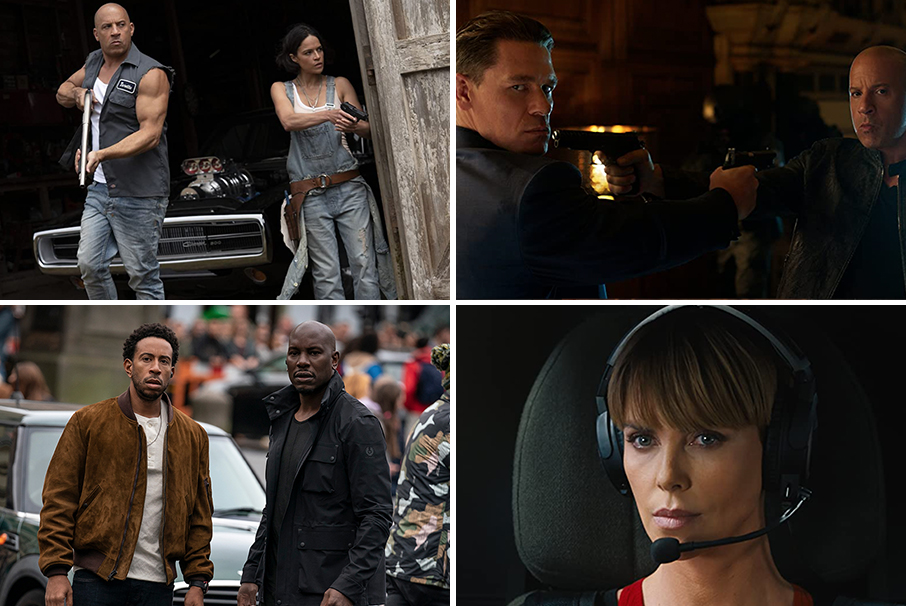 Stills from F9 (photos by Giles Keyte © 2020 Universal Pictures)
Rev those engines and buckle up 'cause it's time for Geek Girl Riot to get into F9, the latest installment of the Fast & Furious franchise. 
Sherin, Julian, and Philip are joined by guest host Vanessa Jones to celebrate the new film's release and revisit their golden F&F memories of days gone by. They share what they love about the Fast & Furious franchise overall and what they hope will come to the Fast universe next. Then they ring that Spoiler Siren and dive into F9, which in theaters now. Our Rioters give their first impressions and share their favorite moments—and things get wild, y'all. Sherin says, "I entertain no one having problems with any Fast & Furious movie past 6. You know what it is when you walk in the theater. This is a superhero world where BIPOCs roll up and do fantastic things with big brains and Teflon toughness."
Next our hosts share their dreams of a Fast & Femme spinoff, before breaking down the cast. They talk about why it's so important to see stories like this from diverse characters on screen. Ooh, and they shout out the styling and the casting, From the good guys to the villains, there is so much deliciousness to unpack and our Rioters serve it up! Sherin shares: "As a little girl I was always an action-adventure person—I loved the anime, the action movies, the samurai films—and Fast & Furious is all of those things. Plus it was birthed in the fires of Point Break. So it had its origins in a good place and it blossomed from there…Fast & Furious is like my brain put onto the screen and then exploded into an incredible high-octane extravaganza and I can't get enough of it."

Photos via 

Credit Karma

 - keep scrolling for more info!
You deserve to treat yourself—and why not be rewarded when you spend? A Credit Karma Money Spend account helps you build good money habits when you shop—you could even win cash reimbursements for debit purchases! Go to creditkarma.com/winmoney to open your free account and start winning Instant Karma. Instant Karma is sponsored by Credit Karma. NO PURCHASE NECESSARY. Exclusions and terms apply. See Rules. Banking services provided by MVB Bank, Inc., Member FDIC. Maximum balance and transfer limits apply.
Tune in to Geek Girl Riot on idobi Radio every Tuesday at 11pm ET / 8pm PT for your dose of late-night geekery from our team of Rioters. 'Til next time, see a list of everything our Rioters talked about below:
LINKS:
 – F9 (read Julian's review)
 – Fast Saga
 – Lord of the Rings
 – Ultraman
 – Point Break
 – The Flash
 – Commando
 – Game of Thrones
 – G.I. Joe
 – Animal Kingdom
 – Indiana Jones
 – M.A.S.K.
 – X-Men
 – Naruto
 – Birds of Prey
 – The Harder They Fall trailer
 – Snake Eyes trailer
 – Shang-Chi trailer
 – Inspector Gadget
 – Red
 – The Dark Knight trilogy
 – The Italian Job
Podcast: Play in new window | Download