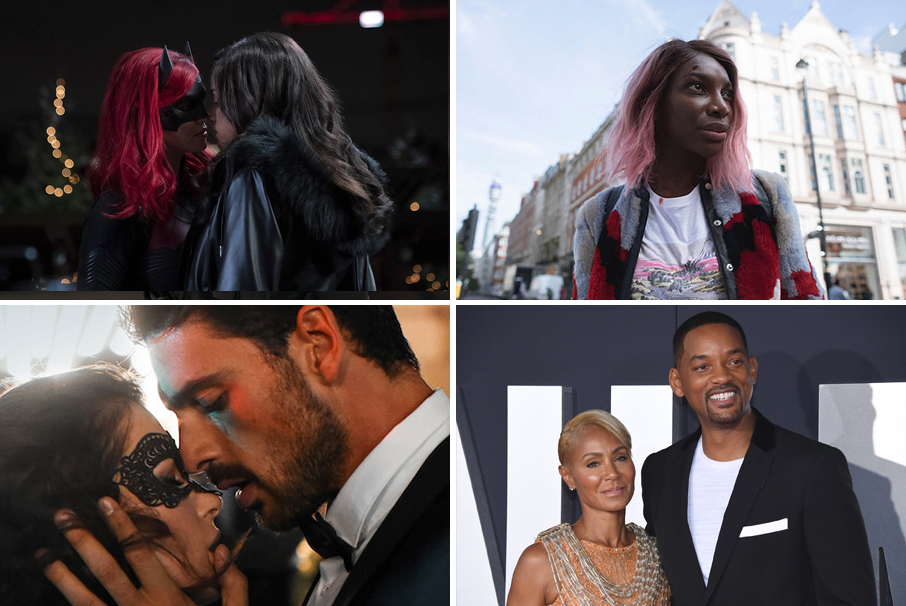 Clockwise from top left: Batwoman (photo © 2020 The CW Network, LLC) // I May Destroy You (photo via BBC) 
// Will & Jada Smith (photo: Phil Mccarten / AP file) // 365 Dni (photo via Netflix)
We're ready to run away on Geek Girl Riot—and our Rioters want you to join in on our escapism. In this remix episode, catch up on what's on our minds, including the latest pop culture trainwrecks (and we know y'all love those).
Virtual Strip Clubs, Steamy Netflix Flicks, and…Animal Crossing
Philip decides to kick off the episode by endorsing talking about the rise of virtual strip clubs. Uhh, yeah. That leads Sherin to discuss Netflix's steamy romance film 365 Dni. Alex tries to lighten the mood with Animal Talking, the Animal Crossing-themed late night talk show on YouTube.
I May Destroy You's Brilliance vs. "Who Asked For This?"
Sherin shoutouts Michaela Coel's HBO show I May Destroy You and tells you why it is a heartbreaking but incredible watch. Then our Rioters break down Coel's recent interview on Vulture, which details the reasons why her show Chewing Gum stopped abruptly after S2. They also talk about The CW's Batwoman, which announced its new lead following Ruby Rose's departure. Sherin, Philip, Alex, and Mo then dig into the recent (and performative) name changes of Lady A and The Chicks.
Trainwrecks (because…2020)
From playing the Black national anthem before games to changing the Washington football team's name, the NFL appear to be at least acknowledging the Black Lives Matter movement (except for re-signing Colin Kaepernick). Our Rioters attempt to unwrap all that, leading them into the mess of Kanye's apparent run for office. If that wasn't enough of a trainwreck for you, our hosts move onto Will & Jada & August's entanglement, before closing out with Harper's Magazine's beyond ridiculous "cancel cancel culture" letter.
Goody's (photos via Instagram) - keep scrolling to find out more!
Hangovers are a thing of the past thanks to Goody's. Their Hangover Powder can stop hangover pain, headaches, and muscle aches fast, served up in a tasty Berry Citrus Boost flavor! Treat yourself to some Real Medicine for Real Hangovers and pick up Goody's on Amazon, in Walmart, or at your local convenience store now.
Tune in to Geek Girl Riot on idobi Radio every Tuesday at 11pm ET / 8pm PT for your dose of late-night geekery from our team of rioters. 'Til next time, see a list of everything our Rioters talked about below:
LINKS:
– Porky's II: The Next Day (Sherin flubbed it on the show)
– 365 Dni
– Ruthless series – Theodore Taylor
– Animal Talking
– I May Destroy You
– 'Michaela the Destroyer' – Vulture
– Chewing Gum
 – Batwoman
– 'Javicia Leslie Makes History as the First Black Batwoman' – idobi.com
– Lady Antebellum vs. Lady A
– The Chicks
– The NFL to play the black national anthem
– 'NFL's Washington Redskins will change name and logo, team says' – CNN
– Kanye running for President
– Puffy talking about voting
– Will & Jada Smith's "entanglement" breakdown
– 'A Letter on Justice and Open Debate' – Harper's Magazine
– Jaya Sundaresh makes fun of the Harper's letter signees (Twitter thread)
Podcast: Play in new window | Download