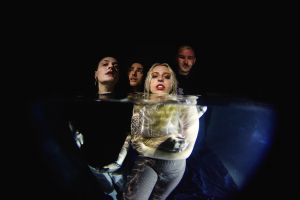 I am delighted to introduce an Australian indie rock band, Eliza & The Delusionals. I talked with Eliza and Kurt about their debut album (Now and Then out May 20), their single "Give You Everything." I recommend checking out the single's music video. We discussed how the band came together, what it took to make this album during the pandemic, and more. I hope you'll check out their music! 
This episode is brought to you by; 
Show your skin you care with the Athena Club Razor Kit! Sign up today, and you'll get 20% off your first order! Just go to Athena Club dot com and use promo code SCOGGS.
Please don't be shy, email me! [email protected] with any advice, questions, or topics. If you like the show, please rate, subscribe & share with a friend. 
Talk soon! 
<3Sara 
Stay connected
@elizaandthedelusionals
@SaraScoggs
@lets_talk_soon
Theme song produced by Shelby Merry
Photo by Luke Henery 
Podcast: Play in new window | Download