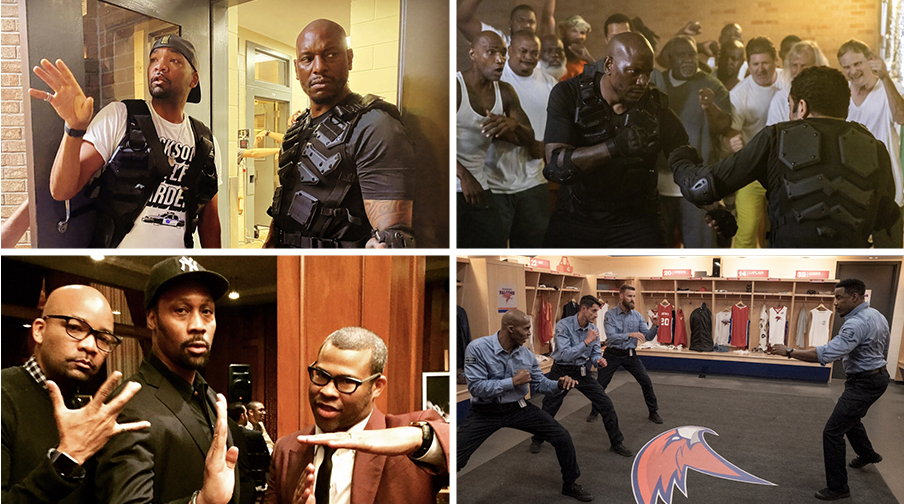 Dallas Jackson is a writer, director, creator, Howard alum, and an all-around great person to chat with. On Geek Girl Riot this week, we find out what he's been up to, his journey to making The System (in theaters now and on Apple+ Friday!), and what he's working on next.
Coffee & Cooking Up Ideas
Sherin and Monique call up Dallas to ask him, Whachudoin'? He shares what he's been working on lately, his coffee recipe for success, and his personal method of writing and balancing projects.
Getting started, The Last Dragon, Welcome to Sudden Death
The conversation takes Dallas back to his childhood, watching horror movies and getting his weekly comic book fix. That leads to talking about how he got his start with plans to remake The Last Dragon with Samuel L. Jackson, back when he was just Sam. He also dives into the lead-up to creating Welcome to Sudden Death and how his scripts have opened a lot of doors.
The System
In the final segment, Dallas talks about The System, his new movie starring Tyrese Gibson, Terrence Howard, Jeremy Piven, and Lil Yachty, which highlights the huge disparities and corruption within the prison system. He talks about how he filmed within a real working prison and employed inmates, and what he and his crew learned from the experience. Make sure to watch The System in theaters now and on streaming from November 4!
Tune in to Geek Girl Riot on idobi Radio every Tuesday at 11pm ET / 8pm PT for your dose of late-night geekery. 'Til next time, see a list of everything our Rioters talked about below:
– The System
– Bad Boys
– Lethal Weapon
– Coming to America
– Friday the 13th Part 3
– Halloween 2
– Faces of Death
– The Exorcist
– Candyman
– Nightmare on Elm Street 3
– First One Dead
– Night of the Living Dead (80s)
– The Last Dragon (Dallas)
– The Last Dragon
– Welcome to Sudden Death
– Akira
– Star Wars
– Flash Gordon
– Sanford and Sons
– He-Man
– Five Deadly Venoms
– Cobra Kai
– Pagan Fool
– Drumline
– Sudden Death
– Welcome to Sudden Death
– Penitentiary – Jamal Penacca
– Creature House
– Hostel
– Ben 10
– Big Hero Six
– The Storm Clan comic – Dallas Jackson
– The Horde
– The Rogue Warrior
Podcast: Play in new window | Download