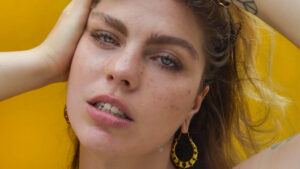 Daisy Draper is a songwriter who creates music to heal trauma and shine awareness on holistic mental wellness. Daisy is an old soul who generously shares her self-examination, discovery, and healing. This episode discusses mental health, personal growth, and how her work fuels her music. 
Daisy's single (and music video) "ANXIOUS!" takes us into the messy experience of anxiety and fear. This week she also released the track "False Flame," which deals with setting boundaries and raising your self-worth. I urge you to check out her music and share this conversation with a friend. 
Please don't be shy; email me! [email protected] with any advice, questions, or topics. If you like the show, please rate, subscribe & share with a friend. 
Talk soon! 
<3Sara 
Stay connected
@iamdaisydraper
@SaraScoggs
@lets_talk_soon
Theme song produced by Shelby Merry 
Photo courtesy of the artist.
Podcast: Play in new window | Download