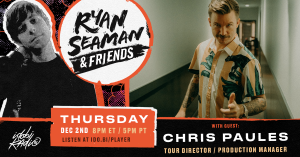 This week I have Tour Director and Production Manager Chris Paules. He's toured over the years and continues to tour with a lot of credible bands making their shows come to life (The Midnight, Tenacious D, etc…)  he was also once the guitar player in punk band Broadway Calls. We talk about how we met, as well as what it entails to do his job.
Podcast: Play in new window | Download
If the podcast player above does not load, please refresh the page.