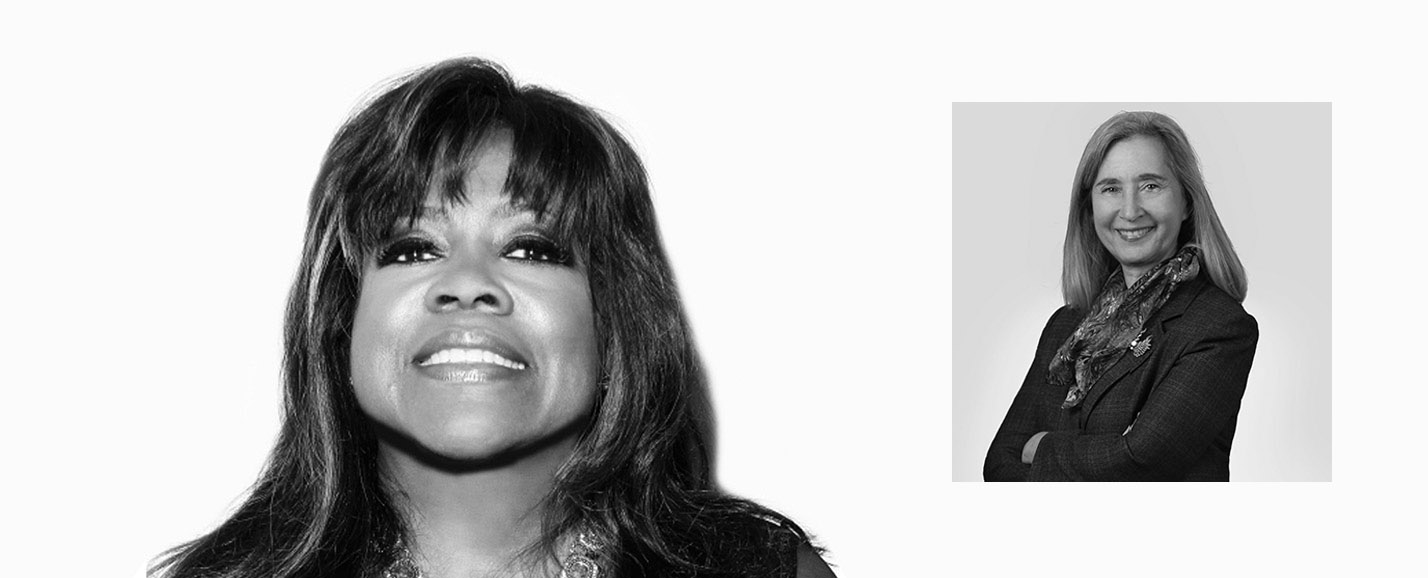 L: Chaz Ebert (photo via Lakefront Film Festival) // R: Nell Minow
Chaz Ebert is a big name in the film industry and an all-round big-hearted soul. Chaz heads up many Ebert enterprises, including entertainment media site RogerEbert.com. Sherin Nicole and special guest host Nell Minow recently sat down with Chaz to dive into her amazing career for her very own Whachudoin'? episode, recorded at the 2021 Lakefront Film Festival.
Storytelling & Uplifting Young Voices
Chaz kicks off the show with a story about the Cannes Film Festival, which leads to a conversation about storytelling. Then she talks about No Malice AKA the film competition she set up to encourage and uplift a new generation of young filmmakers and activists. Chaz also gets into the legacy of RogerEbert.com and how she and her husband Roger launched it together.
Ebertfest & Gene and Roger (Roger and Gene)
Chaz tells the story of connecting with Roger and changing careers to become VP of RogerEbert.com—and how that changed her life for the better. She also teases what's happening at Ebertfest and the importance of bringing joy and happiness in times like this. Since the date of this recording, the film festival has been postponed until April 20–23, 2022 to ensure everyone can enjoy it safely. Stay tuned for more details!
Chaz also chats about the new podcast Gene and Roger, hosted by Brian Raftery, which discusses the impact famed critics Roger Ebert and Gene Siskel had, not only on film criticism and coverage but also on filmmaking itself.
Fave Films & Putting Good into the World
We couldn't talk to Chaz Ebert herself without asking what her favorite films are. She also talks about The Roger and Chaz Ebert Foundation and how she hopes to inspire young people. Chaz closes with her vision for a world full of kindness and empathy. 

Photo via Gabi (keep scrolling to find out more)
Finding the best deal on auto insurance just got a whole lot easier thanks to Gabi. Their comparison platform gives you fast, verifiable quotes by comparing your current policy with 40 of the top insurance providers AND they only show policies that are the same or better than your current coverage, many of them at a lower price. Which means you get to save money (on average people save $80 a month!) AND Gabi is FREE to use. Start saving on your auto insurance today—go to gabi.com/ggr
Tune in to Geek Girl Riot on idobi Radio every Tuesday at 11pm ET / 8pm PT for your dose of late-night geekery. 'Til next time, see a list of everything our Rioters talked about below:
LINKS:
 – Titane (Titanium)
 – La La Land
 – Moonlight
 – Wallace and Gromit
 – The Queen's Gambit
 – Tiger King
 – Romy and Michele's High School Reunion
 – Logan
 – Gene and Roger
 – Book of Mormon
 – Daughters of the Dust
 – 1984 – George Orwell
 – A Clockwork Orange
 – Queen Sugar
 – The Most Beautiful Thing
Podcast: Play in new window | Download