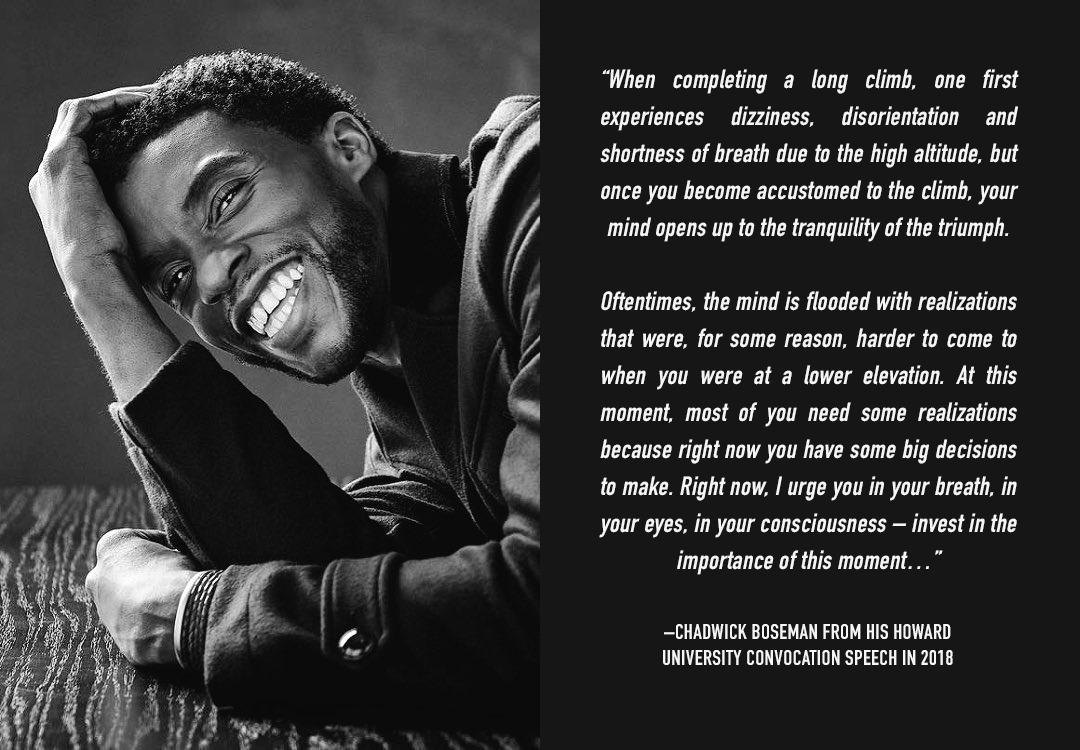 Photo via 

Twitter
This episode of Geek Girl Riot is dedicated to Chadwick Boseman, honoring his impact on the world, and other true to life heroes.
Farewell, King – Remembering Chadwick Boseman
Chadwick Boseman transcended to the next world on Friday, August 28th, 2020. It is a loss felt deeply by so many—he brought so much joy, laughter, and kindness to everything he did. Sherin, Mo, and Julian are joined by Devon Sanders to raise a cup to Boseman and celebrate his grace and excellence.
He Said a Word, He Did Great Things
In this segment our Rioters share some stories of their favorite things Boseman said or did as he proved he was a true hero both on screen and in real life. As Howard University alums, they talk about the community and strength he embodied everyday and what it means to them.
Real Heroes and Prince Jones
Sherin recently learned she and Chadwick shared a wonderful friend who deeply impacted them. His name was Prince Jones and he was murdered by a police officer who followed him well past jurisdiction. Sherin leads the segment with a moving tribute to Prince and remembers him as a hero (keep scrolling to see some beautiful photos she took of Prince). She then turns the mic to her hosts and they all share some wisdom and stories about John Lewis, C.T. Vivian, and the family heroes who inspired and continue to inspire them everyday.
We would also like to take a moment to honor the late great college basketball coach, John Thompson, who left us on Monday, August 31st. Devon has written a wonderful tribute to the legendary coach, which you can read below.
Goody's:

Photos via Instagram
Say goodbye to those hangover days—now you can mix up all the quarantinis you need without the morning after. Goody's Hangover Powder stops hangover pain, headaches, and muscle aches fast. And it's served up in a fresh Berry Citrus Boost flavor! If you need some Real Medicine for Real Hangovers, get some Goody's on Amazon, in Walmart, or at your local convenience store now.
—
'Soul Cages': Remembering Prince Jones: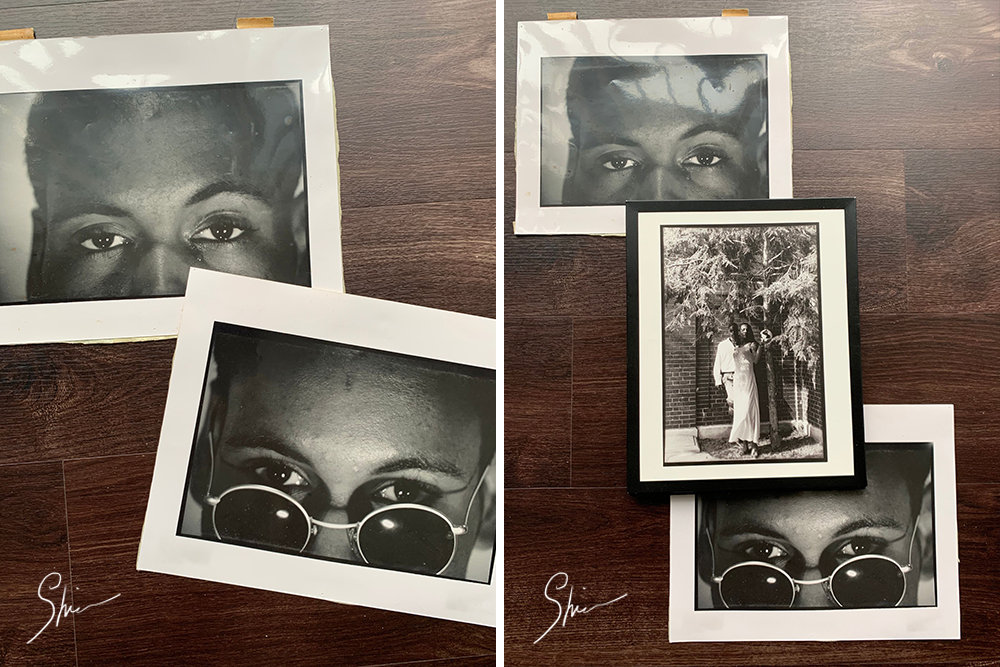 Photos of Prince Jones and Nickoria Johnson by Sherin Nicole – the eyes taken for an art installment 
called 'Soul Cages'
"I recently learned Chadwick and I shared a friend who deeply impacted us. His name was Prince Jones and he was one of the sweetest humans you could meet. Beautiful long lanky Black and often pulling his well over six foot frame into himself to appear smaller, so others could "feel comfortable". Prince was murdered by a police officer who followed him well past jurisdiction. And his loss affected so many of us Howard University Bison deeply. Chadwick wrote and performed a play about him called Deep Azure. Ta-Nehisi Coates was inspired to write his memoir, Between the World and Me, and I am fortunate enough to have captured him in black & white photos and to be forever encouraged by the light in his eyes. Prince Jones was a beautiful soul who died because he didn't want an unknown assailant to follow him to the home of his fiancée and daughter. And in Prince we see a reflection of now, and the sacrifice of black bodies to American asphalt, but also transcendent is the inspiration that fed other greatness. Today I remember Prince. As a hero."
–Sherin Nicole
—
John Thompson: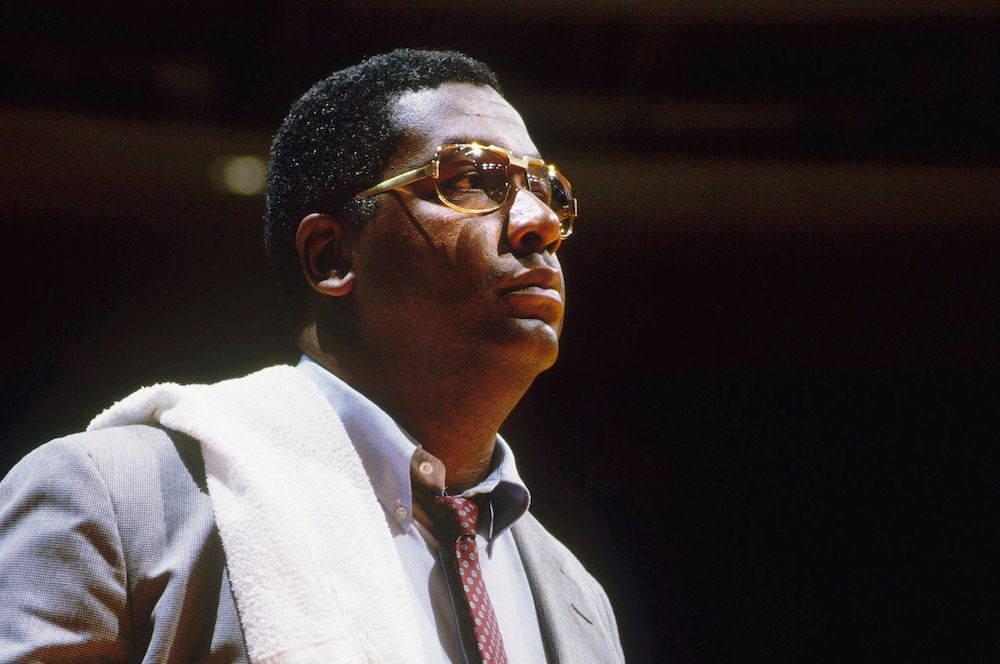 Photo: Getty Images
"A true legend. This man did nothing but uplift. Taught young boys how to bring the best out of themselves on the court while showing them how to become better men off. 
In the 80's, when drugs were ravaging DC's black communities, he—through Georgetown basketball—gave us an escape. Seriously, unless you were here in the DC area during the 80's and early 90's, you have no idea how much this man and Georgetown basketball meant to this city, specifically Chocolate City.
John Thompson fostered the careers and lives of Patrick Ewing, Dikembe Mutombo, Alonzo Mourning, Allen Iverson and so many more. He truly became bigger than the game.
Forever in gratitude to him for showing me how a man should truly move.
Rest in power, John Thompson."
–Devon Sanders
—
Tune in to Geek Girl Riot on idobi Radio every Tuesday at 11pm ET / 8pm PT for your dose of late-night geekery from our team of rioters. 'Til next time, see a list of everything our Rioters talked about below:
LINKS:
 – Black Panther
 – 42  – Marshall
 – The Express
 – Get on Up
 – The Shop
 – Da 5 Bloods
 – Ma Rainey's Black Bottom
 – Avengers: Infinity War
 – Avengers: Endgame
 – 21 Bridges
 – Moonlight
 – Shang-Chi
 – All My Children
 – Deep Azure
 – Between the World and Me – Ta-Nehisi Coates
 – Passing the Torch
 – The Help
Podcast: Play in new window | Download