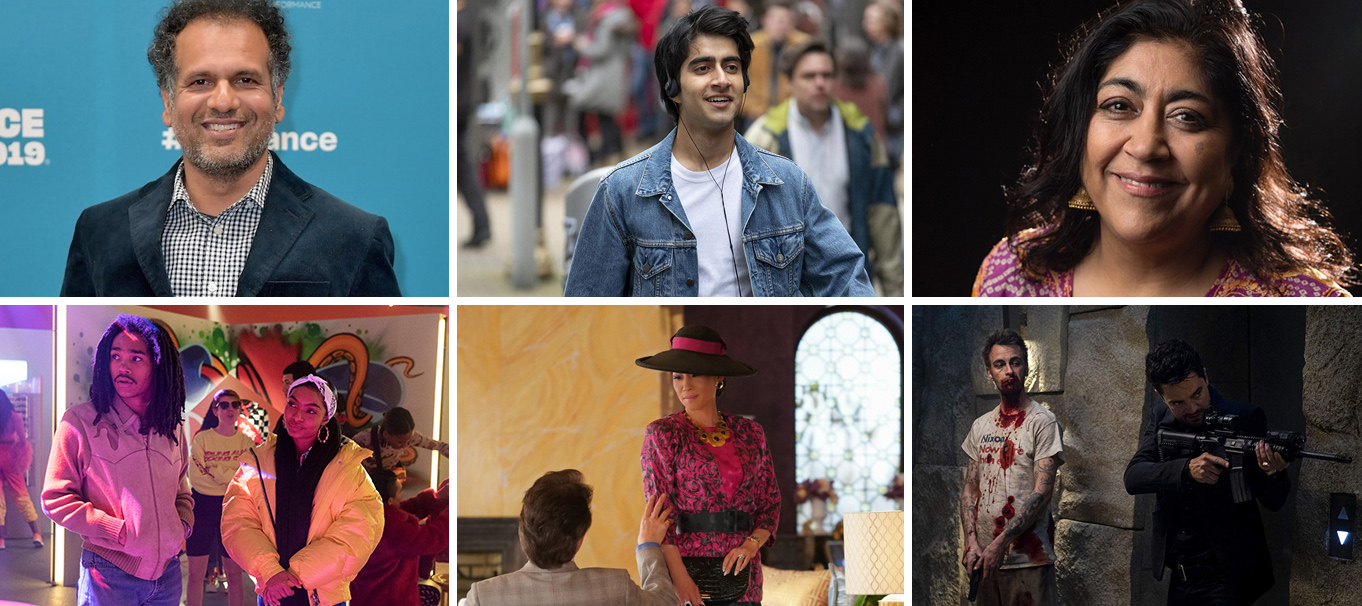 Top row L-R: Sarfraz Manzoor (photo courtesy of Getty Images) // Viveik Kalra in Blinded By the 
Light (photo by Nick Wall - © 2019 Warner Bros. Entertainment Inc.) // Gurinder Chadha (photo 
by Neil Grabowsky)
Bottom row L-R: Grown-ish (photo: Freeform/Eric McCandless) // Why Women Kill (photo by Ali 
Goldstein - © CBS ©2019 CBS Interactive, Inc.) // Preacher (photo © 2019 AMC Networks 
Entertainment LLC. and Sony Pictures Television Inc.)

What We're Watching
It's been a long week (and it's only Wednesday) but there's one thing our Rioters can always count on: A healthy amount of TV to obsess over. Sherin and Alex spill their feels on Why Women Kill, Preacher, and the season finale of Grown-ish.
Blinded By the Light Q&A with Gurinder Chadha, Viveik Kalra, and Sarfraz Manzoor
Blinded By the Light is a charming movie about a British teenager whose life is transformed when he discovers Bruce Springsteen's music. Sherin attended a special screening and Q&A featuring director Gurinder Chadha, leading man Viveik Kalra, and writer Sarfraz Manzoor. Hosted by Susan Koch, Executive Director of the Middleburg Film Festival, the Q&A will let you in on the secrets behind the film—listen out for two questions from Sherin! Chadha, Kalra, and Manzoor talk about their favorite songs and scenes, getting The Boss himself on board, and how much of the movie is true to Manzoor's story. Get ready because Blinded By the Light will leave you dancing in the dark…
Left: BetterHelp // Right: Native (photo via nativedeodorant.com)
Native:
We've fallen head over heels for Native's fabulous brand of natural deodorants. Native Deodorant creates safe, simple, effective everyday products with trusted ingredients and trusted performance. And we want you to feel as good as we do: For 20% off your first purchase, visit nativedeodorant.com and use promo code GGRIOT during checkout!
—
BetterHelp:
Looking after your mental health is important and we've teamed up with BetterHelp to make sure you're feeling your best. BetterHelp is the largest online counseling platform worldwide. You can receive professional counseling anytime, anywhere, through a computer, tablet or smartphone—how cool is that? Brought to you by BetterHelp. Get 10% off your first month when you head to betterhelp.com/GGRIOT.  
—
Tune in to Geek Girl Riot on idobi Radio every Tuesday at 11pm ET / 8pm PT for your dose of late-night geekery from our team of rioters. Til next time, see a list of everything our Rioters talked about below:
LINKS:
 – Why Women Kill
 – Preacher
 – Grown-ish
– Blinded By the Light (read Sherin's review)
 – A Different World
 – Desperate Housewives
 – Dynasty
 – The Good Place
 – Veronica Mars
 – Devious Maids
 – Preacher (comic) – Garth Ennis, Darick Robertson
 – Greetings From Bury Park – Sarfraz Manzoor
 – Bride & Prejudice
 – The Promise
 – Bend it Like Beckham
 – The Breakfast Club
 – Crazy Rich Asians
 – Gang Busters
Podcast: Play in new window | Download