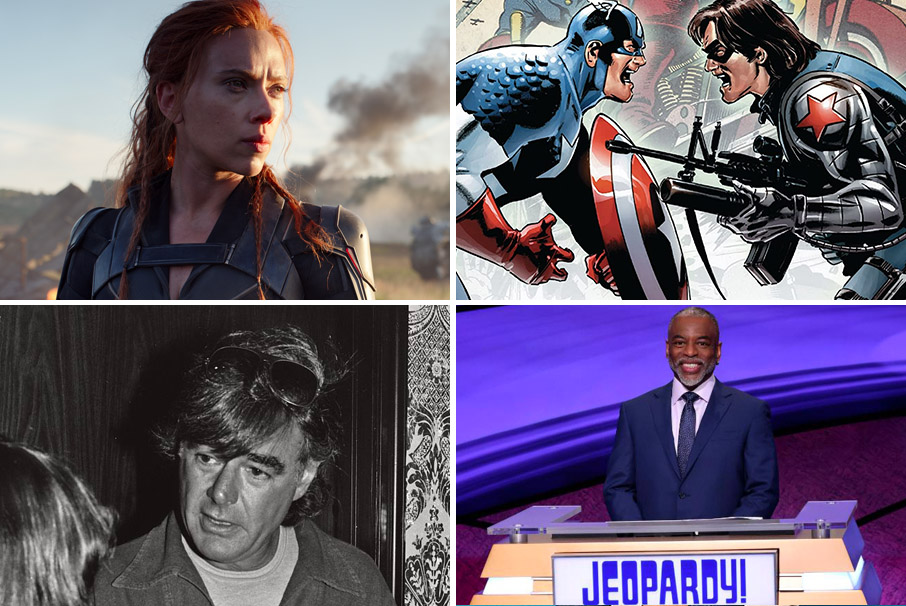 CW from top left: Black Widow (p

hoto by Jay Maidment © Marvel Studios 2021) 

// The Winter Soldier (photo 
courtesy of Marvel) // LeVar Burton on Jeopardy! (photo credit: Carol Kaelson/Jeopardy Productions, Inc.) 
// Richard Donner (photo by 

Alan Light

)
Geek Girl Riot recently teamed up with Fantastic Forum for another ambitious crossover, talking about the infamous Black Widow lawsuit, Marvel & DC vs. artists, and more entertainment news. This show was recorded on July 31.
Entertainment News + Remembering Richard Donner
FF host Ulysses Campbell kicks off the show with some entertainment news, before introducing his team: Sherin Nicole, Julian Lytle, Drew Bittner, and Roberto Ortiz. They pay their respects for the late great Richard Donner who inspired generations with his films including Superman, Lethal Weapon, The Goonies, and so many more. Then the group discusses the rumors surrounding the new Jeopardy! hosts and encourage Ulysses to send in his own audition tape.
Black Widow vs. The Mouse
Scarlett Johansson has once again been shaking up the internet by announcing she's suing Disney over her Black Widow contract. Our hosts break down all the nitty gritty details and why it's important. That leads them into discussing similar lawsuits from other films, before getting into how the rise of streaming is changing contracts.
Marvel & DC vs. Their Artists
It's a well-known concept that artists are rarely paid what they're worth. In comics, it seems, things are even worse—especially when TV and movie networks get involved. Often they take characters from comics and adapt them onscreen to make millions, without so much as a thank you to the artists who created them. Ulysses, Sherin, Julian, Drew, and Roberto look at the recent backlash facing Marvel and DC, especially since Ed Brubaker aired his discontent about not getting paid a cut of what his character The Winter Soldier generates onscreen. That takes them via a quick history lesson in royalties.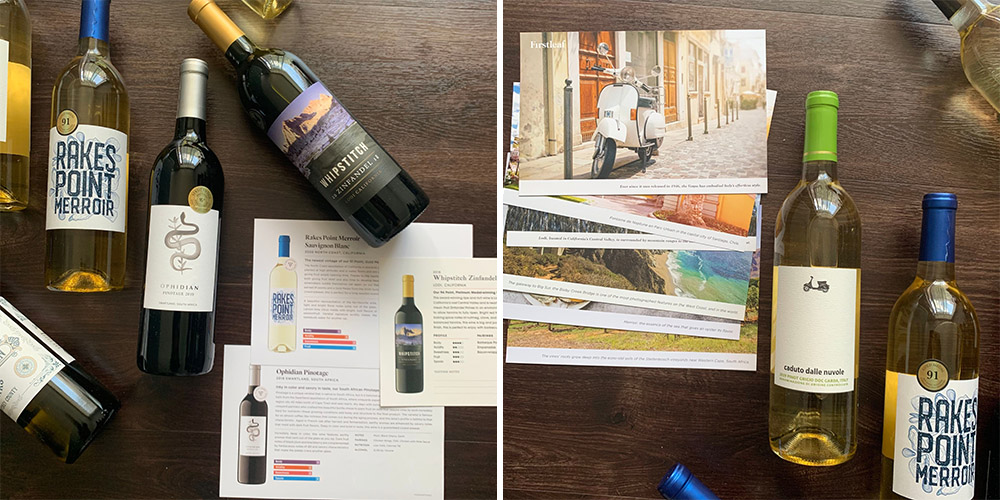 Firstleaf (keep scrolling for a sweet deal!)
It is always Wine O'Clock on Geek Girl Riot, which is why we've teamed up with Firstleaf for a special deal! Their wine club curates and ships boxes of wine completely tailored to you thanks to a handy quiz. Try their top selections from renowned winemakers all over the world and treat yourself to some new tastes (or your fave flavors)! Whether you're by the water, grilling with friends, or taking it easy at home, Firstleaf is the perfect summer staple. Join today and you'll get 6 bottles of wine for $29.95 and free shipping! Just go to tryfirstleaf.com/ggriot.
Tune in to Geek Girl Riot on idobi Radio every Tuesday at 11pm ET / 8pm PT for your dose of late-night geekery. 'Til next time, see a list of everything our hosts talked about below:
LINKS:
 – Spider-Man: No Way Home
 – Snowpiercer
 – Black Widow
 – Hawkeye
 – What If…?
 – Superman
 – Kojak
 – Gilligan's Island
 – The Omen
 – Ladyhawke
 – The Goonies
 – Lethal Weapon
 – Jeopardy!
 – A Quiet Place
 – Star Trek
 – Cruella
 – Jungle Cruise
 – Wonder Woman 1984
 – F9
 – Han Solo
 – Better Call Saul
 – Scrooged
 – Black Panther
 – G.I. Joe
 – Superman & Lois
 – The Dark Knight
 – Batman v Superman
 – The Flash
 – X-Men
 – Fantastic Four
 – Arrow
 – Black Lightning
 – Legends of Tomorrow
 – Supergirl
Podcast: Play in new window | Download