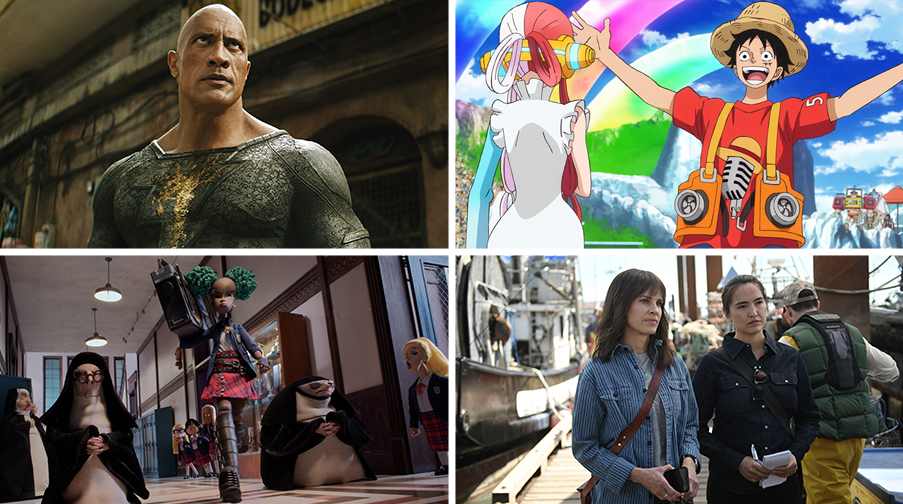 This week's Geek Girl Riot is overstuffed with good content—our Rioters talk Wendell & Wild, Ghostwriter, Black Adam, One Piece Film Red, Alaska Daily, and more TV. We also encourage you to vote for your lives!
Your Vote Matters
Y'all, Sherin and Alex are TIRED. They're tired of the state of the world, tired of politician roulette, and tired of being super-put-together-sparkly hosts—so today, excuse their chaotic ramblings and listen to the core message: We need you to VOTE. Vote in the midterms, vote all the way up, vote as if your life depends on it—because it really does. 
Wendell & Wild + Ghostwriter
Next up, Sherin tells Alex all about Wendell & Wild, the new Netflix stop-motion animation about a teenage girl who finds she has some underworldly powers. She says, "The animation is beautiful, the character designs are really interesting, and there's a lot of lore I'd like to see explored more, but Wendell & Wild is possessed with fun. And of course, Key & Peele always come through." Then Sherin shouts out Ghostwriter, the Apple TV+ show that's family fun for everyone!
Black Adam + One Piece Film Red
Julian jumps on with Sherin to dive into Black Adam and how this fits into the DCEU. They bring their encyclopedic comics knowledge to the table and share what they loved and what they want to see next. Sherin comments, "While I don't think it was a great movie, it was a very enjoyable movie and I had a good time. And you give me Aldis Hodge as Hawkman and you really are 75% there—so much charisma."
Then they switch gears and chat about One Piece Film Red, the epic chapter of the beloved manga and anime. Sherin adds, "One Piece Film Red digs into the character's psyches, their trauma, their pain and takes them on new journeys. And you know the backstories are always going to be critical and insane."
Alaska Daily + More TV
In the final segment, Alex takes back over with Sherin to show some love for Alaska Daily, the new ABC show about a small local paper working hard to unearth some terrible crimes against the state's Indigenous people. Sherin says, "This feels like a Shonda show, which is a great compliment—it riveted me, the dialogue is snappy, the characters are quirky, and the drama is juicy." Our Rioters also shout out a few other shows on their journey.

If you need your Rings of Power fix, explore more that Middle Earth has to offer with Wondery's The Lord of the Rings: The Rings of Power Podcast. Host Felicia Day takes us episode by episode, getting into the most epic reveals and scenes that made us squeal, joined by the cast and creators! It's the perfect companion to your Rings of Power adventure. 
Listen to Wondery's The Lord of the Rings: The Rings of Power Podcast
for free on Amazon Music.
Tune in to Geek Girl Riot on idobi Radio every Tuesday at 11pm ET / 8pm PT for your dose of late-night geekery. 'Til next time, see a list of everything our Rioters talked about below:
LINKS:
 – Black Adam
 – Mo
 – The Sandman
 – The Boys
 – The Umbrella Academy
 – Eternals
 – Doctor Strange
 – Dune
 – Star Wars
 – Justice League
 – One Piece
 – One Piece Film Red
 – One Piece Film Gold
 – Kimetsu no Yaiba: Demon Slayer
 – Thousand Year Blood War
 – Alaska Daily
 – Wendell & Wild
 – Ghostwriter
 – She-Hulk
 – The English
 – Tales of the Jedi
 – Willow
 – Doctor Who 
 – Abbott Elementary
 – The Equalizer
 – Star Trek: Lower Decks
 – The Station Agent
 – Christopher Robin
 – Up
 – Am I Being Unreasonable?
Podcast: Play in new window | Download