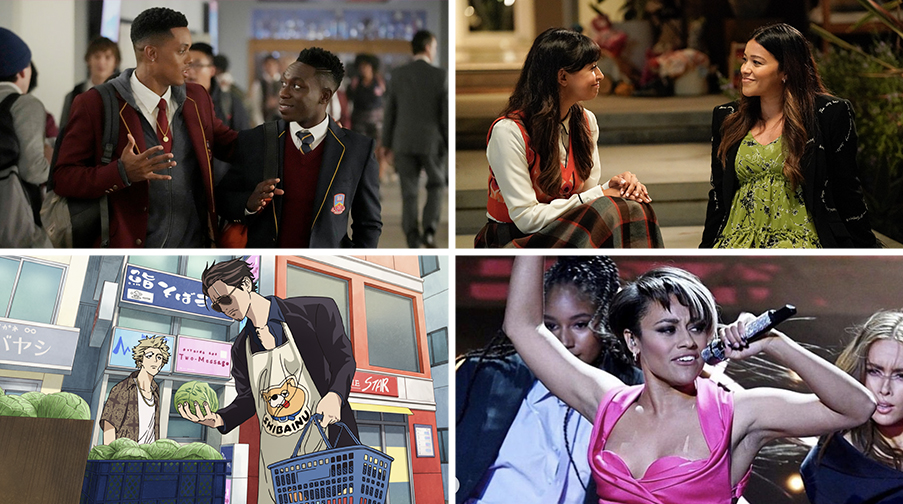 Geek Girl Riot has watched all 3475643 hours of TV this month so we can tell you the best stuff to watch. Our Rioters talk Bel-Air and Not Dead Yet, as well as some soothing toons and some awards show trainwrecks.
Bel-Air
Now this is a story all about how Bel-Air's coming back to Peacock for S2 tomorrow—Sherin teases the new season and compares it to the original story. Sherin says, "The drama bounces higher and harder in season 2. Social issues are blasted, personal issues sour, and throughout the first 4 episodes you'll sense something sinister is coming to Bel-Air."
Soothing Toons + Not Dead Yet
Sherin and Alex are all about finding ways to make their hearts happy—and soothing toons always make them smile. They kick off this segment with The Way of the Househusband, the anime that's got them giggling all day, before shouting out Kotaro Lives Alone, Steven Universe, and other series they love.
Next up they get into Not Dead Yet, the sparkling new addition to the ABC comedy roster starring the always-wonderful Gina Rodriguez. Sherin says, "In a classic woman-interrupted scenario, Not Dead Yet begins with a bad breakup, a bad roommate, and a dead-end job writing obits in a coffin-sized office. When Nell starts chatting up the dead you'll need to know what's next." Watch it every Wednesday on ABC!
Angela Bassett Did the Thing: Awards Show Trainwrecks
The BAFTAs happened over the weekend and the meme-worthy moments were the real winners of the night. Namely, Ariana DeBose's wild freestyle rap performance. That leads Sherin and Alex to discuss some other awards show mishaps, which turns into a conversation about consent.

We've teamed up with Zocdoc to help you find the proper healthcare you deserve from trusted professionals. Their free app makes it so easy to find the right doctor that meets your needs and fits your schedule. Go to zocdoc.com/ggriot and download the Zocdoc app for FREE. Then find and book a top-rated doctor today. Many are available within 24 hours.
Tune in to Geek Girl Riot on idobi Radio every Tuesday at 11pm ET / 8pm PT for your dose of late-night geekery. 'Til next time, see a list of everything our Rioters talked about below:
—
Hot takes from Sherin about Bel-Air:
Jazz (played by Jordan L. Jones) remains my number 1 character since day 1. Jazz from the original series was more comedic relief in guest visits. This Jazz is an anchor of the show, like one of those wise old sages with swagger from anime.
Hilary (Coco Jones) is really trying this season, she tries hard to evolve, but she's also trying it because she often tries too hard.
Tension is high between Uncle Phil (Adrian Holmes) and Geoffrey (Jimmy Akingbola). You'll wonder if they're about to get into some fisticuffs…or worse.
Aunt Viv (Cassandra Freeman) is ready to take on the art world and that industry is even harder to traverse than academia.
Meanwhile, Carlton (Olly Sholotan) is trying to find a new rhythm at school now that his golden boy persona has tarnished. Of course, most people don't know he is diagnosed with anxiety and he may be missing out on more solidarity than he realizes.
Ooh and Tatyana Ali, Ashley One, shows up as an influential teach for Ashley Two (Akira Akbar). So original fans have something to look forward to.
Finally, Will (Jabari Banks) is about to make all the aunties want to shake him. His hurt feelings start to push his ego to volcanic proportions. He's in overkill mode and I just hope there won't be too much of a ricochet.
Podcast: Play in new window | Download