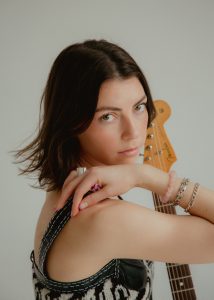 Anna Shoemaker is gearing up to release her debut album, Everything is Fine (I'm Only on Fire) out March 2. Anna and I discussed the process of writing the new album, the release songwriting provides, and how tapping into anger as a woman comes with some judgment. Anna's latest single "Mariah" just dropped this week so be sure to check it out! I hope you enjoy getting to know Anna. 
This episode is brought to you by; 
Magic Mind is the world's first productivity drink, a mix of 12 functional ingredients, including Matcha, nootropics that make you focus, and adaptogens that help you fight off stress.Visit MagicMind.co/Scoggs and  use my discount code at checkout SCOGGS  to get a limited 20% off your first order
Audible brings you Mel Robbins, a bestselling global phenomenon and one of the leading voices in personal development, is back with a new Audible Original podcast, Here's Exactly What to Do, which invites you to reimagine the life you want—and gives you the tools to take action. Visit Audible.com/whattodo
Never get tired of a good whodunnit? Then you'll love June's Journey. You play as June Parker, an amateur detective investigating a series of mysteries, full of twists and turns.  Ready to awaken your inner detective? Download June's Journey free today on the Apple App Store or Google Play!
Please don't be shy, email me! [email protected] with any advice, questions, or topics. If you like the show, please rate, subscribe & share with a friend. 
Talk soon! 
<3Sara 
Stay connected
@annashoemaker_
@SaraScoggs
@lets_talk_soonL
Theme song produced by Shelby Merry 
Podcast: Play in new window | Download