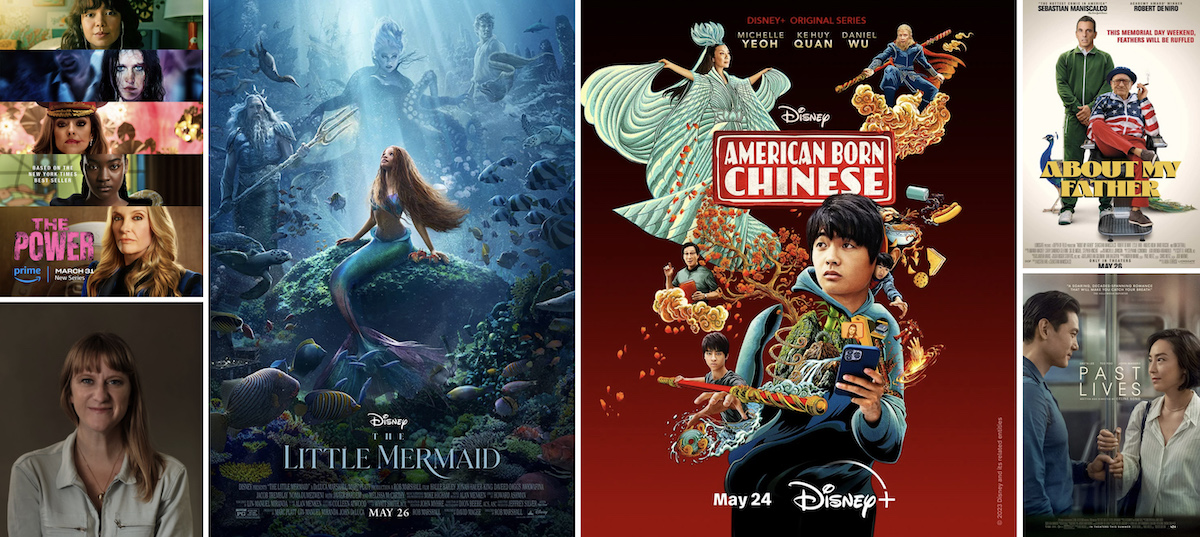 When it comes to fresh insight and hot takes, Geek Girl Riot always delivers: Our Rioters discuss American Born Chinese, The Little Mermaid, About My Father, and Past Lives, before chatting all about The Power with executive producer Naomi de Pear.
American Born Chinese
Alice Meichi Li joins Sherin to talk American Born Chinese, the new Disney+ series, and how it compares to the 2006 original graphic novel. Pulling from their collective storytelling knowledge, they dive deep into the themes, inspirations, and characters to give you a Riotous conversation. 
The Little Mermaid
Julian and Renee jump on with Sherin to head under the sea with The Little Mermaid. Ringing the Spoiler Siren, they compare the original story with the highs & lows of this new take, discussing the characters, the incredible cast lineup, and the songs (because no The Little Mermaid chat is complete without talking about the music). 
About My Father + Past Lives
Julian and Sherin give their hot takes on About My Father, the new movie starring Sebastian Maniscalco and Robert De Niro. Sherin says, "This is the movie that comes on HBO at midnight—immediately after the movie you actually wanted to watch—and you just let it play. We can't recommend it but if you're stuck with it, watch it."
Then they switch to Past Lives, a Korean American love story hitting theaters on Friday. Sherin comments, "This steady and luxuriantly languid film moves at the pace of longing, what if, and maybe love—but it is also uncomfortable for me, as though something is falling apart and I am a voyeur to its demise."
The Power feat. Interview with Naomi De Pear
If you missed our recent chat on The Power, we're here to get you caught up to speed and ready to binge-watch every episode on Prime Video. Intertwining stories of women across the world who develop a mysterious electrical power, The Power is gripping—and the show's executive producer Naomi De Pear is about to add layers to your new obsession. Renee chats with Naomi about the storytelling and representation, the characters and their relationships, and how the show explores power dynamics in fascinating ways.
Tune in to Geek Girl Riot on idobi Radio every Tuesday at 11pm ET / 8pm PT
for your dose of late-night geekery.
Podcast: Play in new window | Download