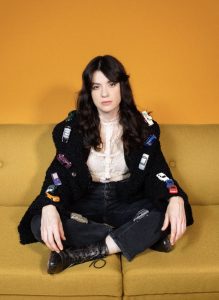 Join us for the latest episode with singer/songwriter Alicia Blue. Alicia grew up in Los Angeles, where she met a few mentors that helped propel her into her journey as an artist. Recently, Alicia spent time in Nashville, where she worked on her upcoming EP, 'Inner Child Work.' I can tell you the EP is fantastic, and in the conversation, we will dig into a few songs. I hope you enjoy getting to know this kind soul and will check out her music. 
This episode is brought to you by; 
Dipsea is an app full of hundreds of short, sexy audio stories designed by women for
Women. They bring scenarios to life with immersive soundscapes and characters, no matter who you're into or what turns you on. Dipsea is offering an extended 30-day free trial when you go to DipseaStories.com/scoggs.
Please don't be shy, email me! [email protected] with any advice, questions, or topics. If you like the show, please rate, subscribe & share with a friend. 
Talk soon! 
<3Sara 
Stay connected
@aliciabluemusic
@SaraScoggs
@lets_talk_soon
Theme song produced by Shelby Merry
Photo by Tammie Valer
Podcast: Play in new window | Download