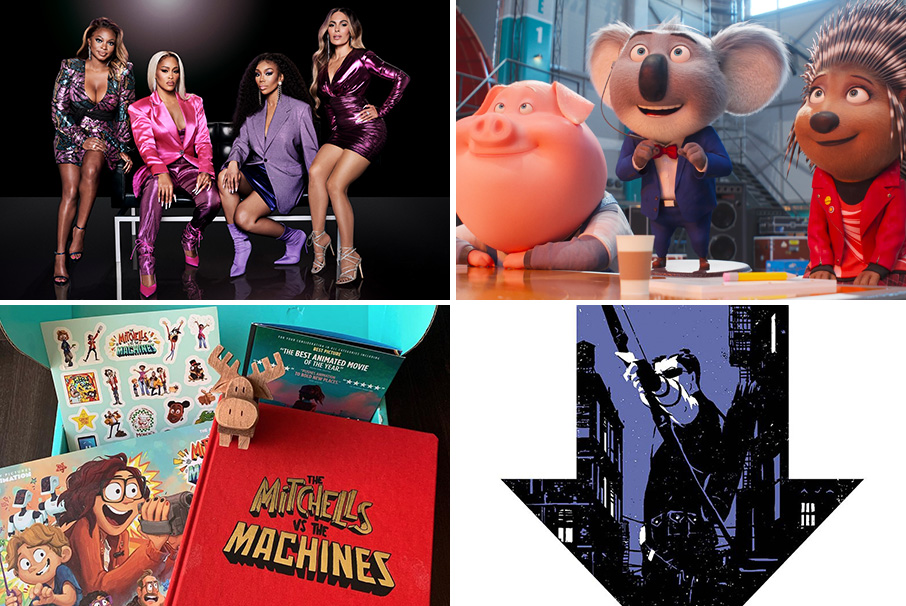 CW from top left: Queens (photo: ABC/Gavin Bond) // Sing 2 (photo: Illumination Entertainment and Universal 
Pictures) // The Mitchells vs. The Machines critics box from Netflix // Hawkeye Little Hits comic book 
cover by Matt Fraction & David Aja
Y'all, we are TIRED on Geek Girl Riot. It's been one helluva year and sometimes even our super-powered Rioters need a break—so today we're talking about whatever comes to our minds (you have been warned)…
Surprises + Tributes
Julian gets the show off to a wild start by announcing that Dr. Oz is running for Senate in Pennsylvania. Then our Rioters celebrate the ABC show Queens and Alex gives a sneak peek into the upcoming NBC Peacock series Baking It. Our Rioters also take some time to pay tribute to Stephen Sondheim and Virgil Abloh, two legends who recently transcended.
Sing 2 + Gift Boxes
Sherin and Julian kick off segment 2 with a hyped-up teaser for Sing 2, before highlighting some of the wonderful promotional boxes they've been receiving from TV/movie networks. Our hosts also dig into the current most-watched lists from Netflix and shout out the properties they're loving.
News + New Binge-watches
Segment 3 features more news, including Rob Dobi's incredible talent for pranks, Boris being a bumbling buffoon, and the Hawkeye series boycott. Which somehow leads our Rioters into discussing the manga and anime they're most excited about. Yup, we like to cover it all here on Geek Girl Riot—so what'cha waiting for?
Vuori: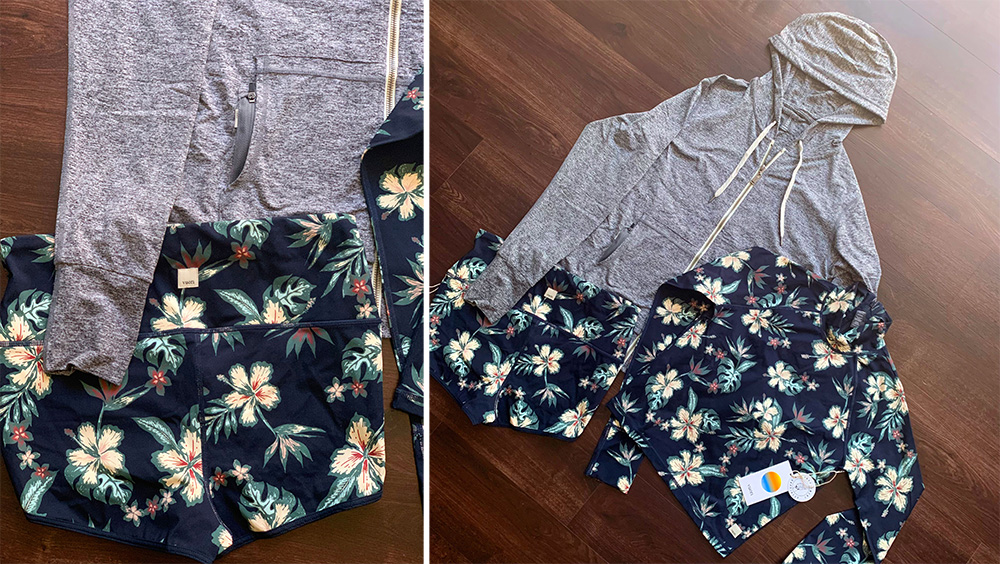 'Tis the season for great gifts & great fits—why not do both with Vuori? Their workout gear is comfy & cute for life inside & outside of the gym. And when you buy Vuori, you're helping to take care of the planet too: Vuori is 100% offsetting their carbon footprint! So when you grab a gift for your loved ones, you'll be doing all kinds of good. Get 20% off your first purchase at vuori.com/ggriot AND enjoy free shipping on any U.S. orders over $75 with FREE returns!
—
Modern Fertility: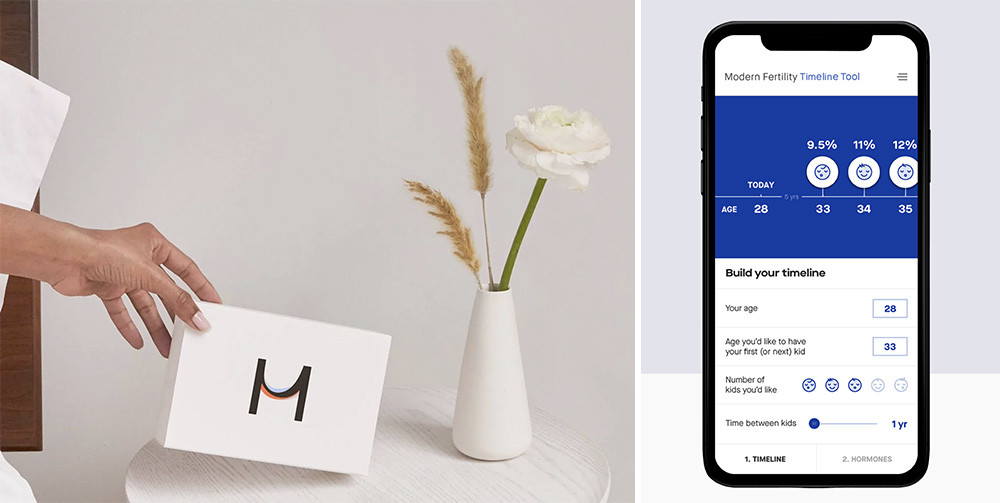 Photos via 

modernfertility.com
Unlock the power of information about your reproductive health with Modern Fertility. Their finger-prick test is the easy way to test your fertility hormones at home. From finding out your egg count to menopause timing, thyroid issues to PCOS, you're one easy step away from personalized results within 10 days! Get $20 off your Modern Fertility test when you go to modernfertility.com/geekgirl. 
—
Tune in to Geek Girl Riot on idobi Radio every Tuesday at 11pm ET / 8pm PT for your dose of late-night geekery. 'Til next time, see a list of everything our Rioters talked about below:
LINKS:
 – Dr Oz is running for Senate
 – The Oprah Winfrey Show
 – Monty Python
 – Don't Look Up
 – Thank You for Smoking
 – Vice
 – Barbarians at the Gate
 – The Big Short
 – West Side Story
 – Queens
 – Dynasty
 – Empire
 – Baking It
 – Making It
 – Stephen Sondheim
 – Virgil Abloh
 – Black Panther
 – Off-White
 – Sing 2
 – The Muppets
 – The King's Man
 – "Measure of a Man" – FKA Twigs
 – Red Notice
 – Bruised
 – A Boy Called Christmas
 – A Castle for Christmas
 – The Princess Switch 3
 – True Story
 – Cowboy Bebop
 – Selling Sunset
 – Arcane
 – MAID
 – Spoiled Brats
 – Outlaws
 – Just Short of Perfect
 – Love Me Instead
 – Dhamaka
 – The Harder They Fall
 – The Hand of God
 – The Green Knight
 – Passing
 – King Richard
 – Cyrano
 – Encanto
 – tick, tick…BOOM!
 – Rent
 – Randall Park set to star in a new Netflix sitcom about Blockbuster
 – Spider-Man
 – Transformers
 – Rob Dobi prank calls a conservative radio show
 – The Masked Singer
 – Hawkeye
 – Hawkeye – Matt Fraction, David Aja
 – Wonder Woman – Phil Jimenez
 – Wonder Woman 1984
 – Hunter Hunter
 – Kimetsu no Yaiba: Demon Slayer
 – Jujutsu Kaisen
 – Chainsaw Man
 – Spy x Family
 – Kaiju no. 8
Podcast: Play in new window | Download
If the podcast player above does not load, please refresh the page.