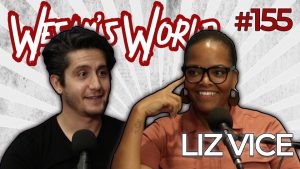 On Episode #155 of Wesam's World, musical artist Liz Vice joins us on the show! Tune in to hear Liz talk about her time working in the music industry, living in both New York and L.A., and….is that a bobcat?! A what?? A BOBCAT!! Enjoy!
Be sure to check out Liz Vice on Spotify, ITunes, and wherever you find your music!
This episode is brought to you by PrettyLitter! Get the world's smartest litter without leaving home by visiting PrettyLitter.com and use promo code WESAM for 20% off your first order.
~~~~~
YouTube► https://www.youtube.com/channel/UCIEy_lTyI57a4pJMB3RvD9w
Instagram ► http://instagram.com/WesamsWorld
Twitter ► https://twitter.com/Wesams_World
Facebook ► https://www.facebook.com/Wesamsworld
TikTok ► https://vm.tiktok.com/ZMJDDXYLf/
Podcast: Play in new window | Download