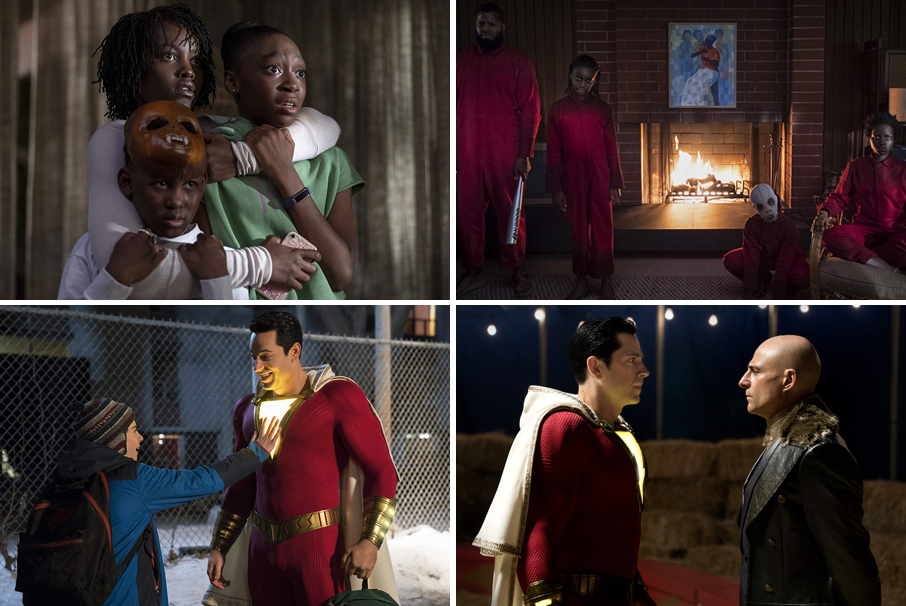 Top row: Us (photos by Claudette Barius - © Universal Pictures)
Bottom row: Shazam! (Photos © 2018 Warner Bros. Entertainment Inc.)
We're celebrating two new films from very different genres: Us and Shazam! We also dig into the current state of movies on the latest Geek Girl Riot.
You'd Better Watch Out…'Cause Us is One to Watch
Jordan Peele's latest movie broke our brains and scared the hell outta us—so our Rioters are taking a minute (or 20) to show it some love. They take Us to the Oscars, breaking down the characters and actors, the storytelling, and the direction. This film has so many layers you'll be digging through long after you've left the theater—three or four times over—and Sherin, Julian, and Mae take on just a few in this spoiler-free segment.
Shazam! is the DC Cinema Magic We Need
We're gonna say it: DC have finally figured out movies. With Shazam! charming our Rioters' hearts, they tell you why you've gotta see it. Sherin, Julian Lytle, and Mae Abdulbaki dig into the story, their favorite moments, characters and performances. They also explain some of the Easter eggs and why Shazam is also known as the original Captain Marvel…but not the one you just saw named Carol.
Geek Girl Riot's Going to the Movies!
Our trio spend a lot of time sitting in a row at the theater covering press screenings so they can tell you what to expect from all the latest blockbusters. Now they're sharing their thoughts on the current landscape of cinema—the good and the bad—what they're looking forward to, and the ways inclusive POVs and original storytelling are changing the medium.
Hear more from Julian Lytle at Ignorant Bliss and read his reviews on idobi. Catch Mae Abdulbaki's reviews at movieswithmae.com and theyoungfolks.com!
Tune in to Geek Girl Riot on idobi Radio every Tuesday at 11pm ET / 8pm PT for your dose of late-night geekery from our team of rioters. Til next time, see a list of everything our Rioters talked about below:
LINKS:
– Black Panther
– The Walking Dead
– Get Out
– Captain Marvel
– Wonder Woman
– Aquaman
– BIG
– Shazam! (TV show)
– Chuck
– This Is Us
– Stranger Things
– Crazy Rich Asians
– Baby Driver
– Death Note
– Strong Woman Do Bong Soon
– Dumbo
– Avengers: Endgame
– Toy Story 4
– Dark Phoenix
– Spider-Man: Far From Home
– Aladdin
– Maleficent: Mistress of Evil
– Star Wars
– Frozen 2
– Fantastic Four
– X-Men
– The Killer (read Sherin's essay celebrating the remake)
Podcast: Play in new window | Download