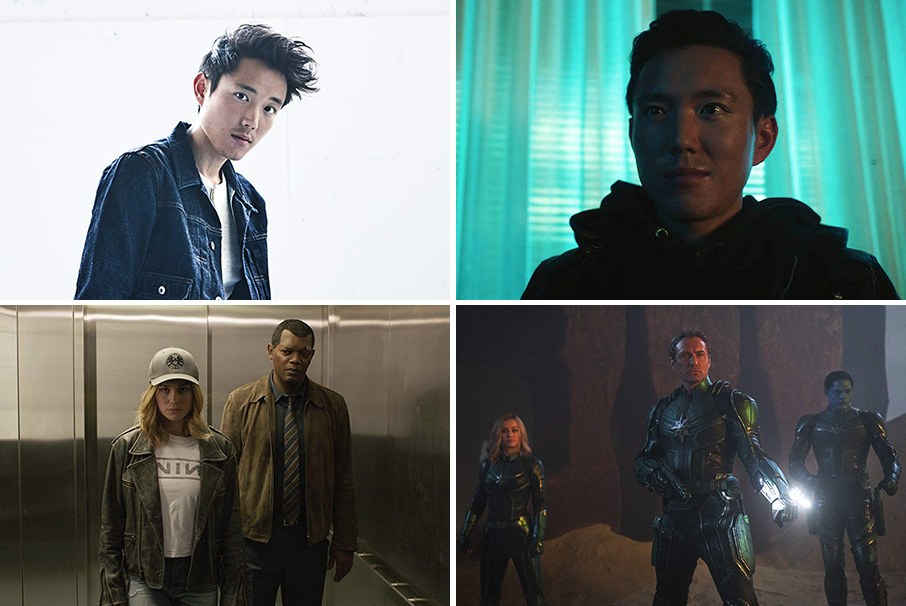 Top L-R: Justin Min (photo via iMDb) // Justin Min as Ben Hargreeves (photo: Netflix)
Bottom L-R: Brie Larson and Samuel L. Jackson in Captain Marvel (photo © Marvel) // 
Brie Larson, Jude Law, Algenis Perez Soto (photo © Marvel Studios)
Geek Girl Riot just got SUPER-sized: We chat with Justin Min from The Umbrella Academy then get higher, further, faster with Captain Marvel.

Warning: If you haven't seen either of these, go watch them now then come back…because this show is super-full of spoilers.

Taking on The Umbrella Academy with Justin Min
Well, we guess the secret's out: Justin Min is Ben Hargreeves aka The Horror aka Number Six of The Umbrella Academy. Min is also an all-round creative and chill person to talk to. Sherin spoke to him about the growth of his character's role in the Netflix adaptation, what his creative fuel is, and looking ahead to season 2.

Flying High with Captain Marvel
Captain Marvel is photon-blasting away the box office right now which makes our comic book hearts happy. The movie has also given us a lot to dig into. Sherin, Drew, and Soma break down the story, the characters—including the League of the Hottest Kree (it's a thing)—and the movie's highs and lows. Buckle up, our Rioters are about to take you on a journey through comic book history to deliver a kickass breakdown (and punch some Skrulls)…

Simple Health (images via simplehealth.com)
It's 2019 aka time to start taking care of you. And Simple Health is here to make it much easier—by providing simple and convenient birth control delivered right to your door! Even better, we've got a special discount. Brought to you by Simple Health. Don't miss your chance to try this service for free and get the $20 prescription fee waived by going to simplehealth.com/ggriot or entering code GGRIOT at checkout.
Tune in to Geek Girl Riot on idobi Radio every Tuesday at 11:05pm ET / 8:05pm PT for your dose of late-night geekery from our team of rioters. Til next time, see a list of everything our Rioters talked about below:
Links:
– Master's Sun
– Green Lantern
– The Right Stuff
– Top Gun
– Avengers: Endgame
– Iron Man
– Ant-Man
– Avengers: Infinity War
– Agents of S.H.I.E.L.D.
– Rogue One
– Ready Player One
– Robin Hood
– Fantastic Beasts: The Crimes of Grindelwald
– Spy
– Men in Black
– Star Wars
– Naruto
– Thor: The Dark World
– Storm
Podcast: Play in new window | Download