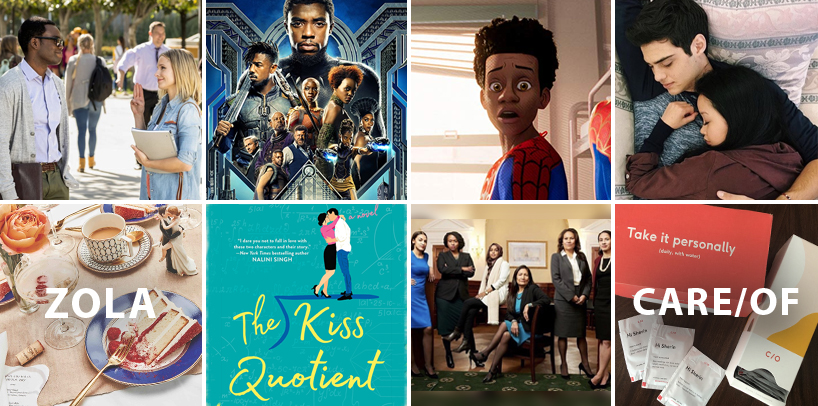 Clockwise from top left: The Good Place (Colleen Hayes/NBC) // Black Panther (Marvel) // 
Spider-Man: Into the Spider-Verse (photo by Sony Pictures Animation - © '2018 CTMG, Inc.) // 
To All the Boys I've Loved Before (Netflix) // Care/of // The newly elected Congresswomen
(photo via Twitter) // The Kiss Quotient // Zola
We'll be honest: 2018 was full of trainwrecks and heartache. But there were some wonderful moments too, including all the #content that made our geeky little hearts sing. Hear our TV, film, books, and comics faves of 2018 throughout this week's Geek Girl Riot as we dive into the moments that stood out—for better or for worse.
Your Fave Is Problematic
2018 was here to serve the tea and callout some of entertainment's biggest names. Sherin, Alex, Kat, and Soma discuss where to draw the line, some of the worst cases, and the opportunity for growth and understanding of what is appropriate.
Women Took the Lead in 2018
In spite of everything, 2018 was an amazing year for women—our crew shoutout just a few of the leading ladies who inspired them.
How the State of the World Affects Your Health and Outlook
With headlines reading more and more like a dystopian satire with each passing day, it was hard to stay positive last year—not just mentally and emotionally but physically too. Our Rioters talk about self care and how the scary state of current society is affecting their wellbeing.
Positive Wrap Up Time!
Don't panic, y'all, we wouldn't leave you in a pit of despair—our ladies are ending the show on a high note, by sharing what they're looking forward to most in 2019. Happy new year, Rioters, let's make it a good one!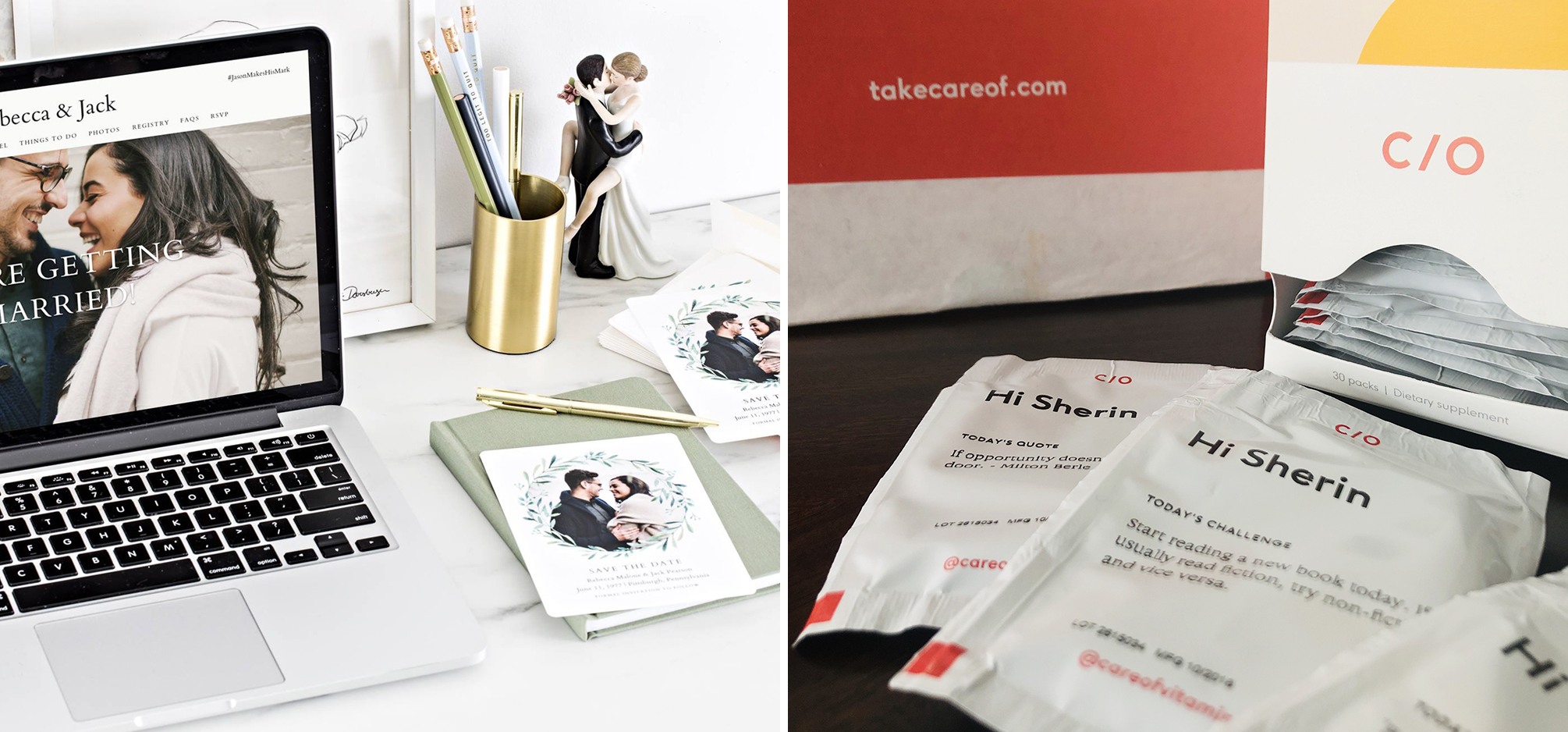 Left: Zola (photo via Facebook) // Right: Care/of
Make your busy start to the year easier with Zola, the wedding company that will do anything for love. They have everything you need to plan your big day in one place—from creating your very own free wedding website to sending out invitations to filling your registry with the top #wishlist brands! To start your free wedding website and also get $50 off your registry on Zola, go to ZOLA.com/GGRIOT.
Trying to get healthy this new year? Care/of has got you covered—this subscription vitamin service delivers monthly personalized vitamin & supplement packs right to your door! It's in super cute packaging too (we love us some good design). Get 50% off your first month of personalized Care/of vitamins with the code GGRIOT50 at TakeCareOf.com.
Tune in to Geek Girl Riot on idobi Radio every Tuesday at 11pm ET / 8pm PT for your dose of late-night geekery from our team of rioters. Til next time, see a list of everything our Rioters talked about below:
LINKS:
– The Kissing Booth
– To All the Boys I've Loved Before
– John Hughes movies
– "Baby, It's Cold Outside"
– The Upside
– Killing Eve
– The Kiss Quotient – Helen Hoang
– Spider-Man: Into the Spider-Verse
– The Good Place
– Grown-ish
– Black-ish
– A Different World
– Crazy Rich Asians
– To All the Boys I've Loved Before – Jenny Han
– To All the Boys… sequel
– Naomi Wadler's March For Our Lives speech
– Simone Biles made history at the USA Gymnastics Championships and took a stand for sexual abuse survivors
– The women of Ireland helped to reform anti-abortion laws
– The #MeToo movement
– A historic number of women were elected to office in the Midterms
– Arlan Hamilton, CEO of Backstage Capital, launched a $36 million fund for black female founders
– Alexandria Ocasio-Cortez's self care confessional
– Professor Dame Jocelyn Bell Burnell gave away her $3 million Special Breakthrough Prize in Fundamental Physics winnings to support physics students from under-represented groups
– Marie Claire's 'The 56 Most Powerful Moments for Women in 2018' list
– Emelia Holden, a waitress at a pizzeria, slammed a male customer to the ground who touched her butt, saying, "You don't touch me"
– Tammy Duckworth brings her baby to the Senate floor to vote
– An Absolutely Remarkable Thing – Hank Green
– Juliet Naked
– Clearly Lettered in a Mostly Steady Hand – Fran Wilde
– Black Panther
– The Umbrella Academy
– Good Omens
– Searching
– The Twilight Zone
– "I Think We're Alone Now" – Tiffany
Podcast: Play in new window | Download