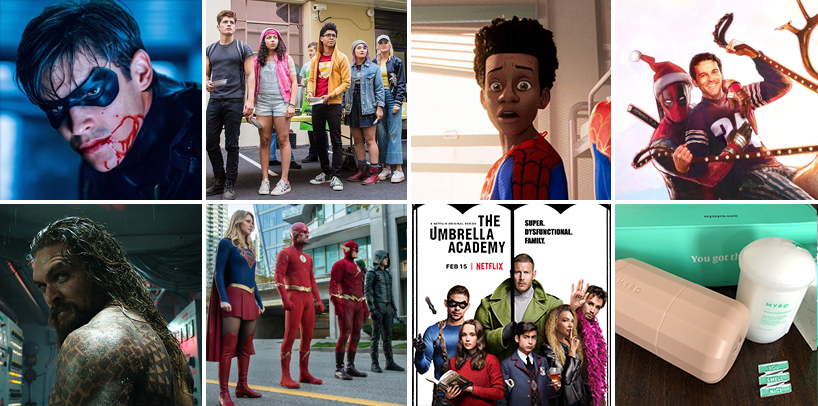 Titans (photo © DCUniverse) // Runaways (photo © Hulu) // Spider-Man: Into the Spider-Verse 
(photo by Sony Pictures Animation - © '2018 CTMG, Inc.) // Once Upon a Deadpool // Aquaman 
(photo: Warner Bros.) // Elseworld (photo: Jack Rowand/The CW) // The Umbrella Academy // Myro
Happy holidays, Rioters! It's Boxing Day so Geek Girl Riot's going ten rounds with the latest superheroes: Titans, Runaways, Spider-Man: Into the Spider-Verse, Once Upon a Deadpool, Aquaman, the Elseworlds crossover event, and The Umbrella Academy!
Towering Titans + Runaway(s) Writers
First up we're marveling at the monster turnaround of DC's Titans—we started out with no hope for this series but by episode 5 things started to get brighter than Starfire's (Anna Diop) Party City wig. Sherin and Philip discuss why it's so much better now…then Sherin, Philip, and Alex get into how Runaways S2 has gotten so much worse. We don't know what happened but we think S1's writers might have Runaway themselves. Our Rioters break down the sudden emergence of harmful stereotypes and the switching of roles and relationships.
Once Upon a Deadpool, We Dove Into the Spider-Verse & Met Aquaman
Now it's time for some more love—for Spider-Man: Into the Spider-Verse! Words can't express how much we need you to see this movie…but our Rioters are gonna try real hard. Philip then tells Sherin and Alex about Once Upon a Deadpool, the PG-13 recut of Deadpool 2. Yup, it's a thing that was thought up by comic book creator and friend of GGR, Michael Vincent Bramley. C'mon DP, give him some credit. The heroic trio also get hyped for Aquaman featuring Jason Momoa, Black Manta (Yahya Abdul-Mateen II), and that trident, yo.
Where Else(worlds)? Than The Umbrella Academy
The CW's Elseworlds event was an epic crossover of The Flash, Green Batman Arrow, and Supergirl. Sherin and Philip explain to Alex who The Monitor (LaMonica Garrett) is and what the new Crisis means for the Arrowverse. Then our Rioters bust out their white violins and sing their praises for the upcoming live action version of Gerard Way and Gabriel Bá's The Umbrella Academy. The adaptation hits Netflix on February 15th!

Myro is a new kind of deodorant that combines customizable scents and environmentally friendly packaging to deliver you a subscription worth sticking with. And friends don't let friends miss out on good deals (especially when they make you smell good too): Get 50% off your first order and get started today for just $5 at mymyro.com/ggriot with the promo GGRIOT.
Tune in to Geek Girl Riot on idobi Radio every Tuesday at 11pm ET / 8pm PT for your dose of late-night geekery from our team of rioters. Til next time, see a list of everything our Rioters talked about below:
Links:
– Cloak & Dagger
– Titans – S1 out now on DC Universe
– Iron Fist
– Runaways – S2 out now on Hulu
– Runaways – Brian K. Vaughan
– Y: The Last Man – Brian K. Vaughan
– Saga – Brian K. Vaughan
– Star Wars
– Paper Girls – Brian K. Vaughan
– Ex-Machina
– Spider-Man: Into the Spider-Verse
– Superman
– Batman
– Batman: Mask of the Phantasm
– Once Upon a Deadpool
– Aquaman
– Wonder Woman
– The Flash
– Arrow
– Supergirl
– The Hangover
– Quantum Leap
– Freaky Friday
– Batwoman
– The Question
– Teen Wolf
– Wolverine
– Black Lightning
– The Umbrella Academy
– Death Note
Podcast: Play in new window | Download