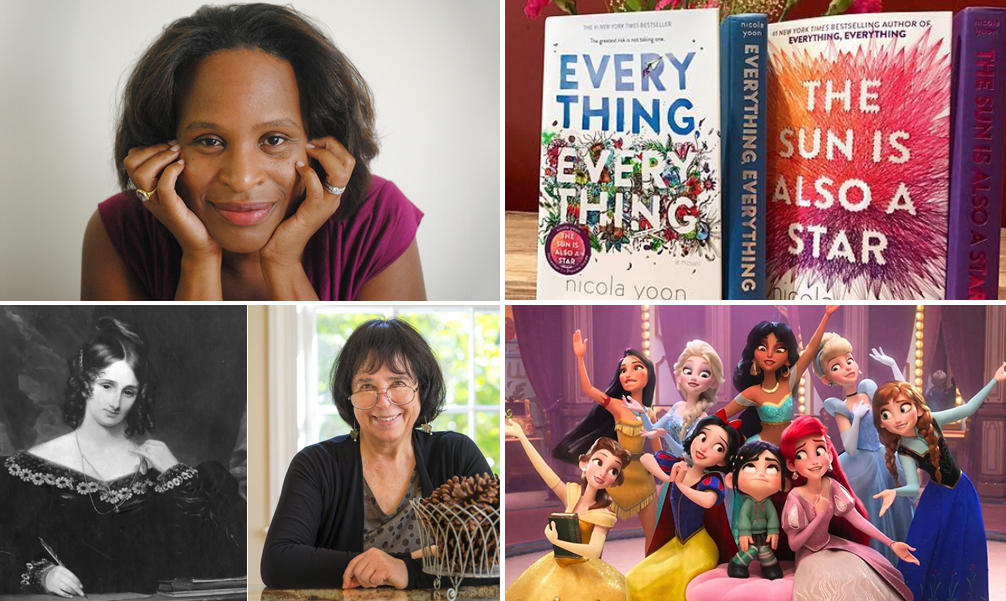 Clockwise from top left: Nicola Yoon // Everything, Everything & The Sun is Also a Star // 
Ralph Breaks the Internet (photo © 2018 Disney) // Jane Yolen & Mary Shelley
On today's Geek Girl Riot the ladies reign supreme: We talk Ralph Breaks the Internet's mega princess bonanza. We also chat to the queen of YA, Nicola Yoon, then proclaim She Did It! about the legendary Mary Shelley & Jane Yolen.
Whachudoin'? with Nicola Yoon
We had so much fun talking with Nicola Yoon we're throwing it back to her fantastic Whachudoin'? episode. The YA author chats to Sherin and Sam about her upcoming third novel, what books and movies she's loving, and the film adaptation of Everything, Everything. They also talk about representation, the link between science and art, and how Nicola began writing so her daughter could see herself
in a book.
Kat & Cub & Papa Bear Break the Internet!
Our cutest trio Kat & Cub & Papa Bear drop by to share their love of Ralph Breaks the Internet. Catch them teasing some of the movie's many Easter eggs and find out why breaking the internet never sounded so awesome.
She Did It! with Mary Shelley & Jane Yolen
Sherin and Sam bring back our She Did It! segment to shine the light on the mother of science fiction, Mary Shelley, and living legend, author Jane Yolen. Our Rioters tell the stories of the two incredible creators—join us in shouting: She Did It!

Photos via Instagram
TomBoyX's delightful range of underwear has got us feeling fabulous. No matter where you fall on the size or gender spectrum TomBoyX has some pretty and super comfy pieces for ANY BODY to feel great in. Join the party and head to tomboyx.com/GGRIOT to peep their selection. You'll even get an extra 15% off with the code GGRIOT!
Tune in to Geek Girl Riot on idobi Radio every Tuesday at 11pm ET / 8pm PT for your dose of late-night geekery from our team of rioters. 'Til next time, see everything our Rioters talked about, and read a translation of the poem, The Physics of Love by Kim In-yook (sook):
LINKS:
– Lifestyles of the Rich and Famous
– Virginia Hamilton
– The Bluest Eye – Toni Morrison
– Harold & Kumar Go to White Castle
– Cinderella
– Spiderman/Miles Morales
– Miles Morales: Spider-Man – Jason Reynolds
– Spider-Man: Into the Spider-Verse
– Milestone Comics
– Storm
– X-Men: Apocalypse
– Wonder Woman
– Spider-Man: Homecoming
– Black Widow film (upcoming)
– Mercy Thompson series – Patricia Briggs
– Alpha & Omega series – Patricia Briggs
– Psy-Changling Trinity series / Short Stories – Nalini Singh
– Guild Hunter Series – Nalini Singh
– Fever series – Karen Marie Moning
– Poltergeist
– Johanna Lindsey
– Radiohead
– Beyoncé
– Black Panther
– Coco
– Bambi
– A Wrinkle in Time
– Stephen King
– The Hitchhikers Guide to the Galaxy – Douglas Adams
– Dirk Gently's Holistic Detective Agency show
– Dirk Gently's Holistic Detective Agency – Douglas Adams
– The Long Dark Tea-Time of the Soul – Douglas Adams
– The Salmon of Doubt: Hitchhiking the Galaxy One Last Time – Douglas Adams
– The Belles – Dhonielle Clayton
– The Beauty That Remains – Ashley Woodfolk
– Children of Blood and Bone – Tomi Adeyemi
"The Physics of Love"
by Kim In-yook (sook)
The size of an object is not proportional to its mass
That girl, as small as a violet
That girl, drifting in the sky like the petals of a flower
Pulls me to her with a force greater than the Earth
In a single moment
I fell and rolled towards her, without reason
Like Newton's apple
With a thump
With a thump-thump
My heart bounced from the heavens to the earth
In a dizzying motion, like a pendulum
It was the moment I first fell in love
This version pieced together by Sherin Nicole
Podcast: Play in new window | Download