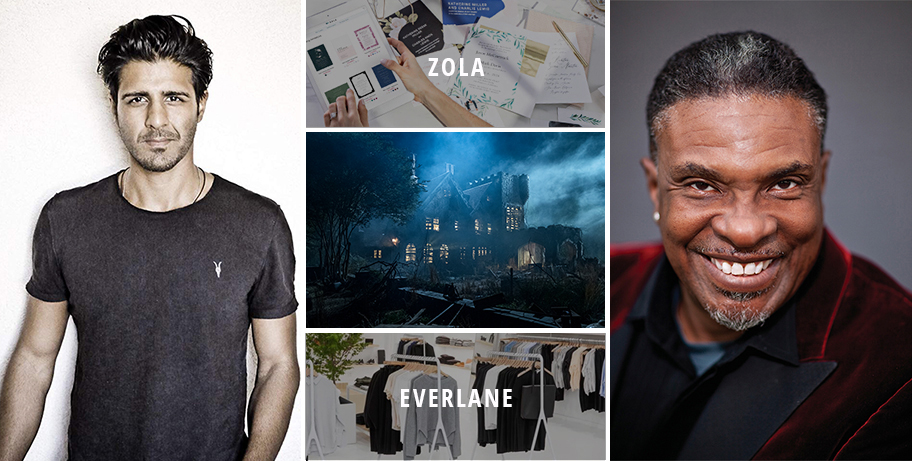 L-R: Jay Ali // Zola (photo via Facebook) // The Haunting of Hill House (photo: Steve Dietl/
Netflix) // Everlane // Keith David (photo via MPI)
Geek Girl Riot's got a trifecta of marvelous for you today: Our Rioters speak with Jay Ali, and Keith David, then get into The Haunting of Hill House.
Jay Ali on the Road to Daredevil
Jay Ali won us over as special agent Ray Nadeem in season 3 of Daredevil. Now he's going to charm you some more with his stories from on and off the screen. He chats with Sherin all about his early days in Los Angeles, making his son proud, and why playing a character like Ray is so important for himself and everyone watching. Season 3 of Marvel's Daredevil is on Netflix now and it's set to enthral you.
Keith David is Too Marvelous For Words
Now it's time for the man, not a myth, definitely a legend to drop some wisdom. Hear Sherin, Monique, and Philip talk to, the actor/singer/voice you'll never forget, Keith David about his life long love for Nat King Cole and his new show based on the musician, Too Marvelous For Words. He also shares why starring in Greenleaf on OWN is so special to him, and how he keeps his passion for the theater alive. When you listen, just like our Rioters, your jaws will drop. Catch Keith David performing with the Pittsburgh Jazz Orchestra as part of a Joe Williams tribute, opening in Pittsburgh November 30th.
Disability Representation in The Haunting of Hill House
To close us out Erin and Michael dig into the wildly popular Netflix show The Haunting of Hill House and why its representation of disability has some problems even though the show gets their likes. In a genre notoriously bad for its representation of disability, Erin and Michael break down what The Haunting of Hill House gets wrong and also what the horror show gets right. They discuss the nuances of the characters' mental health and what the house itself represents. Beware, there be spoilers.

Left: Everlane // Right: Zola
We're feelin' fine thanks to Everlane—the premium essentials clothing brand have got us covered with our new fave fall outfits and we had so much fun shopping with them! Seriously, we're obsessed with their clothing and how honest they are about their pricing and material. Come join us—you can check out our personalized Geek Girl Riot collection at Everlane.com/GGRIOT. You'll even get free shipping on your first order! We got you, babe.
Seriously, call us your BFFs because we're about to make your big day that much easier. We've teamed up with Zola, the wedding company that will do anything for love, to make planning the happiest day of your life even happier. From creating your free wedding website to sending out invitations to stocking your registry full of the most fab brands, Zola has got it covered. To start your free wedding website and also get $50 off your registry on Zola, go to ZOLA.com/GGRIOT.
Tune in to Geek Girl Riot on idobi Radio every Tuesday at 11pm ET / 8pm PT for your dose of late-night geekery from our team of rioters. Til next time, see a list of everything our Rioters talked about below:
Watchlist:
– Daredevil
– The Fosters
– 24
– Homeland
– Mujhse Shaadi Karogi
– 27 Dresses
– Greenleaf
– Night School
– Love Jacked
– Platoon
– The Thing
– Too Marvelous For Words
– They Live
– Marked For Death
– Men At Work
– There's Something About Mary
– Gargoyles: The Goliath Chronicles
– The Princess and the Frog
– Black Panther
– The Haunting of Hill House
Podcast: Play in new window | Download