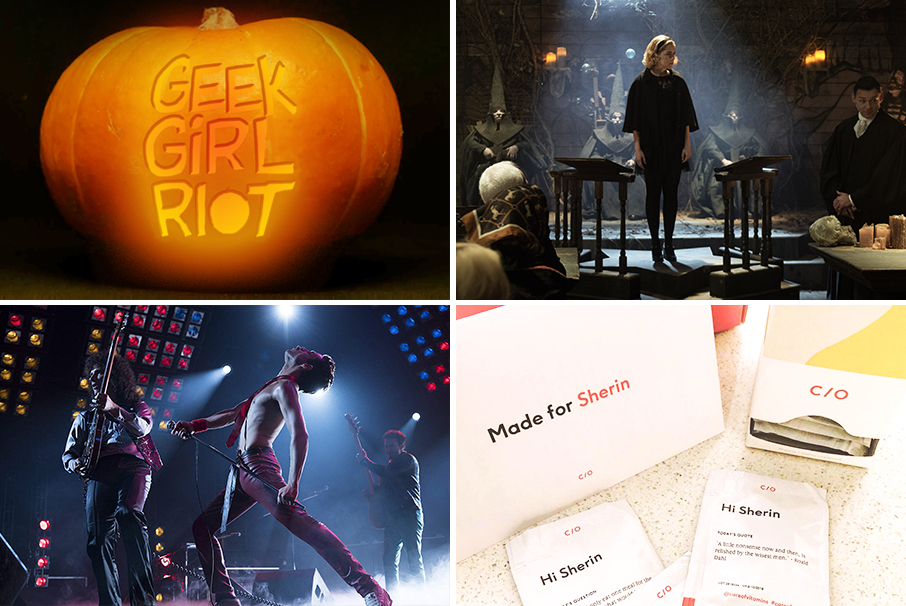 Top right: Chilling Adventures of Sabrina (Diyah Pera/Netflix)
Bottom left: Bohemian Rhapsody (© TM & 2018 Twentieth Century Fox) // Bottom right: Care/of
Geek Girl Riot is throwing a monstrous All Hallows Geeks party to celebrate the idobi Punkin' Bash 2018! Hear Sherin, Angie, Erin, Kat, Makeeya, Philip, and Soma take on the night of the living dead.
Frightful Films to Watch This Halloween…
Angie takes us back to 1971 with her fave spooky movie Let's Scare Jessica to Death. Then Kat tells us all about The Curious Creations of Christine McConnell on Netflix and why it's sinfully delicious. Sherin also gives a shoutout to Hasan Minhaj and his new comedy-news show Patriot Act for scaring us straight just in time for Halloween…and the midterms.  
Disability in Horror Video Games
Erin digs into disability in horror video games and the mistakes they often make. More games need to listen to avid players like Erin, who knows what makes video games work and what makes them accessible for everyone to enjoy.
Bohemian Rhapsody Will Rock You
We take a break from the witching hour (but we're still dressing up) to sing the praises of Bohemian Rhapsody. Sherin and Julian break free down the performances, story, and how the movie made them feel. (read our review)
Today's Scary Halloween Politics
Now children, did you hear…the real monsters are in local government. Soma tells us some cities have banned trick or treaters over the age of 12. TWELVE! Makeeya also shares a petition to move Halloween to the last Saturday in October. Yup. Our Rioters weigh in.
The 1960s vs. Chilling Adventures of Sabrina
To close us out our resident werewolf/curmudgeon Philip talks the new Netflix show Chilling Adventures of Sabrina and how it hearkens back to the occult films of the 60s and 70s. He discusses the link between what's going on in the real world and the quality of horror's classics.
We here at Geek Girl Riot believe in staying healthy. So we're loving how cute our Care/of delivery is! This subscription vitamin service delivers personalized vitamin & supplement packs each month—even the packaging is tailor-made to you. And what friends would we be without helping you stay healthy too? Get 25% off your first month of personalized Care/of vitamins with the code GGRIOT at TakeCareOf.com
Tune in to Geek Girl Riot on idobi Radio every Tuesday at 11pm ET / 8pm PT for your dose of late-night geekery from our team of rioters. Til next time, see a list of everything our Rioters talked about below:
Links:
– Let's Scare Jessica to Death
– Carmilla – Sheridan Le Fanu
– Hush…Hush, Sweet Charlotte
– Elvira's Theater of the Macabre
– Diabolique
– The Curious Creations of Christine McConnell
– Deceptive Desserts – Christine McConnell
– Tales From the Crypt
– Addams Family
– The Munsters
– Dark Shadows
– Monty Python
– Rocky Horror Picture Show
– Outlast
– Perception
– Amnesia: The Dark Descent
– The Haunting of Hill House
– Bohemian Rhapsody
– Chilling Adventures of Sabrina
– Halloween II
– The Exorcist
– Omen
– Rosemary's Baby
– The Devil's Daughter
– Devil's Bride
– The Mephisto Waltz
– Satan's School For Girls
– The Blood on Satan's Claws
Podcast: Play in new window | Download