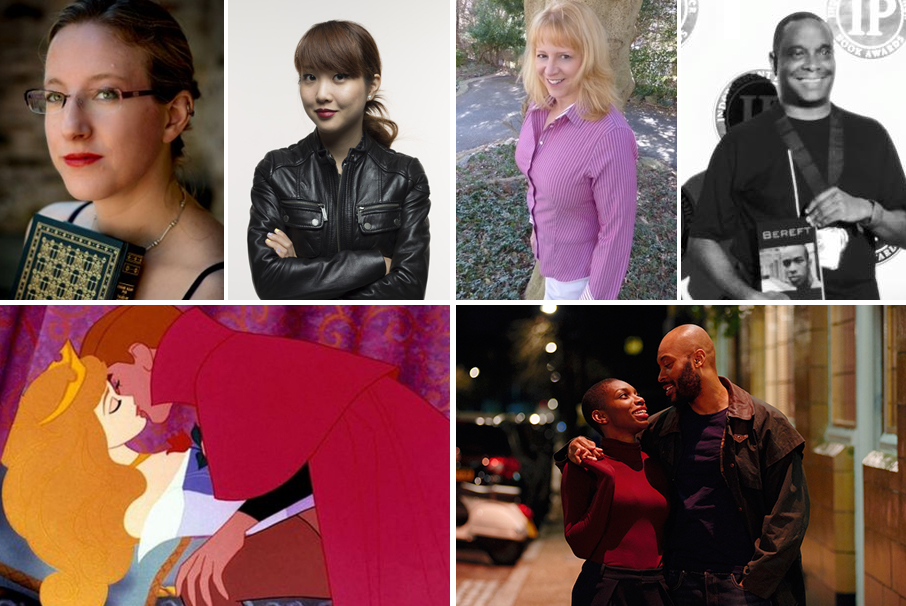 Top row L-R: A.C. Wise (Photo: Steve Schultz), Alyssa Wong (Photo: Alex Maness), Jeanne Adams
(photo via Twitter), Craig L. Gidney (photo by Tom Cardamone) // Bottom row: Sleeping Beauty
Been So Long (Photo: Rob Baker Ashton/Netflix)
Geek Girl Riot is heading back to Capclave 2018 to make fun of romantic/stalker tropes in fiction. But first our Rioters bring you up to speed with the latest in entertainment!
What's New? It's Been So Long!
Sherin, Philip, and Alex kick off the show with the news that's been on their minds lately: What is happening with all the pushbacks and cancelations in superhero-world? Then Sherin and Alex tell Philip about the upcoming Netflix movie, Been So Long, and why this black British musical isn't perfect but makes for a lovely weekend watch—stream it this Friday.
Stalker Vs. Love Interest Panel from Capclave 2018
Prince Charming, who needs him? Not us at Geek Girl Riot—we just need fictional romantic leads to get with 2018 and stop being so damn stalkery. When Sherin was at the Capclave sci-fi & fantasy convention last month she appeared on the panel: Stalker vs. Love Interest. Moderated by A.C. Wise with Alyssa Wong, Jeanne Adams, and Craig L. Gidney, the authors dig into the romantic tropes that cross the line into dangerous and why these outdated ideas about love, alpha males, and gender norms need to change.
Tune in to Geek Girl Riot on idobi Radio every Tuesday at 11pm ET / 8pm PT for your dose of late-night geekery from our team of rioters. Til next time, see a list of everything our Rioters talked about below:
Links:
– Wonder Woman 1984
– Black Panther
– Marvel's Iron Fist
– Marvel's Luke Cage
– Daughters of the Dragon
– Heroes For Hire
– Death Note
– Millerworld
– Chewing Gum
– Been So Long
– Snow White
– Sleeping Beauty
– Shrek
– The Sleeping Beauty Quartet – Ann Rice
– Bluebeard
– The Little Mermaid
– Rab Ne Bana Di Jodi
– Twilight
– Looney Tunes
– Family Matters
– Nora Ephron
– How to Lose a Guy in 10 Days
– While You Were Sleeping
– The Taming of the Shrew
– Joe Versus the Volcano
– Princeless – Jeremy Whitley
– Frozen
– The Snow Queen
– In Living Color
– Gone with the Wind – Margaret Mitchell
– Fifty Shades of Grey – E. L. James
– John Hughes
– Revenge of the Nerds
– The Big Bang Theory
– I Am Not an Easy Man
– Jane Eyre – Charlotte Brontë
– Wuthering Heights – Emily Brontë
– Jane Steele – Lyndsay Faye
– The Simpsons
– Sierra Burgess is a Loser
– Cyrano de Bergarac
– Badlands – Morgan Brice
– Ice Forged series – Gail Z. Martin
– Bubba the Monster Hunter series – John Hartness
– Key & Peele
– Steven Universe
– This Is Us
– Crazy Rich Asians
– To All the Boys I've Loved Before
– Love, Simon
– Game of Thrones
– Shondaland
Podcast: Play in new window | Download