Geek Girl Riot
Geek Girl Riot - Chilling Adventures of Sabrina, Afrofurism Panel, PaMu Scroll Review
By Alex Bear | October 17, 2018 at 2:30 PM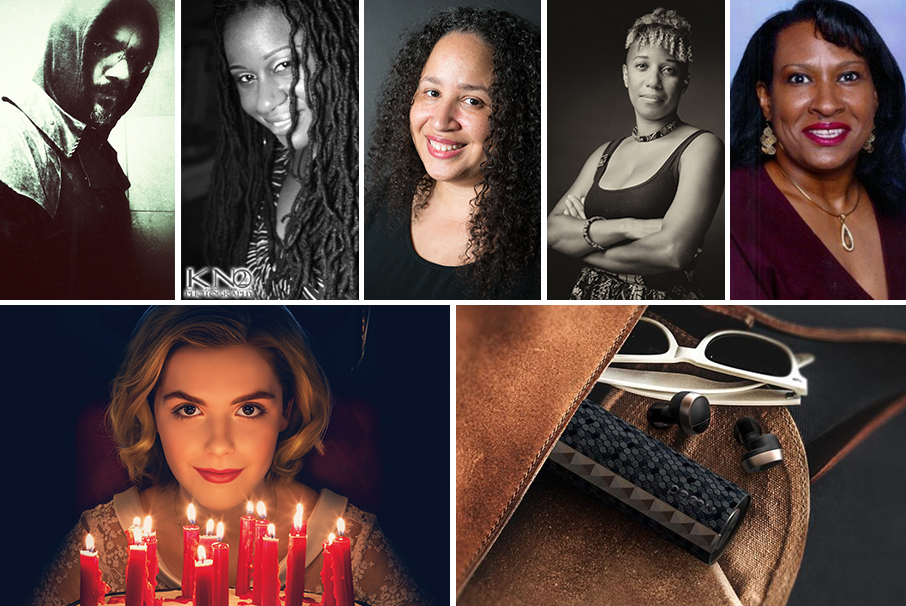 Top row L-R: John Lawson (credit: Author © 2018), B. Sharise Moore, LH Moore (credit: Matthew
D'Agostino), Kenesha Williams, K. Ceres Wright // Bottom left: Chilling Adventures of Sabrina
(Netflix) // Bottom right: PaMu Scroll (Padmate)
We're getting into the spooky season on Geek Girl Riot with a review of Chilling Adventures of Sabrina. Then we head back to Capclave to talk Afrofuturism.
PaMu Scroll from Padmate
But first, Sherin tells us all about the new wireless PaMu Scroll headphones that Padmate sent her. Crowdfunded by nearly a million dollars for good reason—these earphones are comfy, portable, and they sound awesome! Hear her take on why, at just $39, PaMu Scroll is a smart (tech) choice. Get your hands on them here!
Chilling Adventures of Sabrina
Then we head to Sherin and Philip's Dark Delight Emporium to hear all the wonders and WTFery of Netflix's upcoming version of the original teenage witch. Chilling Adventures of Sabrina will appear on Netflix at the witching hour this October 26th. Happy hauntings. (read their full review here)
The Future of Afrofuturism and Black Speculative Fiction
Sherin recently attended the Capclave sci-fi & fantasy convention and appeared on the panel: The Future of Afrofuturism and Black Speculative Fiction. Moderated by  John Edward Lawson with B. Sharise Moore, LH Moore, Kenesha Williams, and
K. Ceres Wright, the authors discuss the genre's current trends and its future. Hear what Afrofuturism means to them and how speculative fiction is a way of resistance. They dig into why representation is important not only for people of color to see themselves but to tell the rest of the world that this is their past, present, and
future too.
Tune in to Geek Girl Riot on idobi Radio every Tuesday at 11pm ET / 8pm PT for your dose of late-night geekery from our team of rioters. Til next time, see a list of everything our Rioters talked about below:
LINKS:
– Ghost Summer – Tananarive Due
– Black Panther
– Star Trek
– W. E. B. Du Bois
– Thriller
– Candyman
– The Camille – Colby R. Rice
– Tomi Adeyemi
– Dactyl Hill Squad – Daniel José Older
– Steven Barnes
– Rush Hour
– Captain America
– Lovecraft Country
– Get Out
– The Twilight Zone remake
– Slice
– Atlanta
– Alice in Wonderland
– Charlie and the Chocolate Factory
– Superman
– James Bond
– Dawn adaptation
– Lilith's Brood – Octavia Butler
– Parable series – Octavia Butler
– Kindred – Octavia Butler
– Patternist series – Octavia Butler
– Bloodchild – Octavia Butler
– Miss Firecracker
– Avengers
– The Hunger Games
– Who Fears Death – Nnedi Okorafor
– Drogas Wave – Lupe Fiasco
– Earth Wind & Fire
– Parliament
– Afrika Bambaataa
– Virginia Hamilton
– Elfquest – Wendy and Richard Pini
– 24
– The Temple of My Familiar – Alice Walker
– Eden Royce
– Brave New Voices
– Kwame Alexander
Podcast: Play in new window | Download