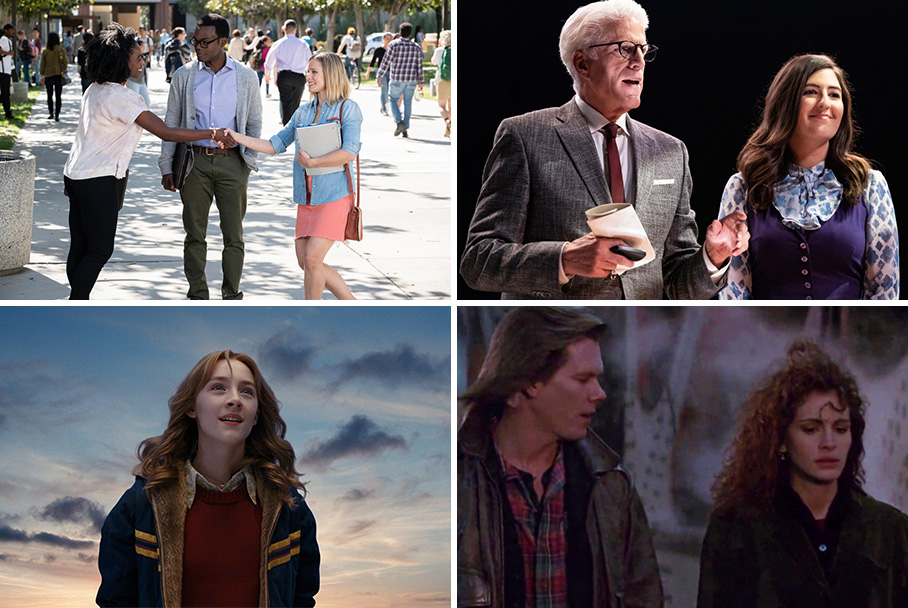 Top: The Good Place (Photos: Justin Lubin/NBC) // Bottom left: The Lovely Bones (Paramount) 
Bottom right: Flatliners (Columbia Pictures)
Welcome! Everything is Fine.
Season 3 of The Good Place starts tomorrow on NBC and holy shirtballs are we excited. Sherin and Soma tell Philip why he needs to watch the show—they break down the characters and tease what to expect from the new season. Sherin also dishes out one of her patented Sherin Theories™️ (seriously, they're always so on point they either turn out true or you wish they were…you have been warned).
The Afterlife Meets the Screen
From one Good Place to some other spiritual realms, Sherin, Soma, and Philip talk about the other TV shows and movies that feature versions of the afterlife. They offer up some of their philosophies on different storylines and why some worked while others left them in disbelief.
Tune in to Geek Girl Riot on idobi Radio every Tuesday at 11pm ET / 8pm PT for your dose of late-night geekery from our team of rioters. Til next time, see a list of everything our Rioters talked about below:
Watchlist:
– Brooklyn Nine-Nine
– Parks and Recreation
– Master of None
– Lost
– Defending Your Life
– Oh! Heavenly Dog
– After Life
– The Adjustment Bureau
– The Lovely Bones
– Forever
– What Dreams May Come
– Once Upon a Time
– Truly Madly Deeply
– Always
– Ghost
– The Ghost and Mrs. Muir
– Field of Dreams
– Flatliners
Podcast: Play in new window | Download