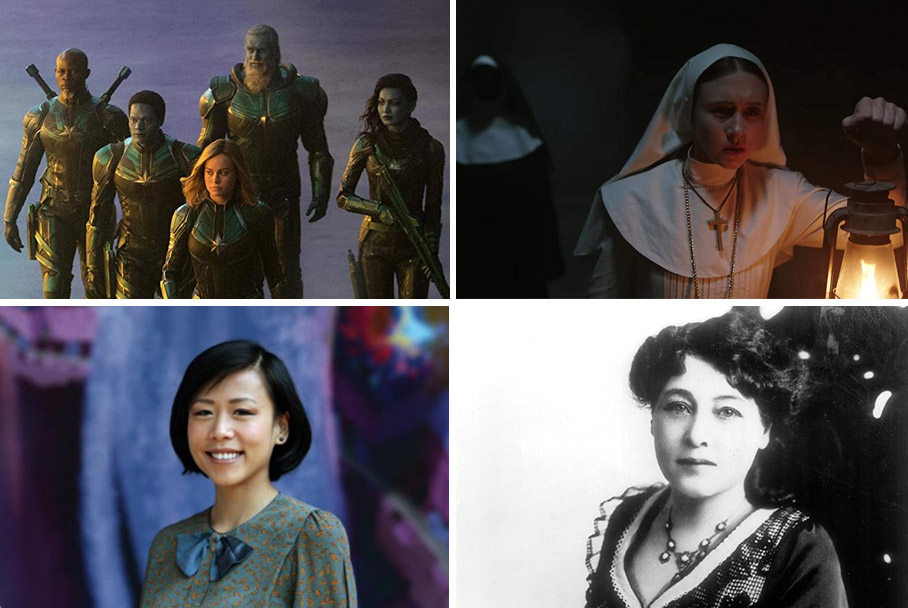 Clockwise from top left: Captain Marvel (Marvel/Disney), The Nun (Warner Bros.),
Alice Guy-Blaché (photo via The Disney Blog), Domee Shi (photo via Wikipedia)
This week Geek Girl Riot has teamed up with our friends Fantastic Forum to take you through the latest pop culture and comics news. Hosted by Ulysses E Campbell, and joined by Sherin Nicole, Drew Bittner, and The Great Geek Refuge's Mike Lunsford, there's a lot on the agenda starting with a review of one of 2018's supposedly scariest movies: The Nun.
The show then digs into the upcoming Captain Marvel movie and its Skrulls presence. SKRULLS! Our crew discuss the possibility of more crossover blockbusters and the difference between binge TV and event TV. They also share some personal stories of how they've connected through shared stories and nostalgia.
Plus, stay tuned for a new She Did It! from our intrepid reporter Sam Devotta—she's talking the amazing female directors Domee Shi and Alice Guy-Blaché! Get into it…
Tune in to Geek Girl Riot on idobi Radio every Tuesday at 11pm ET / 8pm PT for your dose of late-night geekery from our team of rioters. Til next time, read more about our She Did It! heroines here and see a list of everything our hosts talked about below:
LINKS:
– The Conjuring
– Marvel's Iron Fist (see our s2 [p]review)
– Fantastic Four
– Superman
– X-Men
– Avengers: Infinity War
– Guardians of the Galaxy
– Deadpool
– Secret Invasion
– Storm
– Apocalypse
– Riverdale
– X-Men: Evolution
– Jude Law as Captain Marvel
– Green Lantern
– The Flash
– Arrow
– Supergirl
– Orange is the New Black
– Blue Bloods
– Marvel's Luke Cage
– Star Wars
– Game of Thrones
– Stranger Things
– Ready Player One
– Looney Tunes
– Peanuts
– Steven Universe
– Jumanji
– The Matrix
– Star Trek: Insurrection
– Shazam!
Podcast: Play in new window | Download