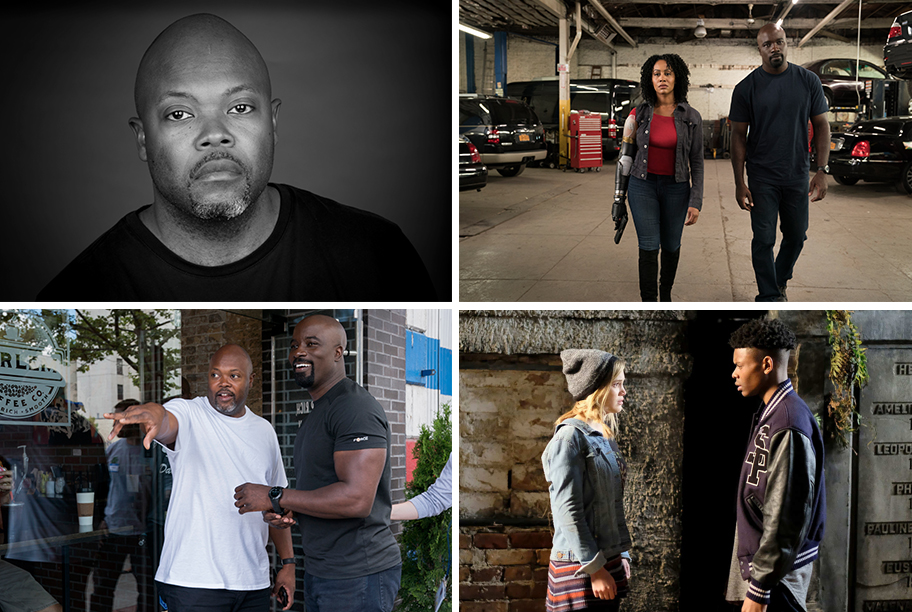 Clockwise from top left: Cheo Hodari Coker (Netflix) // Marvel's Luke Cage (David Lee/Netflix) 
// Marvel's Cloak & Dagger (Alfonso Bresciani/Freeform) // Cheo Hodari Coker on set with 
Mike Colter (David Lee/Netflix)
Geek Girl Riot's getting Marvel-ous this week with an interview with Luke Cage creator Cheo Hodari Coker + a preview of season 2, plus a look at Cloak & Dagger!
Luke Cage is Back for S2 and "If it Ain't Rough, it Ain't Right"
It's almost that time…Marvel's Luke Cage is coming back with a punch for season 2 and we are here for it. Y'all, the new season is so damn good that Sherin, Monique, Philip, and Alex are set to get you fired up and ready to binge watch it all on Netflix from this Friday. No spoilers, we promise, we don't need Mariah coming after us. (Read our full s2 [p]review!)
Cheo Hodari Coker is…"The Creator"
Now take that fire and triple it: Luke Cage creator Cheo Hodari Coker joins us to drop some wisdom and the conversation is enthralling. The showrunner has done it all and then some—he chats with Sherin, Monique, and Philip about his DJ days, working with some of the music industry's finest, and how assembling a TV series is no different than putting together a record. Luke Cage explores what it means to be a hero without a mask and, as Cheo himself describes it, this hero's story is basically a bulletproof version of Lemonade. 
We Need to Talk About Cloak & Dagger…
From one amazing Marvel property to…one that's distinctly less awe-inspiring. We love Freeform and Marvel in general but their new show Cloak & Dagger didn't pull us in—in fact it pushed us away with every scene. Sherin, Philip, and Alex dig into why they're not into it…but if you love it, come tell 'em what they're missing!
Tune in to Geek Girl Riot on idobi Radio every Tuesday at 11pm ET / 8pm PT for your dose of late-night geekery from our team of rioters. Til next time, see the list of everything Cheo Hodari Coker and our hosts talked about below:
Links:
– Marvel's Luke Cage
– The Big Payback – Dan Charnas
– The Breaks
– Chino XL
– The Get Down
– "Nautilus" – Bob James
– Dante Ross
– Matty C
– Gang Starr
– Pete Rock & CL Smooth
– Äida Croal
– Akela Cooper
– Nathan Jackson
– Matt Lopes
– Matt Owens
– Ian Stokes
– Nicole Mirante-Matthews
– Shonda Rhimes
– Grey's Anatomy
– Black Lightning
– Donald Glover
– "This Is America" – Childish Gambino
– Atlanta
– The Crown
– Peter Morgan
– Chambers
– Y: The Last Man
– Salli Richardson-Whitfield
– Iron Fist
– Stefani Robinson
– Heroes For Hire
– "7th Chamber Part II" – Wu-Tang Clan
– Life After Death – Biggie
– X-Men
– X-Men: Golden Age – Chris Claremont
– Ant-Man and The Wasp
– Deadpool
– Runaways
– The Catcher in the Rye – J.D. Salinger
– The Bold Type
– Shadowhunters
– Siren
– Grown-ish
Podcast: Play in new window | Download