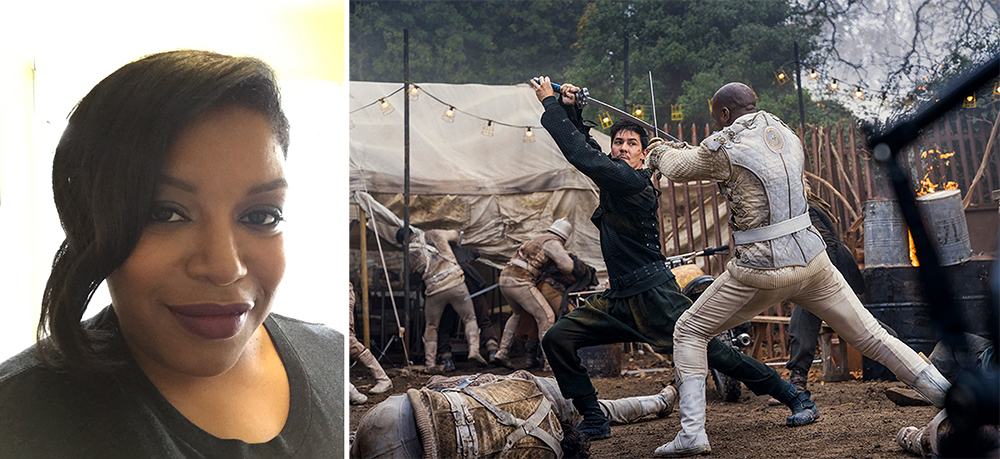 Left: LaToya Morgan // Right: Into the Badlands (Aidan Monaghan/AMC)
LaToya Morgan has done it all. She's written for Shameless, Parenthood, Complications, TURN: Washington's Spies, and most recently our fave Into the Badlands which she also co-executive produces (catch up on her episode "Carry Tiger to Mountain"!). Everything about her writing pulls you in—from the characters to the visuals to the storytelling—and she's got great taste in action movies too. That's why she's our special guest host on this week's Geek Girl Riot!
In the Chat Lounge with LaToya
LaToya joins Sherin, Monique, Philip, and Alex to talk her incredible career, what she's working on, and what's next. She has some amazing advice on writing, achieving your dreams, and "how everyone needs a Lisa in their lives". Good thing this show is now available via podcast so you can replay her words and get inspired again and again.
Our Favorite Action Flicks of All Time
You have to be a huge action movie fan to be part of Geek Girl Riot (kidding…sorta) so it only makes sense LaToya and our Rioters have an epic list of recommendations. Start prepping your movie night as you listen to their picks of movies and heroes…and which Bond is best. (See the full list below!)
Why Stories Matter
Stories have always been a way of connecting people and passing down memories. They have the power to change the world and open our minds. Our Rioters and LaToya talk about why stories matter to them and the movies and books they think influenced culture.
Tune in to Geek Girl Riot on idobi Radio every Tuesday at 11pm ET / 8pm PT for your dose of late-night geekery from our team of rioters. Til next time, see the list of everything LaToya Morgan and our Rioters talked about below:
Links:
– The Two Minute Rule – Robert Crais
– Carried By Six
– They Can't Kill Us All
– The Skeleton Crew – Stephen King
– The X-Files
– Laurie – Stephen King
– Malcolm Gladwell's 10,000 rule
– Atlanta
– The Walking Dead
– Sarah Connor
– Terminator 2
– Breaking In
– Die Hard
– Enter the Dragon
– Bruce Lee
– The Shaw Brothers
– Purple Rain
– Return of the Five Deadly Venoms/Mortal Kombat
– James Bond
– The Raid
– Aliens
– Sigourney Weaver
– Pam Grier
– Coffy
– Cleopatra Jones
– Bad Boys II
– Michael Bay
– La Femme Nikita
– Commando
– Cowboy Bebop
– Infernal Affairs
– My Father is a Hero
– The Matrix
– The Wachowskis
– Keanu Reeves
– Bill and Ted
– Furiosa
– Mad Max: Fury Road
– Shaft
– Richard Roundtree
– Jet Li
– Wong Fei Hung
– Michelle Yeoh
– Harrison Ford
– Indiana Jones
– The Grapes of Wrath – John Steinbeck
– The Grapes of Wrath (film)
– Star Trek
– Mae Jemison
– The Color Purple
– Octavia Butler
– The Last Dragon
– The Catcher in the Rye – J.D. Salinger
– Holden Caulfield
– Mark Twain
– Walter Mosley
– Matilda – Roald Dahl
– Matilda (film)
– Shaka Zulu
– Henry Cele
– Chaka Khan
– T'Chaka
– Black Panther
– Genghis Khan
– Alexander the Great
– Queen Nandi
– X-Men
– Storm
– 24
– Dennis Haysbert
– Mark Burnett
– The Apprentice
– Hannah Beachler
– Ruth E. Carter
– Nate Moore
– The Real World
– Law & Order
– Love, Simon
Podcast: Play in new window | Download