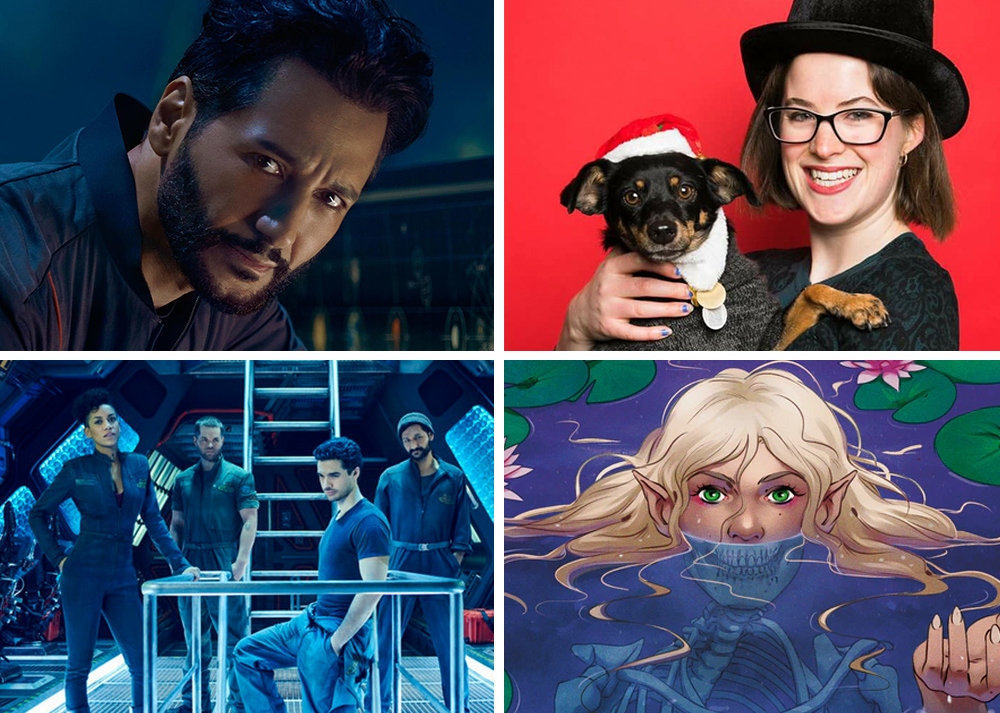 Left: Cas Anvar as Alex Kamal on The Expanse (Syfy) / The Expanse cast photo (Jason Bell/Syfy). 
Right: Allison O'Toole (+ her dog Poppy) / 

Wayward Sisters Anthology.
Geek Girl Riot's serving up a healthy dose of sci-fi with The Expanse + an interview with Cas Anvar, plus a pinch of fantasy horror with the Wayward Sisters Anthology + an interview with editor Allison O'Toole!
First we chat with Cas Anvar of The Expanse and then we explore his show all the way up to season three. The Syfy series is blowing our minds with every new episode and Cas, who plays the pilot Alex Kamal, tells us all about what's next in the story (and talks chocolate vs. popcorn). Cas chats to Sherin about working on such a diverse show, what it means to see a brown hero in space, and the science behind the series' creation. Then Sherin, Philip, and Alex get their geek on over The Expanse to give you the lowdown on season 3 and why you need to be watching it.
To close us out, Sam chats with Allison O'Toole, the editor behind the Wayward Sisters Anthology. The collection celebrates female and non-binary monsters—from mermaids to vengeance demons—created by 38 intersectional creators who identify as women or gender-nonconforming. Allison talks putting together such a complex project, what she's working on next, and her favorite terrifying novels + movies (see the list below!).
The Expanse airs on Syfy every Wednesday night (make sure to watch live to help get the show renewed!). You can pick up the Wayward Sisters Anthology here. 
Tune in to Geek Girl Riot on idobi Radio every Tuesday at 11pm ET / 8pm PT for your dose of late-night geekery from our team of rioters. Til next time, see the list of everything Cas Anvar, Allison O'Toole, and our Rioters talked about below:
Links:
– The Expanse
– Lost
– Naveen Andrews
– Monk
– Tony Shalhoub
– Heroes
– Mad Max: Fury Road
– Charlize Theron
– Wonder Woman
– Black Panther
– Seven Seconds
– Crash
– Veena Sud
– Peter Sarsgaard
– Between Earth and Sky
– SYFY Supercuts – Alex's Best One Liners
– Battlestar Galactica
– Starship Troopers
– Wayward Sisters Anthology
– The Nightmare Before Christmas
– Ginger Snaps – locofuria
– Emmanuelle Chateauneuf
– The Maltese Falcon
– Lorena Loaiza
– Shirley Jackson
– Stephen King
– "The Lottery" – Shirley Jackson
– The Haunting of Hill House – Shirley Jackson
– The Haunting (1963)
– We Have Always Lived in the Castle – Shirley Jackson
– Monstress – Marjorie Liu and Sana Takeda
– Harrow County – Cullen Bunn and Tyler Crook
– Through the Woods – Emily Carroll
– Courtney Crumrin – Ted Naifeh
– Shade the Changing Woman – Cecil Castellucci and Marley Zarcone
– Princess Jellyfish – Akiko Higashimura
– A Quiet Place (2018)
– It Comes At Night (2017)
– The Witch (2017)
– Get Out (2017)
– The Babadook
– XX (2017)
– Toronto Comics Anthology
Podcast: Play in new window | Download