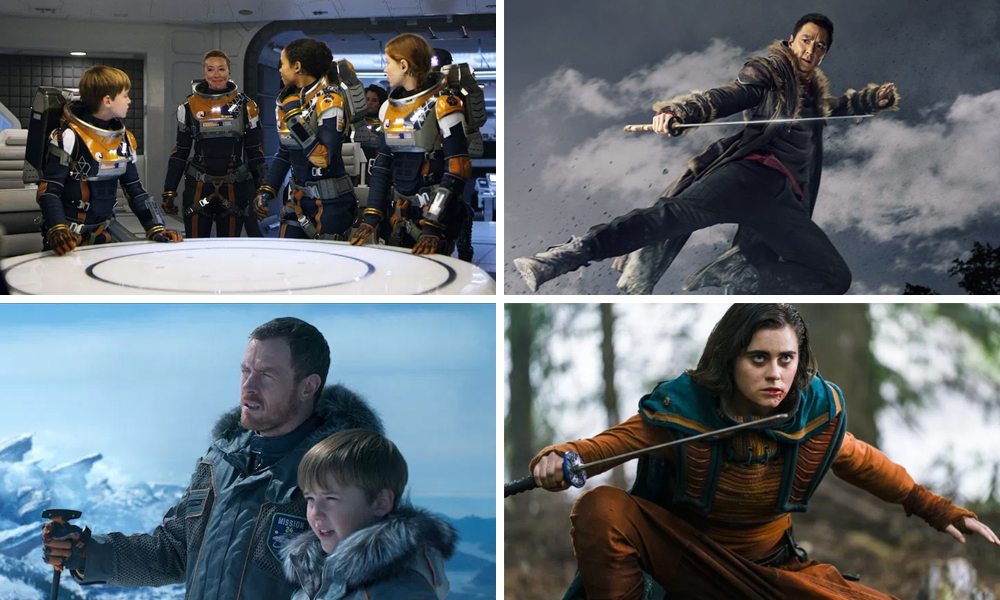 Left: Lost in Space (Netflix). Right: Into the Badlands (AMC)
Our Heroic Trio is back on Geek Girl Riot to talk Lost in Space, Into the Badlands, and more shows they're loving.
Danger, Will Robinson, danger! Philip and Sherin get Lost In Space
Netflix recently rebooted Lost in Space and they nailed it. The series follows the Robinson family as they head into space as colonists, where they meet a robot, a sorta-nefarious doctor, and a quirky jack of all trades to complete their dynamic. Philip and Sherin tell Alex about the new series, compare it to the original, and talk why this is a return to form for Netflix. (Read our [p]review here too!)
Sherin and Alex head back Into the Badlands
There are two things you need to know about Sherin and Alex: they're clones, and they love Into the Badlands. So with season 3 debuting this week, it's only natural they're gonna squeal about it. Hear them tell Philip why he should be watching, and listen out for some clips from the show's stars, Daniel Wu and Ally Ioannides!
(Look out for our season 3 feature on idobi.com, with cast interviews!)
What Else Are We Watching?
If the first two segments (or Geek Girl Riot in general) didn't clue you in, our Rioters love to watch TV. Here they dig into the shows they're watching that aren't necessarily well-known but they're lovin' hard.
Tune in to Geek Girl Riot on idobi Radio every Tuesday at 11pm ET / 8pm PT for your dose of late-night geekery from our team of rioters. Til next time, see the list of everything our Rioters talked about below:
Reading + Watchlist:
– The Cloverfield Paradox
– Altered Carbon
– Mute
– Black Sails
– Star Trek: Discovery
– Pitch Black
– The Expanse
– Lone Wolf and Cub – Kazuo Koike, Goseki Kojima
– Journey to the West – Wu Cheng'en
– Killing Eve
– On My Block
– Atlanta
– Final Space
– One Day at a Time
– Babylon 5
– Battlestar Galactica
– The Good Fight
– LOVE
 – Bosch
– Long Exposure comic
Podcast: Play in new window | Download