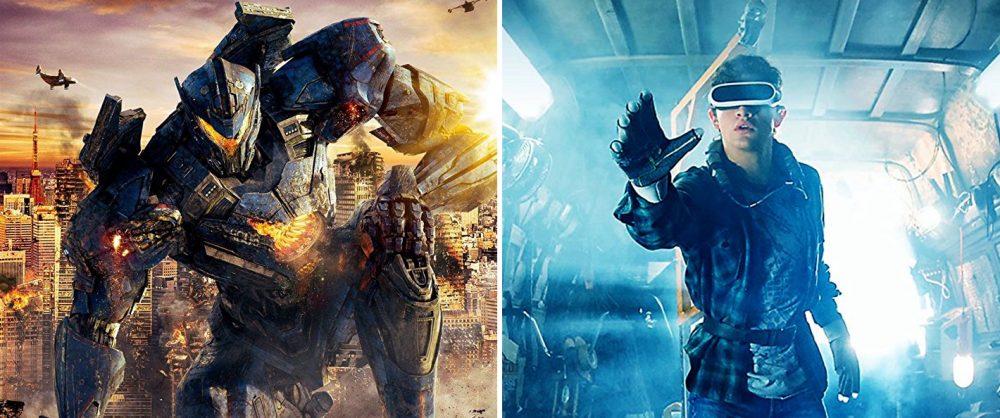 Left: Pacific Rim: Uprising (Universal Pictures). Right: Ready Player One (Warner Bros.)
Do it for the Fans: Geekdom and Fan "Appreciation"
This week on Geek Girl Riot we're doin' it for the fans…or more specifically, the films we're talking about do it for us. Ready Player One recently smashed the box office, while Pacific Rim: Uprising didn't hit here but did overseas. Sherin, Julian, and Kwesi discuss why these two movies had such different fan reactions, looking into how they each capitalize on nostalgia and geek culture.
Pacific Rim: Uprising and Mecha Anime
Sherin and Julian screened Pacific Rim: Uprising together and couldn't stop nudging each other when the film just got it right. Why? Because they're both huge anime fans—and that's who this film was tailor-made for. They talk what worked and what didn't, while Kwesi lends his knowledge of mecha anime to give his perspective.
Ready Player One and Geek Culture
Sherin describes Ready Player One as "a Cheesecake Factory menu of geekdom"—there's something for everybody in this Steven Spielberg pop culture bonanza, and it's no surprise that people turned out to relive their childhoods. But when is geek culture too much? 
When Geekdom Turns into Mainstream Entertainment
While we're grateful for all the Hollywood goodness we get thanks to geek-turned-pop culture, how has geekdom been diluted? To close us out Sherin, Julian, and Kwesi get into how comics and books should be adapted properly and what they want to see next. 
Find Julian: Ignorant Bliss podcast / @julianlytle
Find Kwesi: Kwesikennedy.net / kwesik.tumblr.com / @kwesiako
Tune in to Geek Girl Riot on idobi Radio every Tuesday at 11pm ET / 8pm PT for your dose of late-night geekery from our team of rioters. Til next time, see the list of everything our Rioters talked about, and where to find Kwesi and Julian, below:
Links:
– Ender's Game
– Transformers
– Getter Robo
– Mazinger Z
– Dangaioh
– Martian Successor Nadesico
– Godzilla
– Rodan
– Super Sentai
– Ultraman
– Neon Genesis Evangelion
– Tokusatsu
– Power Rangers
– Giant Robo
– Star Blazers
– George Lucas
– Jack Kirby
– Captain America
– Superman
– Blade
– The Crow
– Hancock
– Unbreakable
– All You Need is Kill
– Edge of Tomorrow
– Starship Troopers
– Ready Player One – Ernest Cline
– Overwatch
– Minecraft
– Chucky
– Family Guy
– Stranger Things
– Steven Universe
– Star Wars
– ThunderCats
– Stanley Kubrick
– The Shining
– Back to the Future
– Robert Zemeckis
– Batman
– Injustice 2
– Harley Quinn
– The Iron Giant
– China Miéville
– Joss Whedon
– J.J. Abrams
– Betty Boop
– The Goonies
– Indiana Jones
– E.T.
– Hook
– Jurassic Park
– Michael Bay
– 9th Wonder
– Spider-Man
– Avatar: The Last Airbender
– Taika Waititi
– Battle Angel Alita
– The Fast and the Furious
– Sam Raimi
– Peter Jackson
– Lord of the Rings
– Guillermo del Toro
– Jon Favreau
– Iron Man
– Ghost in the Shell
– Mobile Suit Gundam
– Bubblegum Crisis
– Blade Runner 2049
– Megazone 23
– Cowboy Bebop
Podcast: Play in new window | Download