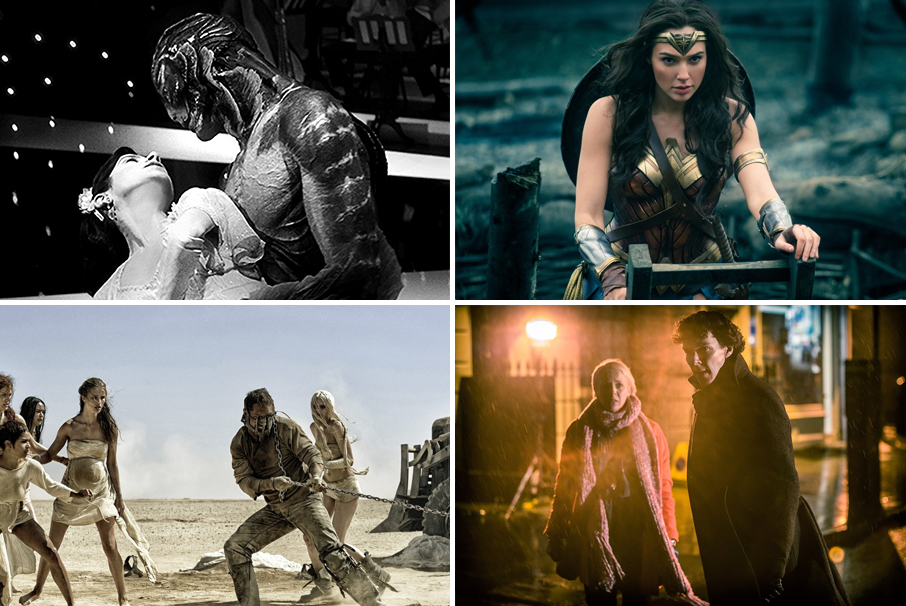 Clockwise from top left: The Shape of Water (Fox Searchlight),  Wonder Woman (Clay Enos - 
© 2015 Warner Bros. Entertainment Inc. and Ratpac-Dune Entertainment LLC), 
Sherlock (Robert Viglasky - © Hartswood Films 2013), Mad Max: Fury Road (Photo by Jasin Boland 
- © 2015 Warner Bros. Entertainment Inc.). 
This week on Geek Girl Riot we're causing all kinds of problems…no, wait, actually we're just pointing them out. Our Rioters are talking the movies, shows, books, and comics they love in spite of them being a whole lotta problematic. Because guess what? You can love something while recognizing its issues and demanding improvement. There, we said it. Come @ us.
Ooh, You Did Wrong!
To ease you in, we're explaining just why it's so important to call out the problematic things we love. We all like things we probably shouldn't—or really should for a lot of reasons—but sometimes there's a problem that needs to be pointed out so it can be fixed. Sherin, Sam, Soma, Day, and Renee dig into the whys and discuss where to draw the line when problematic turns into protest.
We Love You But Don't Touch that Chainsaw
Heather #1 of the Heathers (1988) film famously said, "F#©k me gently with a chainsaw"…but lately we've seen movies and shows that feel like that's exactly what's happening. (Yeah we're looking at you, recently-pulled-Heathers-remake.) Our Rioters dig into the properties they like but could do with a little less chainsaw, a little more home improvement.
It's a Wall Banger But I Lurve It
Ever had a book that's made you so mad you threw it at the wall? Yup, been there, dented that (sorry, mom!). To close out we're turning away from the screen and to our shelves, to pick out those books and comics we loved growing up—and new reads we're digging today—that made us want to go all 1984.
Tune in to Geek Girl Riot on idobi Radio every Tuesday at 11pm ET / 8pm PT for your dose of late-night geekery from our team of rioters. Til next time, see the list of everything our Rioters talked about below:
Watchlist + Reading List:
– Lisa Kleypas
– Ghost in the Shell
– Avatar: The Last Airbender
– Doctor Strange
– Mockingbird
– A Wrinkle in Time
– Danny Rand / Iron Fist
– M'Baku / Black Panther
– American Heart – Laura Moriarty
– Huckleberry Finn
– Heathers
– Heathers remake
– Holiday Inn
– Buckwheat
– Breakfast at Tiffany's
– Our Gang
– Mad Max: Fury Road
– Sherlock
– Doctor Who
– Bell, Book and Candle
– Tangled
– Wonder Woman
– Wonder Woman 2: Cheetah – Kristen Wiig
– Speechless
– The Shape of Water
– Ghostbusters
– X-Files
– The Vampire Diaries
– Million Dollar Baby
– Thelma & Louise
– Sleepy Hollow
– Star Trek: Discovery
– Jessica Jones
– This Is Us
– Mike & Molly
– This is Not What I Expected
– Throne of Glass – Sarah Jane Mass
– Lord of the Rings
– Game of Thrones
– Sookie Stackhouse series – Charlaine Harris
– Marvel
– DC
– Spider-Woman
– Power Girl
– Vixen
– Black Canary
– Louise Simonson
– Karen Berger
– Shelley Bond
– Captain Marvel
– Ms. Marvel
– Wayward Sisters: An Anthology of Monstrous Women
– "Classics" in literature
– Gilgamesh
– History of Magic in North America – JK Rowling
– Dr. Adrienne Keene
– Henry David Thoreau
– Andre Norton
– George Sand
– James Tiptree Jr.
– Mary Shelley
– Uzo Aduba
– Quvenzhané Wallis
– Timothée Chalamet
Podcast: Play in new window | Download