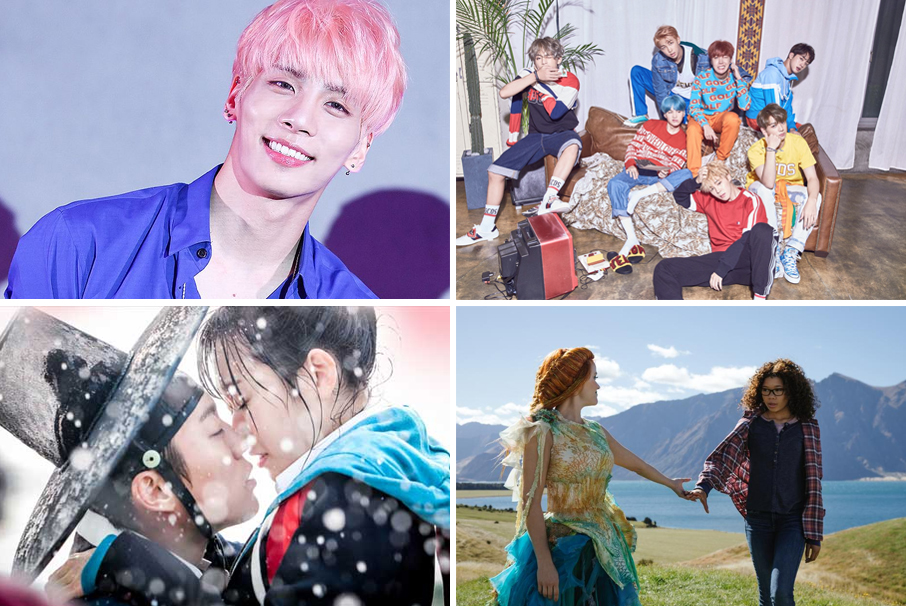 Clockwise from top left: Jonghyun at Dazed x Boon The Shop Event on May 25, 2016 
(Credit: DAZED / Wikimedia Commons), BTS, A Wrinkle in Time (© 2017 Disney Enterprises, 
Inc. All Rights Reserved), Splash Splash Love
Count 'em one, two, three…it's Geek Girl Riot's third K-Drama-Pop chat!
But before we get into it, prepare to get hyped about the upcoming movie adaptation of A Wrinkle in Time. Listen in for some sneak peek clips and start believing, because A Wrinkle in Time is out this Friday!
Now, back to K-Drama-Pop world! Sherin, Angie, Makeeya, and Mel got together to talk the latest in shows and music, including some major BTS news. They also pay an emotional tribute to Jonghyun, the SHINee singer and renowned artist who sadly passed away late last year. They discuss their favorite Jonghyun songs, his new album Poet | Artist, and the amazing talent and genuine person he was.
Then the quixotic quartet dive into some K-drama-rama—what they're loving, the not-so-much K-drama year of 2017, and what shows they're making grabby hands at in 2018. Your watch-list is about to get a mile longer—you're welcome.
Tune in to Geek Girl Riot on idobi Radio every Tuesday at 11pm ET / 8pm PT for your dose of late-night geekery from our team of rioters. 'Til next time, update your K-pop + K-drama lists below:
K-pop:
– BTS
– "Bad Boy" – Red Velvet
– Big Bang
– SHINee
– Poet | Artist – Jonghyun
– Tae-min
– "Gloomy Clock" – I U
– "Red Candle" – Son Dam Bi
– Tae-yeon
– BoA
– G-Dragon
– "Shinin'" MV – Jonghyun
– Story Op. 1 and 2 – Jonghyun
– "Hashtag" – Jonghyun
– "View" – SHINee
– "Tell Me What to Do" – SHINee
– "Just For a Day" – Jonghyun
– "Take The Dive" – Jonghyun
– "Before Our Spring" – Jonghyun
– "Don't Stop" – SHINee
– "Hyeya (Y Si Fuera Ella)" – SHINee
K-Drama:
– Mystery Queen
– Mulan (live action)
– Suits (Korean version)
– Strong Woman Do Bong Soon
– The Sun is Also a Star – Nicola Yoon (movie)
– Criminal Minds (k-version)
– Signal (j-drama remake)
– Korean Odyssey (Hong sisters)
– My Golden Life (NBS)
– Boys Over Flowers
– While You Were Sleeping
– Lookout
– Drinking Solo
– I Am Not a Robot
– Fight My Way
– Suspicious Partner
– Kill Me, Heal Me
– The Healer
– Goblin
– Reunited Worlds
– Fated to Love You
– Master's Sun
– Greatest Love
– Korean Odyssey
– Journey into the West
– Call Me Mother
– Mother (j-drama)
– Children of a Lesser God
– Misty
– Jugglers
– Oh My Ghostess
– Oh, the Mysterious
– Judge vs. Judge
– Return
– Black
– Revolutionary Love
– Manhole
– Temperature of Love
– Andante (with Exo's Kai)
– Spring Has Come
– Doctor Stranger
– Black Knight
– The Village
– Are You Human Too?
– Signal 2
– Be With You
– Radio Romance
– Splash Splash Love
– Somehow 18
Podcast: Play in new window | Download