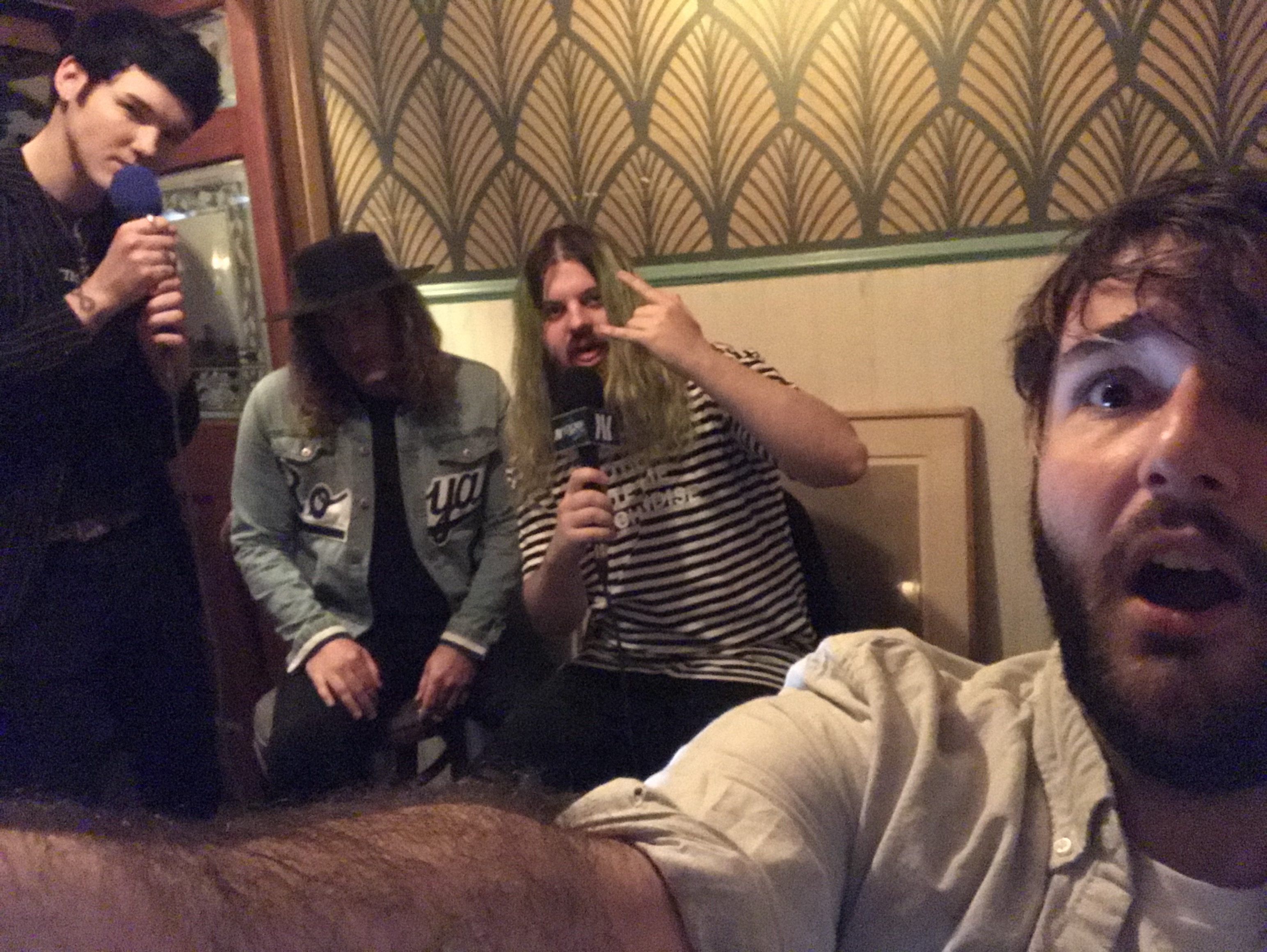 I took the show on the road this week to On The Rox in West Hollywood right above the historic Roxy Theater on the Sunset Strip! Medford, Lil Aaron, Goody Grace, CVBZ and myself were live from the room with many different names which you can hear in the show!
The show was very special this week because we were live from On The Rox, a club that Slash has played in, John Lennon has hid in, the rest of The Beatles had keys to and countless other legends have stepped foot in. It really brings out a different vibe by doing the show from a room like that. Not only was the history behind the room incredible the talent in the room for the show was insane too. I had the insanely talented Goody Grace, Lil Aaron and CVBZ come in to talk music and more with Medford and I.
All the love in the world to Medford for helping make this happen. If you see Med on the Sunset Strip or at a show or anywhere in the LA area be sure to say what's up to him cause he's the man. Hear some more awesome stories from him and tweet him that Rox needs a fishbowl named after me LOL
Goody Grace just dropped his first EP Infinite back in March and has been touring relentlessly for the last few years. Hear all about Goody's come up, knowledge of music and more throughout the show. Also which is really special is that he performed 2 songs at the idobi studio last week and we aired them for the first time in the episode! So you best listen to "Two Shots" and "Pretend" acoustic. Be on the lookout on our YouTube page for when they go up!
As always it was good to have Lil Aaron on the show! He tells us all about Rockstar Famous which drops May 31st (his birthday which you will all wish him a happy birthday by buying his EP). Lil Aaron also stopped by the idobi studio to perform his new single "Quit" which features Travis Barker and a very special cover of the Jonas Brothers' hit "S.O.S", you can hear those on the show too and be on the lookout for when they will be up on our YouTube.
CVBZ, I don't know where to begin with him. We were at the same party at one our mutual homie's apartment 7 years ago and had no idea till I saw a picture recently  thinking he was our other homie.  Fast forward to last year he dropped his single "Be Like You" and someone sent it to me and I feel in love with it. Seany has an incredible voice and is an incredible writer. Hear all about everything from performing on Jimmy Kimmel to pitching songs to The Chainsmokers and maybe you'll even hear an original demo of a very very familiar song. Be on the lookout for more stuff from CVBZ and just know this was his first time ever doing a show like this and he's now one of your favorite artists.
Podcast: Play in new window | Download