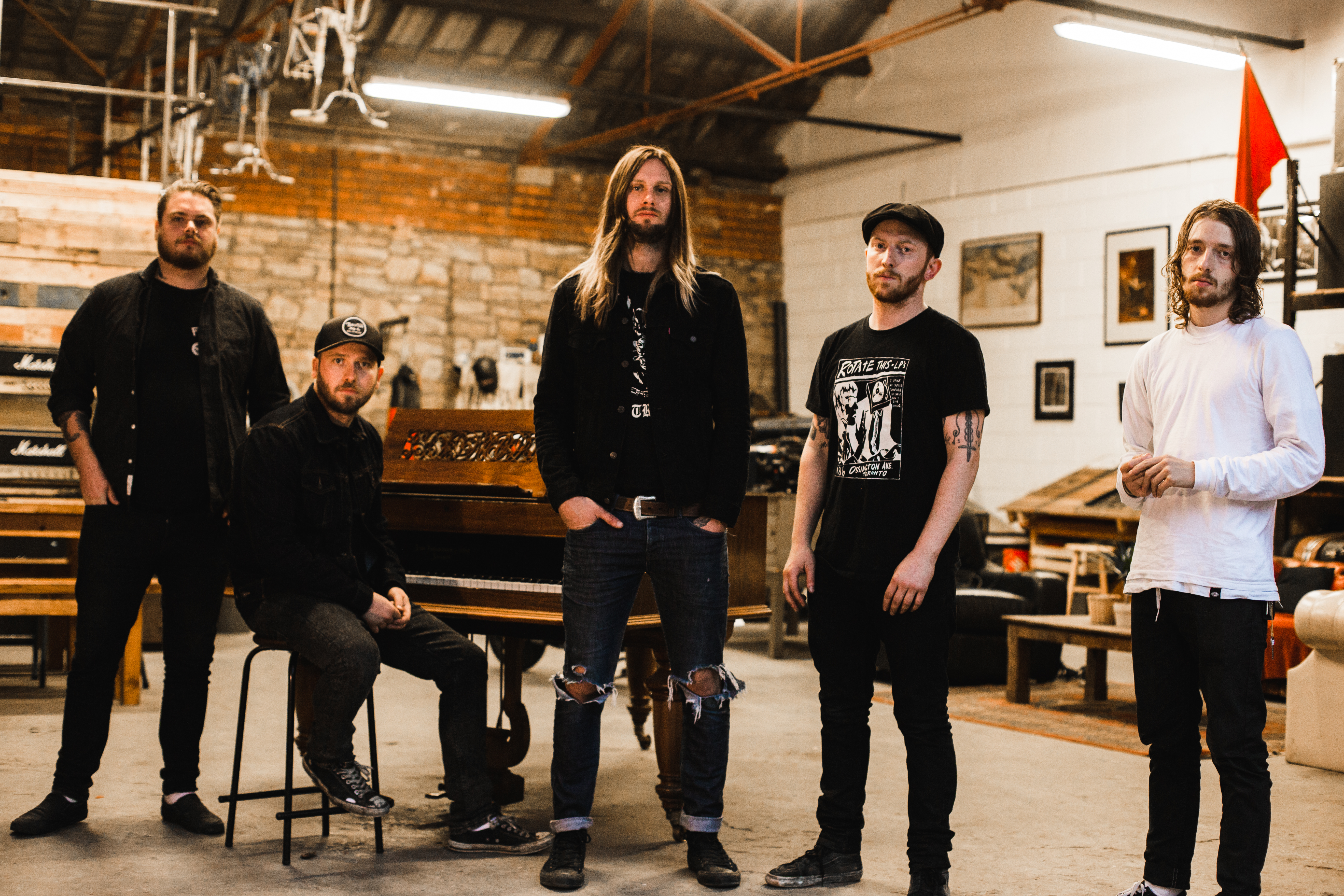 On Episode 006 (4/19/17) Jeff takes you overseas to introduce you to the band While She Sleeps, New music from Citizen Zero and brings you bands entered into the Ernie Ball PLAY Warped contest!
While She Sleeps is a Metalcore band from Sheffield England. The Band Formed in 2006, and consists of vocalist Lawrence Taylor, guitarists Sean Long and Mat Welsh, bassist Aaran McKenzie and drummer Adam Savage.  They have released one mini-album, The North Stands For Nothing, in 2010, and two studio albums, This Is The Six, and Brainwashed on August 13th 2012 and March 23rd 2015 respectively. Their third and New album, You Are We was just released on April 21 2017.
In early 2016, the band mentioned that they had begun writing for their third studio album. On July 29th, they announced that recording for the album had begun in their recently built studio. On September 4th, they revealed the first song, titled "Civil Isolation", and on September 12th, launched pre-orders and a Pledge Music campaign for the album.  The first single, "Hurricane",  was released on November 20th 2016.  On February 23rd, 2017, they released a song titled "Silence Speaks" featuring Oliver Sykes,  Vocalist of Bring Me The Horizon. The new album, "You Are We" is now available everywhere!
Today the band is staying busy touring the world to support their new release
"You Are We" and will be coming to the states FRI SEPTEMBER 22 -SAT SEPTEMBER 23 for  High Elevation Festival 2017 in Greenwood Village, CO
THU  APRIL 27
O2 Academy Oxford Oxford, UK
FRI APRIL 28
The Fleece Bristol, UK
SAT APRIL 29
Manchester Academy 2 Manchester, UK
MON MAY 1
Academy Dublin, Ireland
TUE MAY 2
Oh Yeah Centre Belfast, UK
WED  MAY 3
Arts Club Liverpool Liverpool, UK
FRI MAY 5
The Sugarmill Stoke On Trent, UK
SAT MAY 6
Waterfront Norwich, UK
MON MAY 8
Riverside Newcastle Upon Tyne, UK
TUE MAY 9
The Garage Glasgow, UK
WED MAY 10
Rescue Rooms Nottingham, UK
FRI MAY 12
The Asylum Birmingham, UK
SAT MAY 13
Stylus Leeds, UK
THU JUNE 1
The Globe Cardiff, UK
FRI JUNE 2
The Hub Plymouth, UK
FRI JUNE 16
The Booking Hall Dover, UK
SAT JUNE 17
Graspop Metal Meeting 2017 Dessel, Belgium
SUN JUNE 18
Hellfest 2017 Clisson, France
MON JUNE 19
Pont Rouge Monthey, Switzerland
TUE JUNE 20
Colos-Saal Aschaffenburg, Germany
WED JUNE 21
Tower Bremen, Germany
THU JUNE 22 -SAT JUNE 24
With Full Force Festival 2017 Gräfenhainichen, Germany
FRI JUNE 23
Jera On Air 2017 Ysselsteyn, Netherlands
SAT JUNE 24
Rockcamp Festival 2017 Saarwellingen, Germany
SUN JUNE 25
Randall Club Bratislava, Slovakia
MON JUNE 26
Zaklęte Rewiry Wrocław, Poland
TUE JUNE 27
U Bazyla Poznan, Poland
THU JUNE 29
Provinssi Festival 2017 Seinäjoki, Finland
SAT JULY 1
Vainstream Rockfest 2017 Münster, Germany
MON JULY 10
Capitol Perth, WA, Australia
TUE JULY 11
Main Room, The Gov Hindmarsh, SA, Australia
THU JULY 13
Forum Theatre Melbourne, VIC, Australia
FRI JULY 14
Enmore Theatre Newtown, NSW, Australia
SAT JULY 15
The Tivoli Fortitude Valley, QLD, Australia
TUE JULY 18
Hollywood Awards Bangkok, Thailand
THU JULY 20
Legacy Live House Taipei, Taiwan
FRI JULY 21
Hidden Agenda Hong Kong, China
SAT JULY 22
B10 Shenzhen, China
SUN JULY 23
SD Livehouse Guangzhou, China
TUE JULY 25
Little Bar Space Chengdu, China
WED JULY 26
MAO Livehouse Shanghai, China
FRI JULY 28
Yugongyishan Beijing, China
SAT JULY 29
Unknown venue Seoul, Korea, Republic Of
WED AUGUST 9 – SAT AUGUST 12
Brutal Assault 2017 Jaroměř, Czech Republic
MON AUGUST 14
Poolbar Festival 2017 Feldkirch, Austria
TUE AUGUST 15
Akvárium Klub Budapest, Hungary
WED AUGUST 16 -SAT AUGUST 19
Summer Breeze 2017 Dinkelsbuhl, Germany
FRI AUGUST 25 – SATURDAY AUGUST 26
Reload Festival 2017 Sulingen, Germany
SAT AUGUST 26
Reading Festival 2017 Reading, UK
SUN AUGUST 27
Leeds Festival 2017 Leeds, UK
FRI SEPTEMBER 22 -SAT SEPTEMBER 23
High Elevation Festival 2017 Greenwood Village, CO, US
Music in the episode is also featured from:
When We Team Up
One Last Embrace
Citizen Zero
The Running Lights
Nights Like Thieves
Treehouse Kids
Zombie Schoolboy
While She Sleeps
Riviera
A Better Hand
Young Culture
Seaway
Mystery Weekend
Podcast: Play in new window | Download