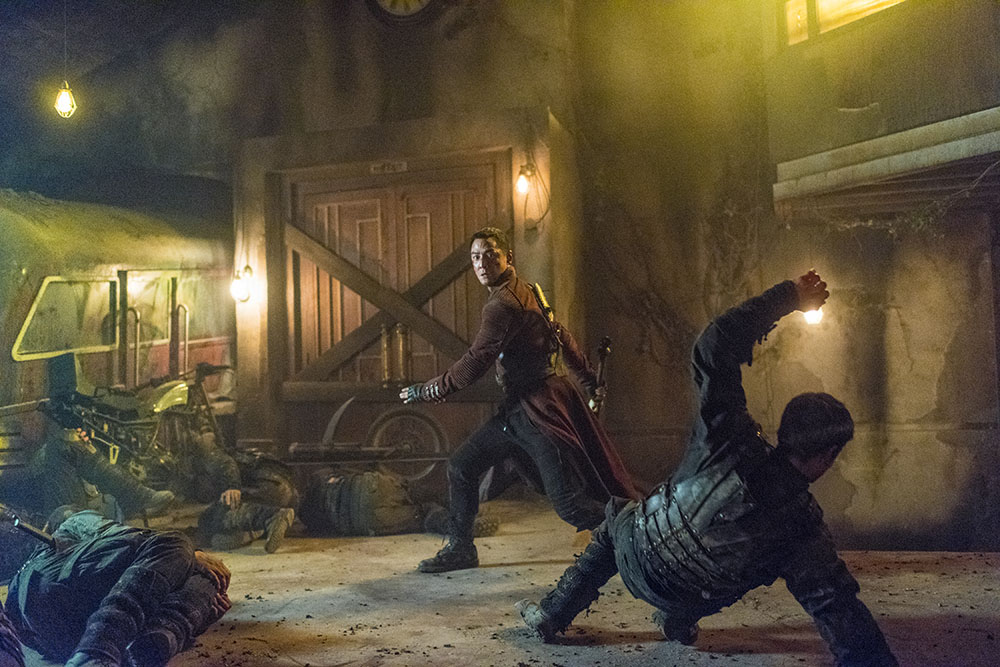 This week: Into the Badlands, Samurai Jack, and American Gods!
Into the Badlands
Season 2 – complete on AMC. Binge it all!
We've been raving about this show all season…and we were right. Into the Badlands is the post-apocalyptic fantasy martial arts series we've been dreaming about since we saw The Five Deadly Venoms. ITTB is so damn good. You know how we know? Season One was 6 episodes long, and it left us craving more. Season Two was 10 episodes long, and it blew our fragile little minds. Now—since AMC rewards excellence—Season Three of Into the Badlands will be 16 episodes. No need to hold your applause; we're already on our feet. If you haven't watched the series yet, you can binge it like those cupcakes you stole from work.
Here's a bit of the premise: Season 2 is a mash-up of Journey to the West (they even have a Bajie) and The Odyssey (Sunny makes a great Ulysses); it weaves its way through badass action and layered character development to end in what looks like the setup for a new take on [highlight for spoiler] Lone Wolf and Cub!
Don't get us wrong, we're mad as hell about parts of how Season 3 ended, but that's just because the show made us care. Like we said before: If you're into high octane martial arts action, the Badlands are where you want to be.
—
Samurai Jack
Season 5 – complete on Adult Swim / Cartoon Network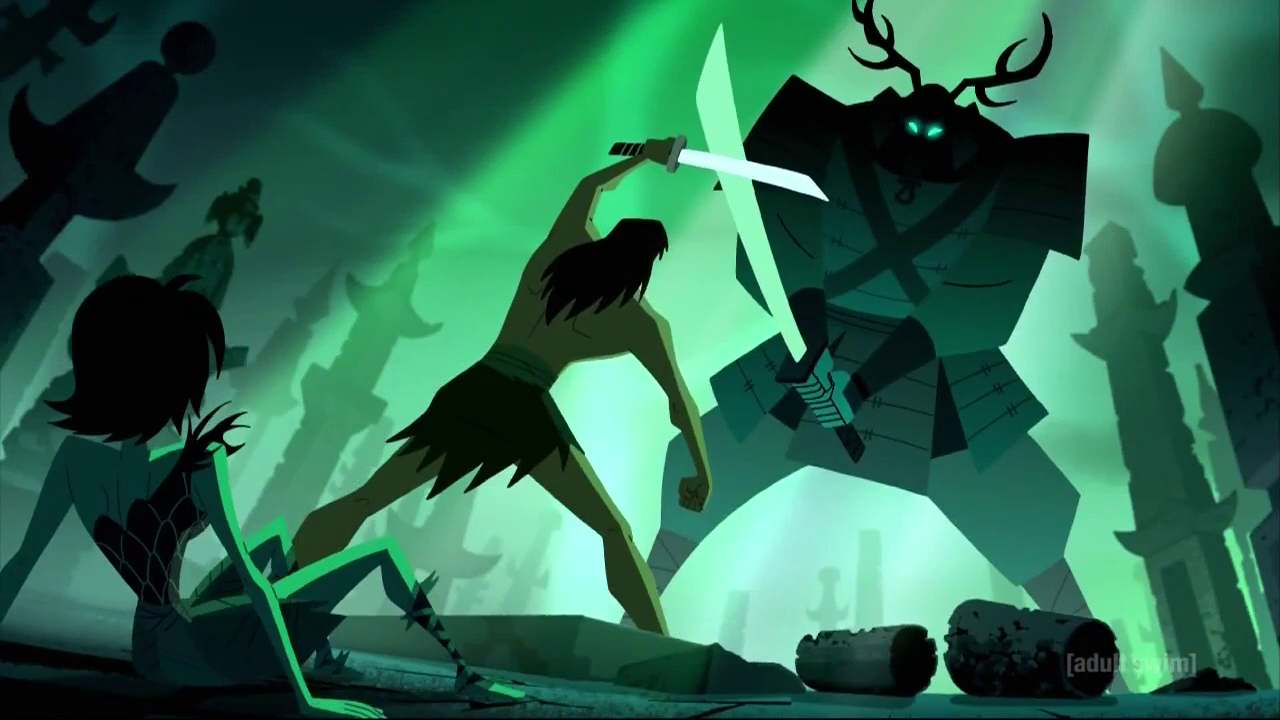 If you thought the Genndy Tartakovsky series (led by the hot cocoa & marshmallows voice of Phil LaMarr) was genius before, then prepare to have your expectations shattered. In its 5th season Samurai Jack is legend. The promise of the theme song becomes both prophecy and somewhat of a requiem as Jack fights against bee-bop robots, internal demons, and the Daughters of Aku. At the same time he discovers the impact he has on the world, and the healing power of the ultimate 1-2 punch—acceptance and love. There is such a depth of feeling to this show that we're still thinking about it days after the season (and quite possibly the series) finale.
Sidebar: Cheers to, Ashi. We adore you, girl!
Like we told you before: If you're going to make a comeback after 13 years, this is the way to do it. Samurai Jack returns for a limited fifth season and his homecoming is…awesome. Jack is back armed with guns and guilt, and he is legend.
—
American Gods
Sundays – 9pm ET – on Starz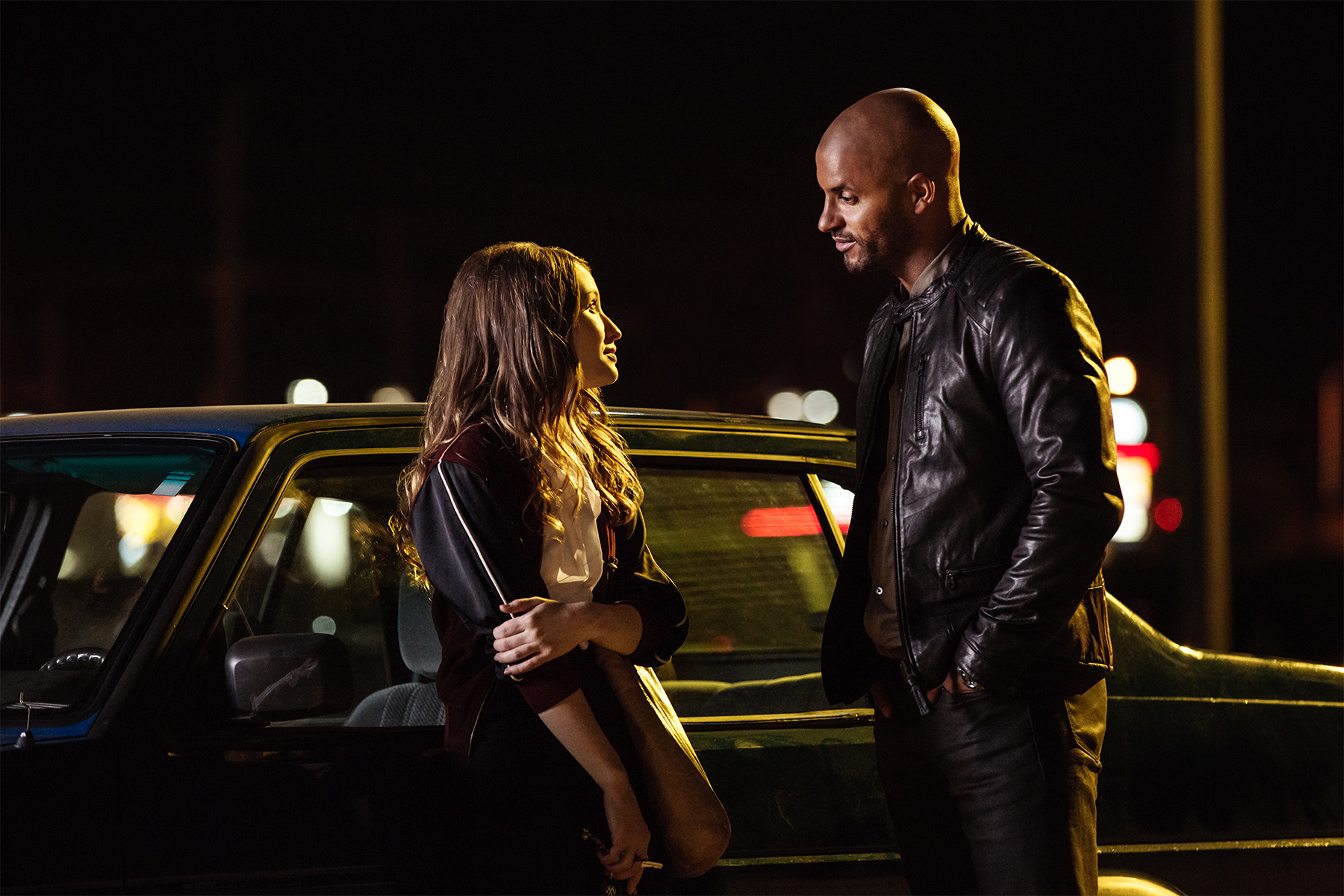 Ep 105 – Lemon Scented You /  Ep 104 – Git Gone
Air Dates: May 28 / May 21
By the gods, this is good. There is blood. Yes, geysers of it. Deliciously evocative sex. Oh wow, yes. There are fist fights and humor and all the things that make a fantasy series great. Yes, yes, and yes. It's enthralling on every level, but what makes American Gods irresistible is that it serves all this up with something most series lack: Truth. A truth so fearlessly real it grabs you by the shirt and pulls you into the screen.
In Ep 5 American Gods begins to explore new territory—bringing back characters, introducing original ones, and creating conflicts that will surprise both fans of the book and those who have only seen the series. Can we just tell you? When watching American Gods you're in for the best road trip ever!
Sidenote: Laura really is tacky (see the clip below)…but we like that a character like this exists. She's so edge-of-the-knife honest:
From Starz:
Ep 104 – Git Gone
Air Date: May 21, 2017
Alternating between the past and the present, Laura's life and death are explored—how she met Shadow, how she died, and how exactly she came to be sitting on the edge of his motel room bed.
Ep 105 – Lemon Scented You
Air Date: May 28, 2017
Trying to work things out with his dead and unfaithful wife, Shadow's emotional reunion is interrupted when he and Mr. Wednesday are kidnapped by the New Gods.
Tags:
Adult Swim
,
AMC
,
American Gods
,
Into the Badlands
,
Samurai Jack
,
STARZ
,
Watch This Week