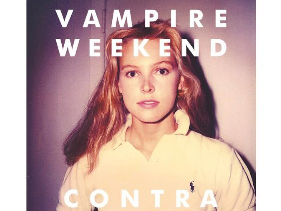 Last week, Ann Kirsten Kennis – the cover star of Vampire Weekend's Contra album – filed suit against the band in Los Angeles Superior Court, alleging that her signature was forged on photographer Tod Brody's photographic release.
At the time, VW's label, XL Recordings, told MTV News they had "no comment" on Kennis' lawsuit, and the only comment from the band itself was a winking emoticon tweeted by frontman Ezra Koenig.
Since then, things have changed.
First, Entertainment Weekly spoke to Kennis' attorney and Brody, who, somewhat understandably, had differing opinions about the suit.
Alan Neigher, who is representing Kennis, said his client was unaware that a Polaroid of her was being used by the band until her daughter told her, adding that the picture was "taken by her family" in 1983 and Kennis "has no idea how that photograph got into the photographer's hands."
Brody – the photographer – laughed when he heard Neigher's claims, maintaining that not only did he take the photo, but that it "was in my possession the entire time, for 26 years, until it was delivered to Vampire Weekend."
And late Friday, reps for XL sent a statement about the lawsuit to MTV News, saying they did their due diligence when securing the rights to the photo and that they "look forward" to proving that claim in court.
"As is standard practice, Vampire Weekend and XL Recordings licensed the rights to use the photo on the cover of Contra pursuant to a license agreement that contains representations and warranties authorizing this use of the photo," the statement read. "Now that a lawsuit has been filed, we look forward to having the matter resolved in Court. We will be filing our response after we have had an opportunity to review the allegations. Consistent with our practice, we will not be commenting further about the pending litigation at this time."
And finally, during a talk with British mag NME at this past weekend's Latitude festival, Koenig broke his silence, saying he and his bandmates found the entire experience – and the inability to speak openly about it – "a little frustrating"
"I think I can speak for all of us and say this is the first time any of us have ever been sued, so we're still learning how it works," he said "There's so many things we could say about it, but given we have no experience of it, we're just keeping conversations to a journal for now, which is a little frustrating.
"There's nothing we can say about it," he continued. "We're not trying to be mysterious. I imagine in the next few months, there'll be plenty to talk about. Given it's our first time, we just want to do it properly."
Tags:
Vampire Weekend