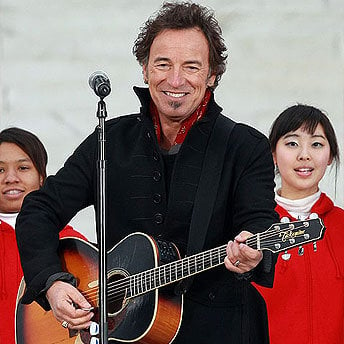 On Sunday, dozens of the world's best-known entertainers gathered on the site where Dr. Martin Luther King Jr. delivered his "I Have a Dream Speech" 45 years ago to offer an exuberant welcome to President-elect Barack Obama. U2 provided one of several emotional highs of the day, performing their tribute to King, "Pride (In the Name of Love)," during which Bono declared, "On Tuesday that dream comes to pass!"
Bruce Springsteen, James Taylor, Beyoncé and Garth Brooks were among the A-list performers who helped set the joyful, optimistic tone at the concert, officially called "We Are One: The Obama Inaugural Celebration at the Lincoln Memorial." Hundreds of thousands of sturdy souls waited in sub-zero temperatures for hours to join the free event, which lasted 90 minutes and also included readings from Tom Hanks, Jack Black, Denzel Washington and dozens of other actors, as well as speeches by the President- and Vice-president-elect.
Besides the artists and actors huddled backstage, a motley crew of politicians, media personalities and Hollywood types, including John Kerry, George Lucas, and future U.S. Attorney General Eric Holder, were among the V.I.P.s occupying the first several rows in the concert. "I'm excited to see the Boss and JT," Kerry said before the show began, noting that many of the musicians performing stumped for him in 2004. "These are all my buddies!"
Springsteen opened the event with a barnstorming rendition of "The Rising," back by a gospel choir, after which Joe Biden outed himself as the biggest Bruce fan in the incoming administration: He shot up to offer a standing ovation before the rest of his box – wife Jill, and Barack and Michelle Obama – followed suit. Michelle more often led the ovation, encouraging the presidential box to give it up for Usher, Shakira, and Stevie Wonder's collaboration on "Higher Ground," while Jill Biden led the cheers for John Mellencamp's "Pink Houses." Sasha and Malia got most excited by Garth Brooks' rendition of the Isley Brothers' "Shout."
Mary J. Blige's "Lean on Me" and Bettye Lavette and Jon Bon Jovi's vocally powerful take on Sam Cooke's "A Change Is Gonna Come" helped set the soulful tone of the event. Brooks' high-energy mini-set, backed by a youth choir, included his version of Don McLean's "American Pie," "Shout" and his own "We Shall Be Free," and gave the crowd one of several opportunities to dance, sing along, and express the shared joy of the occasion.
Another opportunity came as Sheryl Crow, Will.i.am, and Herbie Hancock collaborated on "One Love," although Will.i.am sadly saw fit to interpolate his atrocious rap from the Black Eyed Peas' "Where Is the Love" ("To discriminate only generates hate/And when you hate then you're bound to get irate"), notably dropping references to the CIA and the KKK and the word "nigga."
Backstage before the event, Will wasn't shy about the impact his hit viral video "Yes We Can," built around an Obama speech, had on the campaign. "Al Gore told me that video changed the course of the election," he said. "But it wasn't just me, it took people out there willing to be inspired."
Most of the actors maintained a stiff demeanor, dutifully reading the stilted history lessons and quotations fed to them off a teleprompter, but not Jamie Foxx. He came out and shouted "Chicago, stand up!" – getting the reluctant Obama family to briefly leave their seats – before risking a dead-on impression of the President-elect which seemed to please no one more than Obama himself.
The only other seemingly unscripted moment came during U2's rendition of "Pride (In the Name of Love)," during which Bono suggested Dr. King's dream is also an Irish, European, African and Israeli dream, adding, with special emphasis, "It is also a Palestinian dream!"
If any nerves were rattled by U2's infusion of current events, they were soothed by the next two performances. Beyoncé offered a timeless, traditional rendition of "America the Beautiful" before Pete Seeger, joined by Bruce Springsteen, resurrected Woody Guthrie's "This Land is Your Land" for one more merry sing-along.