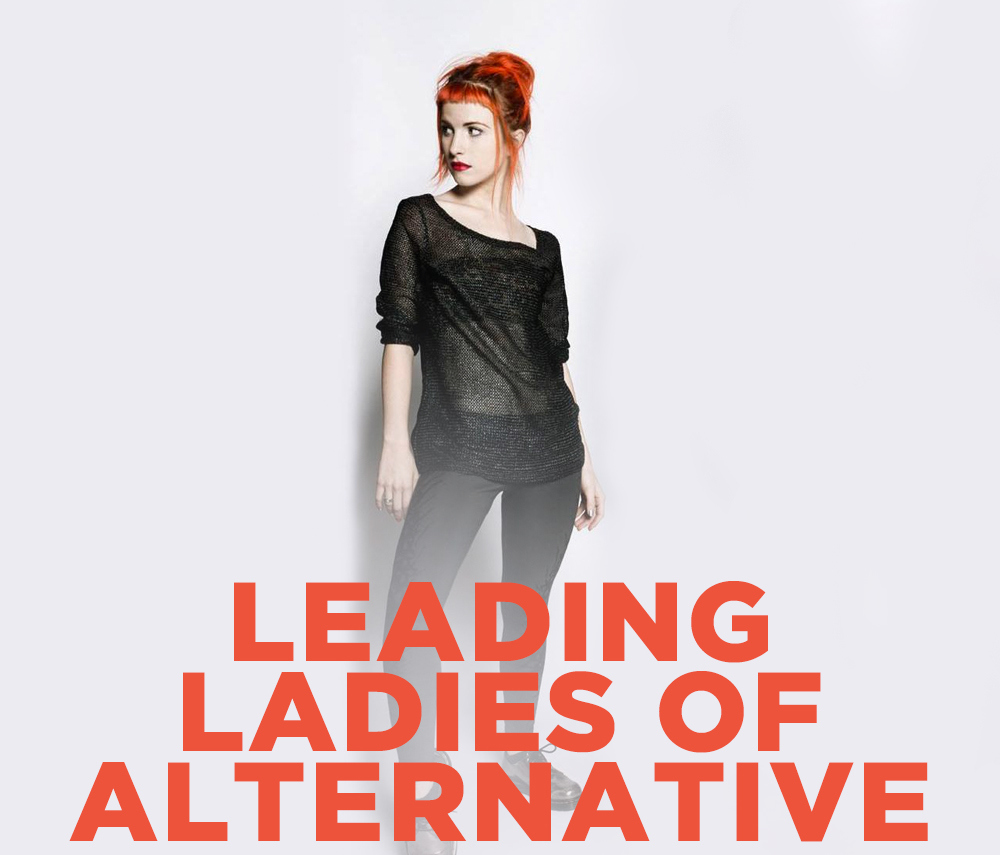 How often do you read an article about women in music that seems to focus more on their looks than their abilities? Probably too often. That's why for this week's Tuesday Ten, we decided to write about some of the alternative scene's most talented and inspiring women. From the early pioneers of female badassery to those carrying that torch in 2014, find out what makes these girls our leading ladies of alternative below!
Kim Gordon
Approaching her fourth decade in the alternative scene, Kim Gordon was the leading lady for Sonic Youth, one of the most important and inspirational bands of their genre. They embodied the hardcore punk DIY attitude as forerunners of the first wave of noise rock. Juggling guitar, bass, and vocals, she courageously fronted the group alongside ex-husband Thurston Moore until the band's official disbandment in 2011, after a whooping sixteen albums. She was the epitome of a woman in indie rock, an outspoken feminist renegade. Kim Gordon is also an accomplished visual artist with several gallery showings under her belt, and she dabbled in fashion design, in addition to lending her face to brands like Yves Saint Laurent. Not one to slow down, she's still musically active with her latest project, Body/Head, and remains an icon to all things counter-culture. Easily the coolest mom on the planet, Gordon and the rest of Sonic Youth played a benefit for her daughter Coco's school alongside female-fronted group Cat Power. Gordon directed the music video for "Cannonball" for Kim Deal (of The Pixies) other band, The Breeders, and has producing credits on Hole's debut album, Pretty on the Inside, clearly showing support for her fellow female musicians. She's rebellious yet mature, mysterious and inexplicably cool. Kim Gordon revolutionized the way women are perceived in alternative music, where we can be tough as nails and embrace femininity at the same time. (Alex Rudisill)
Laura Jane Grace
Laura Jane Grace is a hurricane. Her newest album, Transgender Dysphoria Blues, is a hit. She's about to tour the world (again), and announcements have just been made for her new reality series. Through making music with her band, Against Me!, the singer has become a preeminent voice in the alternative rock scene – coming a long way from the punky Florida teen who dreamed anarchist ideals and self-published zines.
In interviews, Laura Jane always comes across as incredibly humble, and surprisingly even demure; yet anyone who has listened to her music knows that she is a powerhouse with vocals that could tear down walls. Her upcoming reality series for AOL, aptly titled "So Much More," is slated to cover Laura Jane's journey on tour, specifically highlighting her interactions with others who are also transitioning, in the attempt to demystify the process and educate an audience for whom the transgender community may be unfamiliar. By choosing to make her transition public, Laura Jane has enhanced the feeling of pride to being transgender, and the overwhelming support of her decision has paved the way for others to feel more comfortable in coming out.
What's more, she's a badass rocker who would give Joan Jett a run for her money (if they weren't already such good friends). There's no doubt that Laura Jane Grace is one of the leading ladies in today's scene, but the legacy she's creating now through being an activist and a musician is one that will last for generations. (Alyssa Dempsey)
Lzzy Hale
When it comes to rocking out, no one goes harder than Elizabeth "Lzzy" Hale, the front woman of Halestorm. Lzzy began writing music and performing at the age of thirteen, and, although she is a phenomenal guitarist today, she didn't pick up a guitar until she was sixteen. Her wunderkind musical skills came into play in 2009 when, her band, Halestorm released their crushing self titled debut. Right off the bat, Halestorm charmed you with their awesome guitar work and Lzzy's sometimes honey-sweet voice and other times ferocious roar.
"I was talking to this little girl over Twitter…She typed 'Love Bites,' and I replied, 'Well, so do you, darling. You can still bite back." (halestormrocks.com)
As a lyricist she keeps her songs personal. The single "Love Bites (So Do I)" was inspired by her interaction with a fan. It allowed Lzzy to expose and share the razor pain of a breakup. Lzzy writes from the soul. That is the very reason her fans connect with her so well. She stays humble no matter how much fame she acquires and she's never too far away to have a chat on social media. This is what makes her the head banging angel she is. (Jesse Balderas)
Joan Jett
A woman just as talented, tough, and independent as any man ever hoped to be, Joan Jett embodies the phrase "rock 'n' roll." Ever since Jett burst onto the scene in the 70's, as a founding member of The Runaways, we've been shaking our fists and banging our heads to her rugged anthems and "take no prisoners" attitude. By the 80's she was pursuing a solo career, forming Joan Jett & The Blackhearts – the project that produced the internationally loved tracks "I Love Rock 'N' Roll" and "Bad Reputation". A trailblazer in the industry, Jett all but spit on the "damsel in distress" stereotype and achieved mainstream success, making herself a household name, all while spreading the word women aren't weak-willed.
And the best part? She still rocks. The female rock ambassador owns and operates Blackheart Records (which brings you awesome noises from the likes of The Dollyrots and The Eyeliners). She keeps her own career rolling with her latest album, Unvarnished, released just last year, and a summer festival tour. From putting in the work to make your goals attainable, to being totally unfazed by anyone else's opinion but your own, Joan Jett has proven herself worthy of emulation.
You can proclaim your love for her music by blasting "I Love Rock 'n' Roll" so loud everyone on the next three blocks hears it. And hey, the lyrics are still relevant with a couple changes: "I love rock 'n' roll, so put another $1.29 in the iTunes, baby!" (Emillie Marvel)
Mariel Loveland
You can't get more positive than Mariel Loveland. Her 90s-infused pop-rock persona suits her band's name, Candy Hearts – it's sweet, addictive, and reminds you what it's like to be a kid. She writes what she knows, and her simple universal feelings make you wonder where Candy Hearts have been all your life. Loveland's voice may be quiet but it's as strong as her charm – intelligent, engaging, and holds firm beliefs about individuality and female empowerment. You can feel it in each lyric – she is the one chanting, "you don't have to feel like this anymore." She even wrote a compelling article for Alternative Press to reach out and say, "you are in charge of the way you view yourself." At every show Mariel proves you can kick ass at being a woman, a guitarist, and a singer all at once. In fact, she's so busy being herself she doesn't have time for negativity, and neither will you when you hear the sincerity and sunny enthusiasm in every note from her guitar. The world would be a better place if more people saw it the way Mariel Loveland does. (Alex Bear)
Jenna McDougall
There are so many badass women in music it's almost hard to pick just a handful, but one of my personal favorites is Jenna McDougall, vocalist for Australian pop punk band Tonight Alive. Firstly, there aren't a lot of women in pop punk. It may be a heavier genre, but even with a lot of meaningful lyrics and strong melodies you just don't see girls fronting bands like The Wonder Years or The Story So Far (I do wonder what that would sound like). No matter – Jenna takes the lead and thrives in the kind of fast paced, energetic sound that pop punk offers. She has a low voice, which might contribute to the forceful feeling behind every lyric, but she sings with a confidence and authenticity that can't be taught. Even though the confidence seems to flow so naturally now, Jenna talked in an interview with Bryan Stars about feeling morally defeated by a medical condition. "I felt weak and fragile," she said. "I never thought I'd be able to talk about being sick…but there was nothing more liberating for me than finding acceptance and overcoming my personal challenges." Those themes directly translate into the album, and Jenna's combination of passionate lyrics with the aggressive sound of the band makes for some unforgettable songs. Pop punk may be mostly males right now, but Jenna has carved a place for herself on this stage simply by standing up and claiming it. (Hannah Pierangelo)
Alanis Morissette
Deemed the "queen of alt-rock angst" by Rolling Stone, Alanis Morissette is the epitome of extreme candor and raw emotion, despite launching her music career as a teen dance pop idol. Isn't it ironic? After abandoning the pressures of teen stardom, Alanis moved to Los Angeles, shortly after ending a destructive relationship with Full House's Uncle Joey (Dave Coulier). This led to the birth of Grammy-winning single, "You Oughtta Know," in which producer Glen Ballard strongly encouraged her to step outside her comfort zone and sing lyrics like, "Now you're thinking of me when you fuck her," even after Alanis expressed she was afraid of hurting feelings. Being robbed at gunpoint further contributed to her "intense and general angst," which she channeled into her legendary rock album, Jagged Little Pill (1995). Alanis could have let these circumstances completely destroy her spirit, but instead she proved to be a resilient artist who could fuel her pent up frustration into pure passive aggressiveness and unapologetic wit.
Alanis tells stories that are so real and visceral you can't help but connect. With album titles like Supposed Former Infatuation Junkie (1998) and Under Rug Swept (2002), to name a few, it's evident Alanis has no problem exposing us to her inner monologues and stream of consciousness. In her 1998 music video, "Thank You," we see Alanis completely naked in a populated city, telling us how she had changed after traveling to India. While public nudity may have been controversial, you can't help but respect her bravado as she addressed the concept of vulnerability and portrayed how powerful acknowledgement can be in a time of hopelessness.
Alanis wants to tell you her story – the whole truth and nothing but the truth – giving you insight into every invasive detail. Each release reinforces an important precedent – making it acceptable to speak your neurotic mind without fear of judgment. Because, to paraphrase her first hit, every time she scratches her nails on someone else's back she wants you to "feel it." And I think we can. (Ethan Rose)
Kim Schifino
When it comes to passionate and fearless women in music, one of the best in the business is Kim Schifino of indie rock act Matt & Kim. Although drummers tend to be the least visible band member, Kim has no problem taking center stage alongside her partner-in-crime Matt Johnson. Hammering away at her drums non-stop through their sets, her ferocious energy as well as her no-filter banter (which includes such gems as "I am on fucking fire tonight, and it's not my crotch tattoo") instantly obliterate any gender stereotypes. What makes her whirlwind drumming style even more astonishing is that when the band first started in 2004, Kim had no idea how to play drums. Both Matt and Kim were completely new to their instruments; however, determined to make things work, they started playing shows just months after starting the band. Soon they were in a van, heading out on tours that Kim booked without the help of a booking agent or manager. Without Kim taking the initiative and leading the way, this band would be nowhere close to where it is today. Her relentless DIY attitude when it comes to both her instrument and her personality is why Kim is one of the most inspirational, badass female musicians today. (Catherine Yi)
Mindy White
Mindy White might as well be the sole definition of an angel in the indie rock world. The girl can do no wrong. Her Instagram displays a fondness for dogs and cats (and pretty much every animal for that matter), all things Disney, Harry Potter and delectable sweets like cupcakes and banana bread (gluten-free, of course). She's vegan, she juices, AND her fingernails are always adorned in the cutest colors. She's everything you want to be. How does she do it? AND I haven't even mentioned her music yet. Mindy tickles piano keys effortlessly and her voice is, well…angelic. Did you expect any less? If you're a nonbeliever, check out the album Illuminate, the popular 2008 release by her former band Lydia. If you're still not convinced about Mindy's musical talent, listen to her newer project States where her delicate, whimsical vocals are at the forefront rather than featured in a few tracks and background vocals.
Mindy serves as an excellent leading lady. She's genuine, unabashed, and always true to herself. While I've only met her once when she tapped me on the shoulder and asked me where the bathroom was located (I'm glad I knew where it was), she was super sweet and appreciative of my geographical knowledge. She thanked me with the brightest of smiles, and it's evident she has a huge heart. Be right back, I need to delete all posts of alcoholic beverages and partying from all my social media accounts and replace them with animals and Mickey Mouse-shaped blueberry muffins. Done! I wouldn't want to disappoint the angel.
Above all, Mindy White is the kind of leading lady I strive to be – passionate, driven, and ambitious, all the while being the best version of myself. She doesn't have to do anything "wild" or "crazy" to gain attention. But I wouldn't be surprised if she secretly rocks a tiara like it's a halo and knows how to play a harp. (Alyson Stokes)
Hayley Williams
Hayley Williams has defied critics for over a decade now, starting out as a 14-year-old with a production deal for a major label. Atlantic Records initially wanted to turn her into a pop singer, but she resisted, saying she'd rather play alternative music with a band. And with that Paramore came to life, with Jeremy Davis and the Farro brothers. Some thought Paramore would become another anonymous pop punk band, regardless of having a female lead vocalist in a genre mostly male-dominated; others just thought "Avril" and moved on. Though critics were dismissive of the teenage band before, they sure were listening when Paramore's debut album All We Know Is Falling hit the shelves.
When two members left, rumors flew around that Paramore would surely break up as well. The split got ugly when former guitarist, Josh Farro, posted a lengthy statement claiming that Hayley treated the group as a solo product, which the media immediately fed off of. Many bands before have dissolved because of these kinds of disputes. But Paramore isn't most bands, and Hayley isn't just your typical musician. With a spunky personality that's just as bold as her signature red-orange hair and a fierce determination, she doesn't let drama get in the way of her and the band's career – as seen on their 2013 self-titled record, and numerous sold-out shows across the globe.
Coupled with the kind of voice that gets you chanting right along or taking a somber moment to soak in the meaning of heartfelt lyrics, Hayley Williams has struck out her own path from the beginning of her music career. While proving everyone who has ever doubted her wrong, she shows the world that she isn't afraid to be herself, and serves as an inspiration to every musician to be who they are. (Emily Yee)
Tags:
Against Me!
,
Alanis Morissette
,
Candy Hearts
,
Halestorm
,
Joan Jett
,
Matt & Kim
,
Paramore
,
Sonic Youth
,
States
,
Tonight Alive