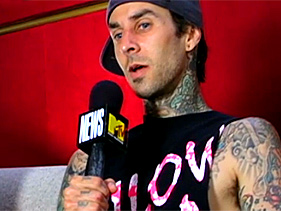 Travis Barker finally unveiled the full version of his much-hyped, gravity-defying, head-spinning drum solo Tuesday night during Blink-182's show at General Motors Place in Vancouver, British Columbia.
A week earlier, during a "friends only" warm-up gig at the Forum in Los Angeles, Barker had done the routine – which features his drum riser levitating, swinging from side to side and turning upside down – and shaky camera-phone footage of the stunt quickly began to make the rounds. During Blink's first two shows in Las Vegas, Barker did a stripped-down version of the solo, as the venue was too small for the full routine.
Finally, on Tuesday, with some 15,000 fans cheering him on in a spot big enough to support his rigging, Barker gave the public what it was clamoring for: a three-minute, 360-degree drum clinic.  Footage of the solo, which is reminiscent of Tommy Lee's aerial drums solos in Mötley Crüe's heyday, has already flooded YouTube.
According to Barker, he just sort of winged the stunt (after all, he has been doing it for years).
"[The idea] happened like a month ago. Someone brought it up, like, 'What are you doing for the drum solo, Trav?' And I was like, 'Uh-oh.' But I was up for the challenge," Barker laughed. "The first [time I did a solo on tour], I was on fire, and the kit was rotating. The second time, I went upside down – and upside down is kind of the gnarliest thing you can do. So then, this one was like, 'How can you make me even more uncomfortable, or sideways, or fly me in the air?' So, I kind of just let [the stage techs] do their thing, and I go up there and play my drums."
Blink bassist Mark Hoppus added that it seems that Barker has to do outdo himself every time he tries a new innovation.
"It's like Travis set a precedent for himself that he has to up the ante every single time," Hoppus said. "He did it to himself."
And while the drum solo is undoubtedly one of the highlights of Blink's set, it was not the only anti-gravity act the band was planning.
"I'll be honest with you, the drum solo wasn't even the first idea," guitarist Tom DeLonge said. "Remember the vocal solos we were gonna do, on that same rig?" he asked of his fellow band members.
"Yeah, we were gonna spin around, go upside down, and just do scales, vocally," Hoppus answered, before breaking into a vocal warm-up. "You know, just strap in and sing."
Of course, Barker had to one-up them, and it seems that he accomplished that with ease.