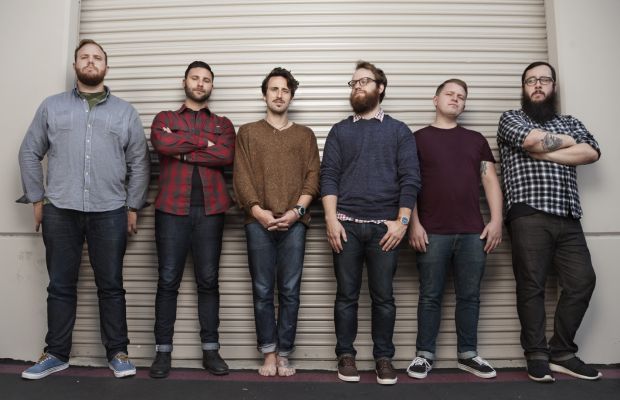 While "Teenage Dream" was playing what seemed to be every fourth song on the radio in 2010, The Wonder Years were quietly cultivating a fanbase of kids that felt less "you make me feel like I'm living a teenage dream" and more "I'm not sad anymore, I'm just tired of this place." With the help of the internet, it didn't take long for "I'm not sad anymore" to become the staple line for their fanbase. The sextet weren't supposed to go anywhere but 10 years after their debut The Wonder Years (TWY) have stood steady, establishing themselves as one of the most well respected bands in the pop-punk scene–with an army of loyal fans to support them. They battled their way through the mid-2000s slump when their genre faded into the radio static and was replaced by dance pop songs. Now they are on the brink of releasing their new album No Closer To Heaven.
The Wonder Years came around just in time to give a new generation of pop-punk fans songs they could relate to. The major radio stations may still be spinning autotuned pop songs, but The Wonder Years are still creating music without holding anything back; they aren't afraid to write songs with hard hitting lyrics about mental health, self-doubt, death, and growing up. However, on a smaller scale, within a genre that often seems over-saturated with bands that are all trying to do the same thing, it is easy to wonder what makes The Wonder Years any different?
"For all 48:51 minutes of The Greatest Generation, voices of all backgrounds can rasp out every word until their throats are sore and they feel like they've won a battle alongside the band…"
The answer lies in the way they craft their albums to breakaway from the radio single mold. The Wonder Years offer their fans a break from the generic computer-produced beats and mundane lyrics by making music that conjures up vivid imagery through emotionally raw lines like "I'm filling your prescriptions/the orange bottles tear me down/they're standing at attention/an army on your windowsill" from "Dismantling Summer." They offer their fans a sense of validity in even the most candid of songs. For all 48:51 minutes of The Greatest Generation, voices of all backgrounds can rasp out every word until their throats are sore and they feel like they've won a battle alongside the band as the last chord of "I Just Want to Sell Out My Funeral" rings from the speakers. Their music resonates with fans with the same tenor of a battered flag waving at the end of a battle.
The Wonder Years have consistently released albums that are the essence of listening to a lifetime of confessions, with content so sincerely passionate that the listener is left breathless. One example of this can be found in the poignant song "Cigarettes and Saints" off of the band's upcoming albumNo Closer to Heaven. The accompanying video is equally affecting, as they beautifully use their platform to tackle suicide prevention, a message that unequivocally stands out amongst today's teens and young adults. The emotional crescendos of No Closer To Heaven continue with "I Don't Like Who I Was Then" which conveys a striking story of growing up and recognizing past mistakes. The Wonder Years instill the same unadulterated passion in the listeners who can relate to the unforgiving journey of life's ups and downs. The pre-released songs foreshadow an album with larger, more complex sounds than The Wonder Years have ever produced before.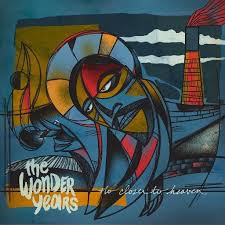 The Wonder Years have also crafted a reputation around their balance of work ethic and creatively pushing the boundaries that genres box artists into. Through the long, worldwide tours, summers spent on the Vans Warped Tour, and preparing to work on a new album, the band's frontman, Dan "Soupy" Campbell, still found time to start up a separate project known as Aaron West and The Roaring Twenties. Campbell's project takes on a different persona from "Soupy" of The Wonder Years. It's a carefully crafted venture that follows the life of Aaron West, his joys and successes along with his tragedies and pitfalls. Much like The Wonder Years, Aaron West and the Roaring Twenties drafts up vivid imagery cast through story telling lyrics that are sung with raw emotion. Campbell shines in both of his roles, not because he's the world's best vocalist, but because of his sheer enjoyment for making music and sharing it with the world.
Back to the fans, it's with this same level of love for music and candid lyrical expression that The Wonder Years have created a community with their fanbase. Their fans have proved that they're willing to march alongside with the band as long as they continue to provide a content rich, emotionally tattering soundtrack for their feet to meet the blacktop with. It's a call that The Wonder Years have answered time and time again. However, despite their sound remaining consistently recognizable they constantly change the perception of what pop-punk is; they produce music that destroys any pre-conceived notions about what a genre must consist of, stretching and bending the musical spectrum expertly.
If there is one thing that The Wonder Years have mastered, it's their ability to compose songs that listeners can relate to; their poetic, storytelling lyricism remains fresh, unique, and untouchable. They've shown a proclivity for growth in their musicianship, harboring a raw talent that can't be mimicked, while testing their strengths to break out the genre prison that bands are handcuffed to.No Closer To Heaven expands on the sounds the band experimented with on The Greatest Generation,with the album's first pre-released track "Cardinals" drawing parallels with the quiet intro that quickly builds into a stirring full band song, and gang vocals that yell out "We're no saviours if we can't save our brothers."
The Wonder Years have teased fans to anticipate a harrowing album that touches base on personal faith and grief, while preparing listeners for an untouchable new album with more detailed musicianship (that doesn't stray too far away from what their fans are familiar with). With No Closer To Heaven on the cusp of release, it's time to lace up your boots and assemble for an emotional battle alongside the sextext that is The Wonder Years.
Tags:
The Wonder Years