The Vans Warped Tour is gearing up for its 18th year and celebrating with a lineup stacked with both old favorites and new artists for audiences to fall in love with. The self-proclaimed "punk rock summer camp" not only features over 100 acts spanning different genres, but is also a haven for charities and clothing companies. Always ones to switch things up, this year you'll be able to sign up for music lessons from band members at the BandHappy Tent and chill out at the Acoustic Basement Stage for stripped down performances by everyone from Chuck Ragan to Sleeping With Sirens. The tour kicks off this Saturday in Salt Lake City; to get you ready, our writing staff have picked seven bands that can't be missed this summer.
A Loss For Words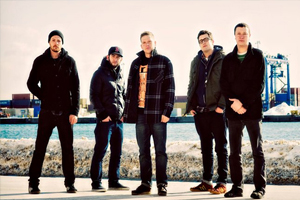 Warped Tour always features a handful of pop punk acts, but none are quite like A Loss For Words. The band brings an arsenal of passion and raw energy to their music, both in the studio and on the stage. Singer Matty Arsenault is never one to shy away from passing the mic and jumping into the crowd, providing plenty of fan interaction. AL4W are sure to play a strong mix of songs spanning their discography and may even throw in one of their infamous Motown covers, making them a can't-miss band.
by Alexa Gallo, Writer
Funeral Party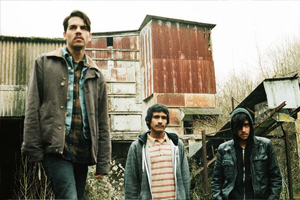 Hailing from the sleepy suburb of Whittier, California, Funeral Party are unlike anything in the scene today. Their unique blend of post-punk and dance are bound to get you up off your feet and their infectious songs will be stuck in your head the rest of the day. They'll be on the entire tour this summer, so make it a priority to check these guys out — having opened for everyone from Panic! At The Disco and The Mars Volta to Crystal Castles, they have a raw energy in their live show that's unmatched.
by Tarynn Law, Writer
Into It. Over It.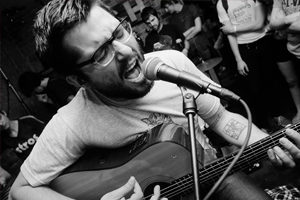 After a few hours of dancing to your favorite bands and singing your heart out in the sun, even the most hardcore Warped goers need to take a moment to recharge. Thankfully, this year Fullsail University has you covered with their Acoustic Basement Stage. Designed to have "the spirit of a punk rock basement show," the stage will feature intimate performances by a revolving door of artists including Anthony Raneri, Vinnie Caruana, and Kristopher Roe. If you're lucky enough to be attending one of the shows Into It. Over It. is playing, don't let yourself miss out on seeing one of today's most prolific songwriters. Playing understatedly intricate folk music in the vein of Owen and Ryan Adams, his live set is equally compelling for his flawless performances and candid storytelling. by Eleanor Knowles, Editor
New Found Glory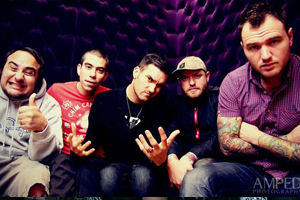 This summer is a big one for Warped veterans New Found Glory – not only is it their sixth time on the tour and their fifteenth year as a band, but their classic album Sticks & Stones  just celebrated its tenth birthday earlier this week. The Florida punk rockers will be on the main stage all summer proving why they're known as "the godfathers of pop punk." With powerful performances that will having you jumping around and singing along to their anthems at the top of your lungs, New Found Glory's set is an essential part of your Warped experience.
by Jen Appel, Writer
Pierce The Veil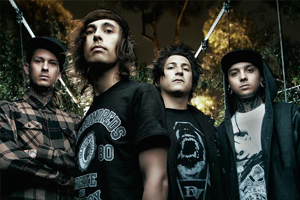 What happens when a band that delivers maximum energy and intensity kicks it up a notch? Who knows. Pigs learn to fly? Maybe the world blows up? I guess we'll find out this summer as San Diego natives Pierce The Veil head out on Warped at full steam, bringing their fast-paced jams fueled by sing/scream combination vocals to audiences across the continent. If you're someone who loves bands that stand in one spot on the stage, softly fingerpick their guitars, and quiver as they softly warble into the mic…well, Pierce The Veil's set might kill you. But if you enjoy dudes jumping off their amps, extreme finger pointing, and the occasional nasty breakdown, it's worth your time to show up a few minutes early so you can stand up front. Remember your game face. by Matt Vogel, Music Director
Transit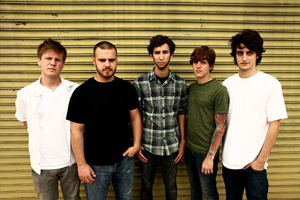 After an absolutely massive 2011, Massachusetts natives Transit are ready to spend the summer of 2012 rousing their ever-growing fan base. With a sound that perfectly hybridizes indie rock and pop punk and a live show as haunting as it is energizing, there's no wondering why these guys are quickly becoming one of the most talked-about bands in the scene. Playing two sets a day on both the Ernie Ball and Acoustic Basement stages all summer long, there's no excuse not to check 'em out!
by Alyssa McKinley, Writer
We Are The In Crowd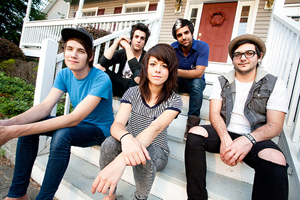 A product of Poughkeepsie's thriving music scene, We Are The In Crowd have made quite a name for themselves since the release of their debut full length  Best Intentions last year,  setting themselves apart with their unique combination of male and female lead vocals paired with catchy hooks and an energetic stage presence. If you haven't had the chance to see them play alongside bands like All Time Low, We The Kings, and Every Avenue this year, don't pass this opportunity up.  From Tay Jardine's flawless vocals to the bromance between guitarist Cameron Hurley and bassist Mike Ferri stealing the spotlight, We Are The In Crowd always put on an unforgettable live show. by Tori Renee, Writer
Who are YOU excited to see at Warped Tour?
Hit us up on Facebook or Twitter and let us know!
Tags:
A Loss For Words
,
Exclusive
,
Funeral Party
,
Into It Over It
,
New Found Glory
,
Pierce the Veil
,
Transit
,
vans warped tour
,
We Are the In Crowd