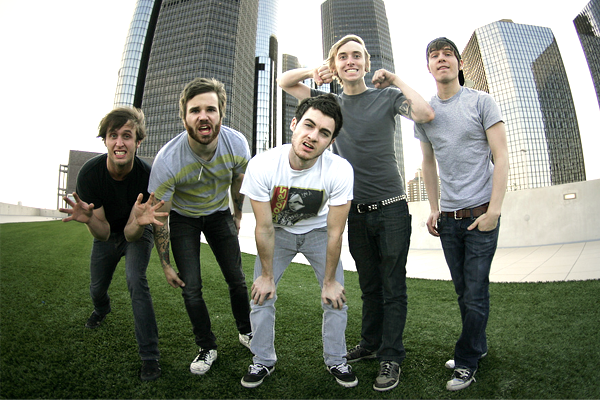 WESTLAND, Mich. — Since forming less than two years ago, working to solidify a stable lineup, releasing a debut EP on I Surrender records, gracing the pages of Alternative Press magazine and most recently, losing a singer, Detroit pop-punk outfit Take Notice has been through a lot.   Despite the glaring vacancy, the band maintains a positive outlook on the future.
"Our main influences are trying to live a positive life and doing what you want to do with your life," drummer Trey Cook said in an interview with idobi. "Follow your dreams."
The band was living proof of this sentiment for their Jan. 9 headlining show at Skateland West in Westland, Mich. The show was the last for former singer and original member Mike Duggan. While the band is working with a vocalist in hopes of replacing Duggan, nothing has been officially announced.
Deciding on a hometown venue for Duggan's final show, Take Notice was joined by local opening acts Bike Tuff, The Bravest Kids, Living Like Ghosts and Trophy Boys, all of whom hosted equally high levels of energy and enthusiasm.
"Playing with Take Notice is always a great time, I love hanging with those dudes," said Sean Gallagher, guitarist of Trophy Boys. "Also, all the kids in the crowd were very responsive to the bands and seemed to dig the music a lot."
With a relatively high turnout for a small-scale, local show, each band performed a 30-minute set to the over 250 people in attendance.
Playing a mix of cover songs as well as original material from the band's debut EP, The Get-Go, Take Notice's set was as high energy as they come. Duggan's words were matched with the screaming responses of the band's fans, with the vocalist frequently allowing fans to sing the lyrics on his behalf. Between stage-diving fans and the formation of a giant circle pit, the band's set was over in an instant, leaving fans chanting for an encore.
Though the band has bid farewell to its lead singer, Take Notice is staying positive.
"There's no bad blood, none at all," guitarist Noah Fenton told idobi. "Mike's departure, if anything, is a blessing in disguise because we're just going to grow from it."
When speaking of the future, Cook has faith that the future of the band is bright.
"We have this album that we've been putting a lot of time and thought and energy into," Cook said. "Even through all of these setbacks we still think it's going to be the album of 2010. It's going to be really special, it's very special to us. I think a lot of people are going to be able to connect with it. A lot of people are going to love it."
Tags:
Bike Tuff
,
Living Like Ghosts
,
Take Notice
,
The Bravest Kids
,
Trophy Boys