Steve Klein, former guitarist for rock band New Found Glory, was arraigned in a San Luis Obispo court on multiple charges, including lewd conduct with a minor under the age of 14.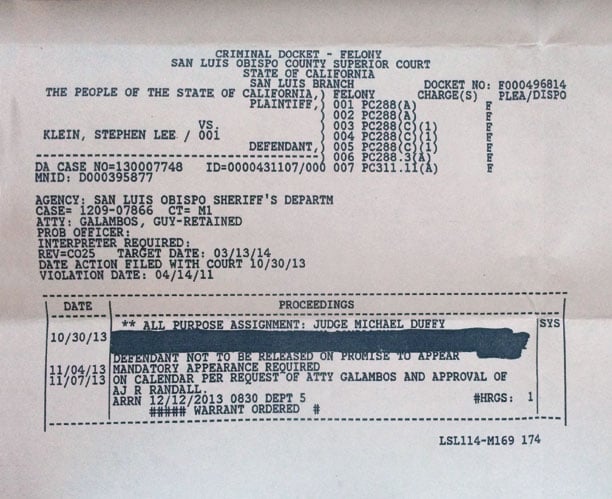 On December 12, 2013, Stephen Lee Klein was arraigned at San Luis Obispo Superior Court and pled not guilty to multiple felony charges–two counts of lewd conduct with a minor under the age of 14, three counts of lewd conduct with a minor 14 or 15, one count of intent to commit lewd act with a minor, and one count of possession of child pornography. According to court documents, Klein was represented by  Guy Galambos, a partner from the law firm of Stein, Casciola & Galambos.
The San Luis Obispo District Attorney's office confirmed that Klein was not booked after the arraignment and remains free until his next scheduled court appearances on March 20 and April 10.
On the same day Klein was arraigned, New Found Glory announced via their Facebook page that the band had parted ways with their guitarist and founding member.
The band's management declined to comment for this story.
Update (8:03pm ET): Steve Klein's attorney, Debra S. White, has provided the  following statement to idobi Network, AbsolutePunk.net, and Alternative Press Magazine. She also clarified that she, and not Guy Galambos, represented Klein at his arraignment.
March 12, 2014
It is a difficult challenge to defend oneself in the media when there is a pending criminal case. This is because people are quick to assume that if a person is charged with a crime, they are also guilty as charged. And it is especially difficult because criminal defense attorneys insist that their clients not talk about the case to ensure that their constitutional rights are protected. Furthermore, attorneys are limited by law as to what can and cannot be said about a case to the public.
In the matter of Steve Klein, since his case has now been brought into issue by the media, I am permitted to make a few statements. To that effect, I offer you the following indisputable facts about the accusations:
Steve Klein is not accused of having any lewd actual physical contact with any minor.
ALL charges against Steve are derived solely from online consensual video chats between Steve and some female strangers he met on an adult website. Steve believed the females were over the age of 18.
The females alleged to be "minors" in this case are not known females. This means that no one, not the prosecution, not the police, and not the defense, actually know who the females are and no one knows their true age.
The possession of child pornography charge is based solely on Steve allegedly "possessing" the videos of chats with the female strangers from the adult website.
This is about all I am permitted to disclose at this time. But I can tell you, from my many years of experience in this specialty area of criminal defense, I wholeheartedly believe that Steve Klein is innocent of all of these charges.

Steve is devastated by these accusations. He has lost his band, his livelihood, and his ex-wife continues to push for full custody of his children using this case as her pawn while he literally fights for his life. Despite this heavy hand, Steve remains strong and hopeful that he will be vindicated.
Debra S. White, Esq.
Additional Update: Consultation with other California criminal attorneys view that it is unusual for a defendant to be released without bail in a case with similar charges.  They speculate that for a judge to rule for an OR (Own Recognizance) release, there may be other facts not in the public record that strongly side with defense's arguments.
Update (9:04pm ET): New Found Glory have released the following statement via their Facebook page:
Upon our return from Warped Tour Australia, Steve made us aware of possible allegations that might be made against him. At that point, not knowing all the details, we made the decision to part ways in order for him to deal with these personal issues. Us 4 members of New Found Glory have given our entire lives to this band and will continue to do so. We've been able to play all over the world for the most amazing fans. We can't wait to get in the studio to make a new album and we can't wait to get back on the road! Just coming off the Parahoy cruise and a surprise show in our hometown we are more inspired than ever! Thank you so much to everyone around the globe for always sticking by us. The future is bright.
Tags:
New Found Glory